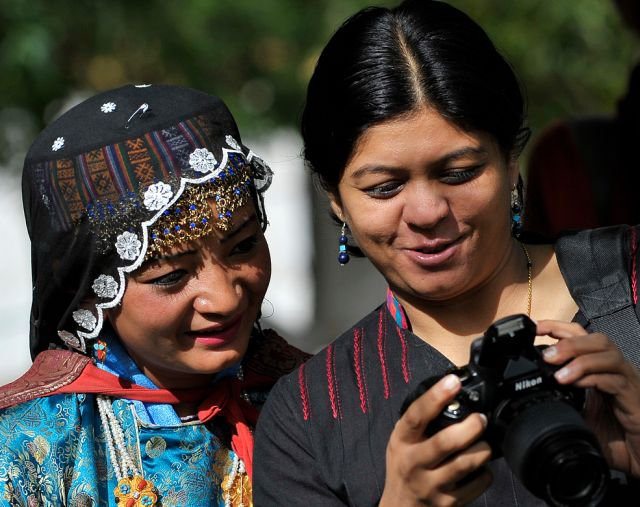 Lakshmi Sharath
– A story teller, a traveller, travel blogger, writer, digital influencer, content specialist, media professional  and photographer.
And I believe that a rolling stone actually gathers moss.
Travel Blogger 
After 15 years of sitting beside a desk in several media organizations, I decided to travel and see the world. I have covered five continents and been to over 25 countries and my passion lies in exploring the nooks of India as well.
 The blog was born in 2005 as a platform to share my travel experiences. What started as a passion became a profession eventually and I have been to over five continents and been to over 25 countries and travelled within India extensively. I became a traveller and a story teller and my stories find a voice on my blog, www.lakshmisharath.com
The blog has won several accolades including winning the Indibloggies -India's best travel blog of the year. It has been rated on several lists among the Top Travel Bloggers in India and digital media influencers in the country . I have worked with over fifty clients including tourism boards, airlines and hospitality partners, travel sites, technology and mobile clients, auto  and  lifestyle brands.
Some of my key campaigns include
Citadines' 30th anniversary – Only Indian Blogger to be part of an international campaign
Brand ambassador for Marriott International
Indian Blogger on the #INATopBucketList followed by #TripofWonders by Indonesia Tourism
Nissan drive through Rajasthan #CommandsRespect
Assignment by Rajasthan Tourism to cover festivals
Chalo MP with Holiday IQ
Meet Roger Federer at Interlaken, Jungfrau Railways
Association with Tourism Boards
I have worked with over 25 tourism boards for FAM trips, blogger outreach programmes, sponsored posts and promotions. Some of them include Ireland, Australia, South Africa, Denmark, Seychelles, Singapore Malaysia, Thailand, Cambodia, Jordan, Poland, Turkey, Germany, Spain, Canada among others. In India, I have associated with UP, MP, Rajasthan, Gujarat  Tourism Boards for FAMs and digital campaigns.
Digital Influencer
I have worked with over 50 clients across different categories – travel  luxury, travel sites, aviation, hospitality besides auto, finance, gadgets, fashion, food  and lifestyle brands. Some of the aviation clients I have worked with include Turkish Airways, Lufthansa, Virgin Atlantic, Spice Jet, Jet Airways, Indigo among others. I have worked with Airbnb, Citadines, Marriott, Hyatt among others. I have been featured in a video for Sennheiser Headphones and for Marriott Hotels and Resorts and have worked as a key influencer with brands like Make My Trip, Thomas Cook, Lufthansa, Lenovo, Asus, Huawei, Honor, LG, Nokia Lumia, Revlon India, Nissan, Lodgy, Chevrolet, Honda, VIP, Opera Mini, Bharti Axa, CEAT Tyres, Mahindra Adventure among others. I was recently invited to Dubai and Oman for the launch of Nokia Lumia 1020 along with a group of international bloggers from Middle East and South Africa
An avid social media enthusiast, I consult travel companies and resorts like Club Mahindra, Jungle Lodges and Resorts, Orange County Resorts , Hoysala Village Resorts , Nature Zone , Munnar to promote their destinations through blogs and social media. I was the editor of the Club Mahindra Travel Blog – CLAY and I help them build a community of bloggers, manage the content and work on engagement activities like bloggers meet.
Travel Writer
I was a columnist with The Metro Plus, The Hindu, one of the widely read national newspaper in India and my photographs and articles have been published in several popular publications and books, websites, newspapers, magazines and blogs such as National Geographic Traveller, Sunday Times, Deccan Herald, Hindustan Times, HT Mint, Sunday Express, DNA, Bangalore Mirror, Mumbai Mirror, Rediff.com, Yahoo.com,  Go Nomad.com, Happy Trips, Jet wings among several others. I have also created content in the form of travel guides, destination specials for websites, paid verticals and blogs. I also edit travel supplements and blogs and have written for coffee table books as well. I have written and edited guide books as well. I have also written and photographed a 16 page pull out on the Coromandel Coast sponsored by Neemrana group of Hotels and Terrascape.
Media Coverage
Recently Femina profiled me as the travel blogger from India, in their issue – Made by You, a cover feature. Sunday Midday , a prominent newspaper featured me along with international travel writers, where I spoke about my passion in travel. I have also been featured by DNA in their list of travel bloggers who have made a difference . I have also been quoted in various articles in Times of India regarding travel and lifestyle. And The Hindu featured me in their story on travel blogging .I have also been featured in Lonely Planet as well as a contest winner for my stories. Recently I have been featured in an international podcast show, Daily Travel Podcast, my first ever. You can listen to the show here – Understanding India with Lakshmi Sharath. There has been several FM radio stations where I have been broadcasted besides websites and blogs.
Media professional
When I am not travelling, I am a content and communications professional, a business head and start up specialist having worked in broadcast media for premier companies like TV 18 CNBC, Radio Mirchi and Big FM . I have launched and set up FM radio stations across India and produced and directed lifestyle, travel and entertainment shows for television.
Contact
I am constantly looking for challenges, projects and new initiatives across travel and media. I am open to brand associations and tie ups and content marketing initiatives. You can contact me for any exciting assignment, FAM trips and blogger meets. You can contact me at [email protected] and below are my social assets.
Website www.lakshmisharath.com
Twitter www.twitter.com/lakshmisharath
Facebook http://www.facebook.com/TravelwithLakshmi
Pinterest http://pinterest.com/lakshmisharath/travel-stories/
G+ Lakshmi Sharath
Instagram @Lakshmisharath
YouTube Travel With lakshmi