I have to start my US posts with one admission – That I was never fascinated with America and anything American, barring of course Robert Frost . This country was not in my top 10 wishlist nor was I ever tempted to study/live there or marry someone with a US tag.For someone like me who was always interested in culture,history and literature besides natural wonders, Europe held greater fascination .
However when I got the opportunity to travel around US , I decided to go with an open mind .I wanted to explore the country as a tourist/traveller and I must admit that I liked what I saw. If possible, I would even like to return – but only as a visitor. Nevertheless the trip has been great and I must say that its not just the place, but the many people we met – from friends, family to perfect strangers who made the trip happen for me. And so, here is my perspective on America which is not going to be a travelogue featuring destinations, but it will be a random expression of my thoughts and experiences in the country.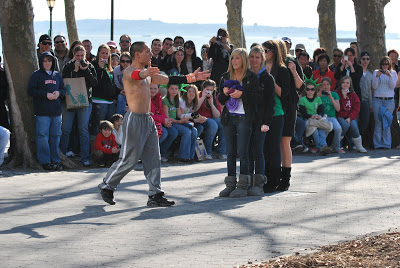 Battery Park – Manhattan
Normally we all wear the garb of a tourist when we visit a place . We usually have a short span of time, less money and a list of must see places and we run from one place to another taking pictures and buying souvenirs.Time means money and we do not want to waste even a moment hanging around anywhere. Sometimes, we call ourselves travellers and we seek to experience a place, its culture, meet people and go to off beat places. The travellers tend to look down on the tourists as they walk around with a bit of a swagger and a knowledable air about them. And then of course comes the vagabond, who has absolutely no agenda and who just wanders soaking in everything and letting the place and people get under his skin.
In this trip, I have been all of the above . There have been days when Ive played the perfect tourist to the hilt,especially when I did a whirlwind trip of the west coast and bought more souvenirs than chocolates.Sometimes I was the traveller with a swagger . For instance there was an American lady from New Jersey who asked my help to buy her a train ticket to New York from the automated machine . She said that in all her three decades of living in Jersey, she had never bought a ticket to go to New York and she got dropped there by car. She asked me how long I had been here as she assumed like many other Indians I was living here. I told her I was barely three days old in US.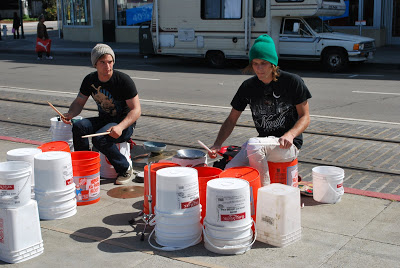 Pier 39 – SFO
And then for many days, I enjoyed being the vagabond ,walking around Manhattan and Central Park, listening to some amazing music on the streets of NYC and SFO, looking at birds and squirrels at parks or watching people and their antics . And needless to say the best experience was in being a vagabond. I am glad I had a busy husband at work while I roamed around ( although I cribbed about him dragging me off early morning and dumping me at a museum or in some subway. ) I hardly saw many tourists in NYC except near the site of the twin tower and the bull at Wall Street. The crowds that filled NYC on weekends were mainly locals and people who came in from neighbouring towns and states.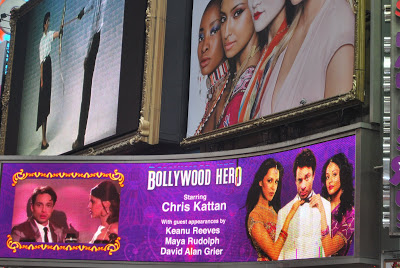 A hoarding at Times Square
To give you a basic update – I spent little less than a month in US and explored NYC for almost a fortnight . And then we took a ten day holiday to do a whirlwind trip of the other coast. But the streets of New York have left a lasting impression in my mind. The skyline and the statues, the museums and the shows have of course been captured in photographs, but what stays in my mind is the energy, the music and the efficient but dirty subways (Just happenned to see Taking of Pelham 123 in the flight before I landed in the US and I felt like I reliving the movie while travelling through them ) The heart of any city lies in its public transport and while the subway routes are rather confusing for a visitor, I had learnt the difference between an Uptown and a Downtown train before I left.
Most of US that I saw is indeed man made and this is probably one of the reasons that I was never really excited initially to spend loads of moneys to see tall skyscrapers and never ending bridges. I had never been a fan of big cities except Bombay , but here I literally had to eat my words. Man made here means scale and scale is well, beyond words. And the experience of walking down the Brooklyn Bridge or the Golden gate or seeing the lights of Manhattan coming up from an evening ferry or watching the skyline from the 102nd floor of the Empire State Building may be considered touristy , but the infrastructure and scale here makes you wonder whether everything is just about money or good foresight and planning.


Statue of Liberty from the Staten Island Ferry
Ive had many conversations with friends, bloggers and strangers on the American way of India, racism, Obama, recession, emotional security, children and of course travelling. I would save these for another post. While there are so many memories and thoughts that are pouring out, there are a few I would definitely like to forget – The immigration interview for instance and the paranoid security at airports.
Its 4.45 am India time now and even after 3 days, my jet lag continues. I will go back and catch another 40 winks , before morning dawns .