Batu Caves – Murugan and Iguanas in Malaysia
My earliest memory of Batu Caves was seeing a man carrying an iguana on his shoulder and walking down the 272 steps . I gasped in surprise and shock and it was my first sighting of the iguana. The towering statue of the Tamil God Muruga was standing in front of us . My second memory was that of the best ever masala dosa that I had ever eaten in all of Asia, excluding India of course.
Being an Indian and a Tamil, I wanted to head to Batu Caves, where millions of Tamils all over Asia converge for the Thaipoosam festival that falls in the month of January or February. A three day colourful festival, Thaipoosam usually starts with a procession where the deity is in a chariot and is taken around from the Mariamman temple in Chinatown to Batu caves. Thronged by tourists, locals and devotees, this festival is a must see if you happen to visit Malaysia around this time.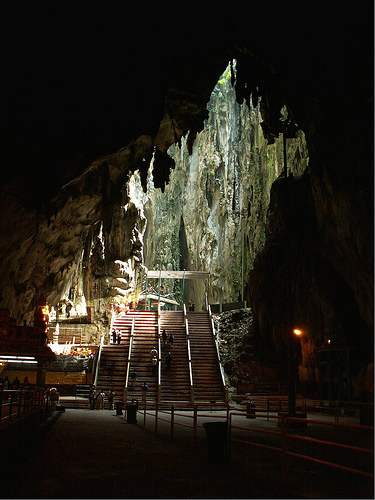 Photo courtesy – Auswandern Malaysia

But this limestone cave is not just a religious destination – it is a tourist destination for all adventure seekers who would love to do some rock climbing while exploring a dark and dingy cave with their stalactites and stalagmites.
Batu Caves , named after the River Batu and the adjacent village is a series of caves and cave temples that were once the home of ancient tribes. As you explore , the darkness blinds you and you get into a world of fruit bats who now nest here. The "Vel " shaped entrance gave it a religious significance as it became synonymous with the Tamil God, Muruga who is also worshipped as a warrior deity in parts of South India. But whether you are a tourist looking for a spiritual experience or a dash of adventure, do not miss Batu Caves on your next trip to Malaysia