Conversations with monks in Bylakuppe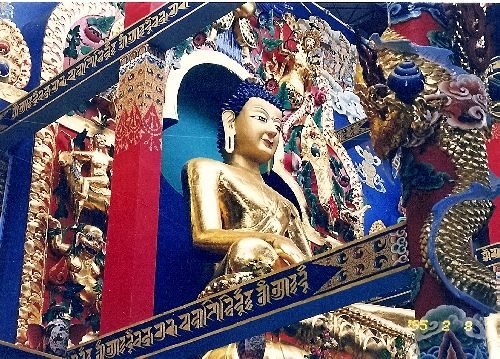 Cosy , picturesque and quiet – Bylakuppe looks like another village lost to the world. Flanked by mountains, dotted with corn fields, the little settlement combines both the ordinary and the exotica as it stands out in the coffee country of Coorg. First impressions change,  as a riot of colours greet the unsuspecting traveller. The waving flags, red robes, golden Buddhas, prayer wheels, colourful paintings and smiling faces give you a glimpse of a mini Tibet in Coorg.
Nestled amidst the verdant landscape , Bylakuppe or the "place of rains" is one of the first Tibetan settlements of Karnataka. The story began more than 50 years ago, during the Chinese aggression, when the Tibetan refugees flocked to India. Karnataka was one of the states to open up settlements for the Tibetans in villages like Bylakuppe, Hunsur, Mundgod and Kollegal.
The hardy mountain folk were not used to the heat. They cut through the wilderness , cleared the forests and created a village. Most of them became farmers, cultivating barley and corn. "By the grace of the Dalai Lama , we have lived a contended life," says Norbu a farmer who has lived here for the last sixty years.  One of the earliest settlers, Norbu braved the cold and the Chinese to come here. " But most of those living here today were born here and have not even had a glimpse of Tibet," he adds.
Walking around Bylakuppe, I see a Tanka artist , Namgyal, a second generation Tibetan who was born in Bylakuppe. " I try to imagine what Tibet would look like- the nomads, the scenery," he says, adding ," and then I paint the images. " Namgyal makes his living selling his paintings to monasteries, restaurants and to foreigners, while his family sells sweaters and woollen clothes during winters.  I look around and see some beautiful paintings of Gods and Goddesses, embellished with small pieces of gold that comes from Nepal.
I stop by at a small café owned by a small family and order a plate of momos. The elderly lady, Tsering sits with me as we talk about her life in Tibet . " Its been a hard life, we left everything in Tibet . But yes, we are now busy with our day to day routine ," It is business as usual for her, as she speaks to me about educating her daughters and helping them find jobs in Bangalore. Tucking in her apron, which she says is a sign of a married woman, she gives me a toothless grin and says," It is like your mangalsutra or sindoor."
In Bylakuppe, time seems to stand still. Pottering around the narrow slushy lanes, life seems to follow a pattern of its own. Children playing at school, old women meditating with their prayer wheels, men playing shopara with marbles and the youth listening to some Tibetan music at local cafes – no one is in a hurry to get anywhere. You look up and see colourful flags fluttering everywhere.  The village seems like any other , with medical centres, community halls, schools, playgrounds, shops and eateries. Tourism has however created a steady flow of income for these people as tourists flock to the monasteries.
Tall shimmering Buddhas smile at us from the Golden Buddha Temple. A miniature Tibet in itself,  a visit to the Lama camp is all that it takes to realize the true essence of the settlement. Scores of boys and men in bright yellow and red robes pour forth from all directions and converge here. This is the centre of Buddhist studies as thousands of monks come here from all over the world . But it is not their story, but the tales of the boy lamas who had walked all the way from Tibet to India that touches our hearts.
 I meet them while they are returning from their schools , their backpacks flung carelessly around their shoulders, holding their red robes. We meet a 13 year old , Sherab who says he hates Maths . His subjects include English and Science besides Tibetan History and Buddhism . Ask him about Tibet and the playful grin disappears." My father died in Tibet and I haven't seen my mother for years. My brother and I escaped and came here a few years ago with many other people. We ran away and walked in the cold..I was scared..I do not remember much .."
His friend Tenzen has more vivid memories. " I was five when we left Tibet. It was very cold. We walked through the mountains, hid in the snow and it took us more than 20 days to reach Nepal ." A group of boys are playing cricket. Suddenly the conversation veers around Dhoni and Tendulkar.  It's a different world out here. The boys say that they take their vows when they are eight. " We sometimes take as many as 200 vows ." they laugh , taking it very lightly. I learnt that celibacy is just one of them.
Some young monks however merge in very easily with the Indian youth.  They discuss Shah Rukh Khan and we speak about Bollywood. " Sometimes we wear casual clothes when we watch a film in theatres, otherwise we often hear ,' hey look, His Highness is watching a film !' laughs one as they say they are a wee bit tired of the holy tag.
Amidst all the laughter is the unspoken word that strongly echoes around – freedom. Tibet for some lies only in their imagination and dreams. As I leave Bylakuppe, I spend a few minutes with Norbu who holds a prayer wheel in his trembling hands and tells me , " I am old, I cant see clearly, my legs are aching . But my last wish is that I hope I will see Tibet at least once more before I die .I am praying everyday."