Destination – Tamil Nadu ,India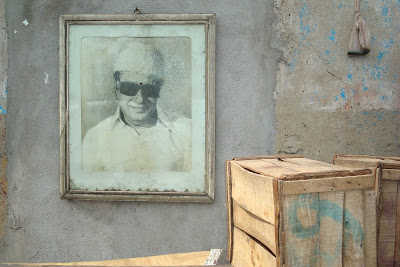 Its been a while since I posted a post – as in write about a destination and I hope to do that in my next post. Until then, here is an attempt to be alive in the blogging world. I have been travelling extensively all of August and all roads pointed to Tamil Nadu. I started with Chennai aka Madras , then drove down to Thanjavur, Kumbakonam, Pondicherry and smaller villages and towns around these places. The next trail took me to Madurai and Kodaikanal and then again to Chennai, the capital city which recently celebrated its birthday. I will be doing more of TN in the next few months. For now, I am back in Bangalore with a sore throat .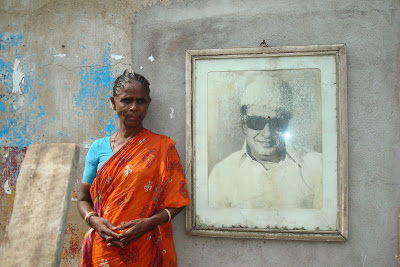 This picture of MGR,(M G Ramachandran) former Chief Minister and famous actor framed on the wall was taken on the roads of Triplicane . In a way he represents the spirit of the people there .There is a reason why I say this. I saw a carton of cardboard boxes lying on a bench and this picture of MGR hanging on the wall. Not a soul around. .When I was busy framing a shot, a lady ran from the other end of the road, screaming in Tamil which I'm penning down without editing a single word.
"Avaroda sethu ennaiyum oru photo edungama ..Avar en deivam .Avarthan innivarikkum ennakku saapaad poduraru.."
Please take a photograph of me along with his picture. He is my God .He is the one who feeds me even till day .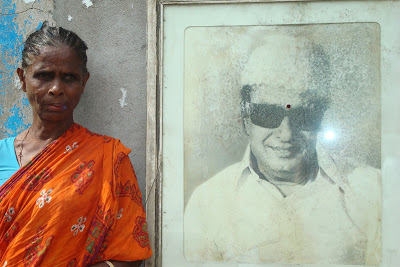 I learnt later that she runs a book shop and all the books are locked inside the cartons. She claims that he is the one who has inspired her to run the book shop .It doesnt matter to her that MGR died more than two decades ago.I took two pictures – one close up as well as she requested .