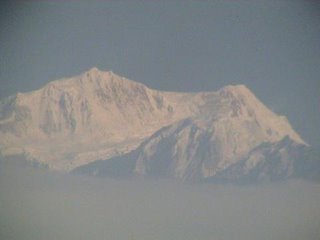 Sikkim- Of snowy peaks, dreamy rivers , frozen lakes and misty monasteries …
We have been dreaming of this for many years …To wake up and see the misty Kangchendzonga , to go up to Nathulla pass to see the Indo China Border …and mainly to touch and feel snow ..I decided to brave the cold and my fear of heights to get here…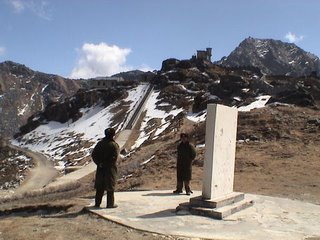 We had decided on Pelling and Gangtok in Sikkim and a stop over at Kalimpong . We had poured over so many websites and books that the places started sounding so familiar ..but we were not prepared for so much beauty .It was almost a sense of déjà vu as we drive down from Bagdogra to Pelling , where we were told that we could get to see Mt Kangchendzonga , the guardian deity ,if we were lucky . Teesta with it many hues ..sometimes emerald green or azure blues , kept us company . At every curve she threw us a surprise , a camp here, a wooden bridge there ..but her virgin beauty held us in thrall ! …We wanted to capture every curve of the Teesta into a picture, freeze every moment into our memory
It was dark when we reached Pelling . We stayed in a beautiful resort Norbu Ghang where the mist entered our rooms and gently lulled us to sleep. We woke up ready for the mountain view and stared endlessly into the sky from our beds , trying hard to see through the mist. We waited and in a flash the veil lifted itself and before we could say wow…the mountains wrapped themselves again …. It was just for a moment ,yet everlasting …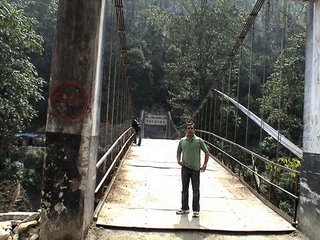 The first thing that struck us about Pelling is that its absolutely quiet and stunningly beautiful ..The conversation was about the momentary mountain glimpse .Apparently the clouds and the mists had been stubborn for many days , covering the mountains . Small hamlets , lakes, waterfalls, monasteries filled our day. We went to the Khecheopalri Lake also known as the wishing lake and wished we could come back again to see the peaks . This unusually tranquil lake, surrounded by verdant forest is considered as one of the sacred lakes of Sikkim both by the Buddhist and the Hindus and no water sport or other activities besides prayers are allowed around it. It is believed that birds do not permit even a single leaf to float on the lake surface.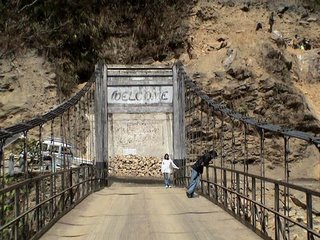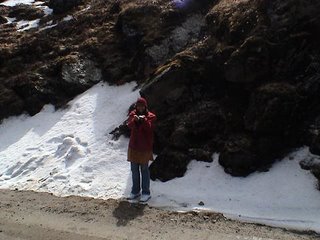 Our next port of halt was Yuksom, a hamlet set in the hills and for trekkers, this is the starting point to explore West Sikkim .Historically it was here in the 17th century, the first Chogyal (King) Phuntsok Namgyal of Sikkim was consecrated by the three wise lamas. Yuksam literally means the meeting place of the three learned monks. This was the first capital of Sikkim.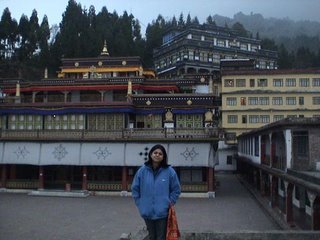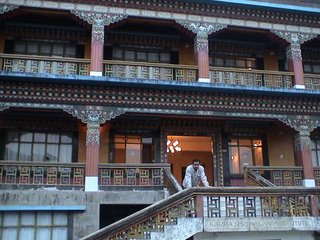 A 15 minute walk from Yuksom and you can actually see this at Norbugang.A stone throne shaded by a 300 year old fir still stands here today. A foot print in stone in front of the throne is said to belong to Lhatsun Namkha Jigme, and a nearby chorten (stupa) contains soil and water from all over Sikkim. It was already getting dark and we were well steeped in history . We went to Rabdentse, the second capital after Yuksom , where the ruins lie hidden from the main road .
We ended our day with a visit to Pemayngste Monastery for a silent ,spiritual experience Pemayangtse: It is the oldest monastery here and houses priceless thankas, icons, Buddhist texts, paintings and frescos. Built on the 18th century AD, this monastery follows the Nyingmapa sect of the Tibetan Buddhism. On the top floor of the temple, there lies the Architectural Design of Heaven called the Zangdoplari. It's a masterpiece art crafted single handedly out of wood by the late Dungzim Rimponche and photography is prohibited. The walls of this area is hundreds of years old and are original and on vegetable paintings .

Our next halt was in Gangtok,where we had carefully chosen to stay away from the city in a beautiful homestay called Hidden forest retreat…lovely people and some great cuisine…It was a great feeling to wake up amongst the flowers . What a riot of colours ! I recommend this plave to anyone who wants to visit Gangtok.
We went to the 300 year old Rumtek Monastery or the dharma chakra centre , the largest in Sikkim . It embodies the vision and aspiration of the Sixteenth Karmapa, Rangjung Rigpe Dorje, .where they perform the sacred rituals and practices of the Karma Kagyu lineage.Many sacred objects are housed within the complex, and one of the most magnificent is the Golden Stupa, which contains the precious relics of His Holiness the Sixteenth Karmapa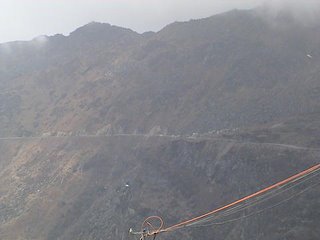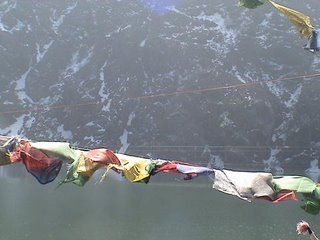 Then we went to the open zoo to see the panda and the snowleopard . And then was the best part of our trip – Nathulla pass at 14000 feet above sealevel and Tsomgo lake a few thousands below it . The journey was breath taking – what with clouds stopping us virtually as we climbed on. The roads were the best I had travelled anywhere in the country – it could put many a city road to shame.
It was a three hour drive from gangtok as we had to cover 60 kms but scale up to 14,450 feet to reach there . So we stopped over to acclamatise. Our first halt was Kyangosla cafe at about 10,400 feet where we stopped for a steaming cup of coffee..As we proceeded down the steep mountain, we saw a few yaks grazing and absolutely no people. It was just us , mountains and yaks.
And then we saw , at 12,400 feet , the Tsango lake with colourful flags around it Normally its frozen, but this time there was crystal clear water. Like any tourst destination, vendors, shops and yak rides surround you ! We proceeded on towards Nathulla Pass . Security scrutinised every vehicle and our journey became a bit slow. We showed our permit and we were asked to wait with a row of jeeps . And finally the roads opened and we saw the border . Our driver parked the vehicle and pointed to a snow covered peak ..Thats China he said.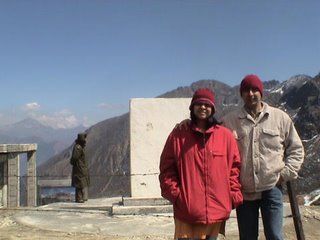 It was freezing as the temperature was well below 0*. It was a great feeling as we climbed up to reach the border .It was a little awkward as we saw the chinese across the fence trying not to react to a group of enthusiastics Indians feeling jubliant .
Encountering the Indian army was a great feel, a sense of awe and respect swept us through as we saw what they endured .. ..It is another moment ,etched in our minds .,.
Every journey leaves us with an emotion – peace, awe, love ,adventure, joy, nostalgia , fun …Sikkim gave me a sense of pride as well…
Getting there
Our journey was a long one ..we went to Kolkata and then onwards took a flight to Bagdogra . You could also take a train from Kolkata to Siligiri or New Jalpaigiri ..these trains need to reserved well in advance . From bagdogra , you could either either drive to Gangtok or Pelling to get a view of the snow capped peaks .Its a 4 -6 hour drive and its better to start by afternoon as it gets dark very quickly. . Several hotels and resorts are there and I recommend very strongly the Norbhu Gang Resort in Pelling and Hidden forest retreat in gangtok . You need to plan earlier to get to Nathulla as we needed a permit .