Getting rid of all the excess baggage
One of the challenges that I always have is to travel light and that brings to the next issue, which is travel right , in terms of luggage ..While I prefer a simple trolley and a backpack, I always get the size wrong. And I seem to have an entire collection of various sizes and shapes of baggage at home and the ideal one is never available.
This weekend , however I have a task to do..I am picking up all the unwanted baggage and getting rid of it, thanks to an email that I received from VIP . I can exchange any old bag or baggage and get a discount of Rs 2500/- on select luggage.  You are probably thinking that this is a sponsored post ,..well it is not.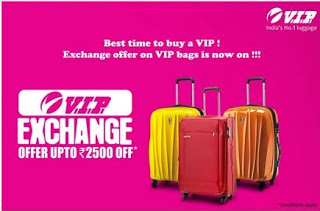 As a traveller, I have had my share of grief with luggage – they have got lost, broken, missed by airlines and many a time I need to lug it with me if I had to travel from one place to another..so this seemed to be of relevance to me . I wonder if it is of relevance to you too..the offer is apparently only till end of the month