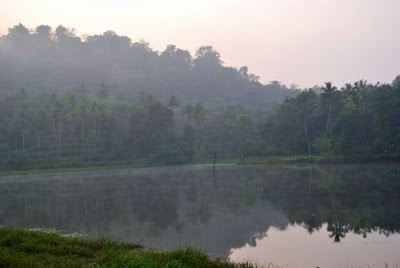 December 31, 2010 – Sometime after 4 : 15 am
Location – A compartment in a train
Lazy limbs were being stretched as groggy heads moved in mindless stupor. I opened an eye warily only to find the compartment virtually empty. The kid seated below me was wide awake, gazing at me, while her mother combed her hair and adjusted her dupatta . I moved my neck cautiously to sense any pain, but all I felt was the numbness .
As the train came to a grinding halt at the Ernakulam junction, it was the contrast of life on either side of the tracks that first hit me. The harsh lights of the platform pierced through the compartment , shaking us of the lethargy. Inside the train, life was just stirring , while in the station, life as we know it – the pursuit of money, hunger and ambition was already set in motion. Small tea stalls were up and running, coolies were jostling for space with each other and auto drivers were already bargaining with passengers to take them home . As luggages were being hauled and dragged out of the train, the platform was a scene of bustling energy.
Girish, our host and bird guide at Thattekadu had arranged for a pick up for us from the station as Kerala was still reeling under a taxi strike. Shaji and his brother Ravi greeted us warmly , adding that we should have got off at Aluva. It would have saved us an hour almost, including the journey to Thattekadu, they mentioned. We made a mental note of it and drove down the dark roads of Cochin towards the forests.
Cochin looked very touristy , replete in the Christmas spirit. There were stars everywhere and the churches stood out , lit in the darkness. The city was just waking up. Even the local flower shops around the temples were up and colourful with lamps around.
We left the city and stopped by at a small local tea stall in a village. I gulped the warm black tea and looked at the motley of men who had gathered around . Some were reading the newspaper, while others had just finished the second cup of tea and were waiting for their breakfast – " puttu " , a steamed rice and coconut preparation .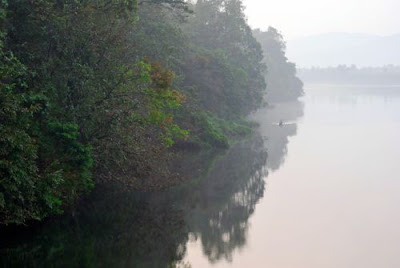 As dawn broke, we reached the Salim Ali bird sanctuary and stopped by at the Periyar river which was veiled in a white fabric of fog. Girish met us by the river side with a group of Scotsmen who were avid birders, gazing at the Ashy wood swallows , which were on the wire by the river side. It was my first sighting for the day, but technically a hurried sighting as I barely got out of the car . But there is more to come as the day began .
Realized its Skywatch time already and so I think the foggy skies from Thattekadu are my contribution..To see more dramatic skies, visit Skywatch