Guest Post – Eight reasons to visit Paris in winter

Paris is a great city to visit in the winter. You can find a cheap Paris hotel and stay longer for less money than during peak season. Since there are fewer tourists in Paris in the winter, your stay will be very pleasant. You will not have to push through crowds and wait on long lines in the museums and other attractions. There are many indoor museums, cafes and restaurants to enjoy. Winter feels different in Paris than the summer months. You also feel like a Parisian in Paris in the winter.

1. Beaujolais Nouveau Celebrations begin at midnight on the third Thursday of every November. The celebrations last until the early morning hours. The year's vintage is sought by many on this celebration.

2. From November through the end of January, go see the lights of Paris at the Champ Elysees. It is a beautiful sight where lights are strung on trees lining the streets across the city of Paris. Paris decorates the city by putting up 1,000 fresh-cut fir trees. The lower end of the Champs is decorated with 300 of these trees. In addition, Paris' famous department stores decorate their window displays for the Christmas holiday season.

3. Ice skating in Paris is a must. Paris has several ice skating rinks in the winter months throughout the city. The ice rinks in Paris are very beautiful and festive. The most popular ice skating rink in Paris is located 200 feet above the ground at the Eiffel Tower. Hotel de Ville also has an ice skating rink at the base of the Montparnasse tower.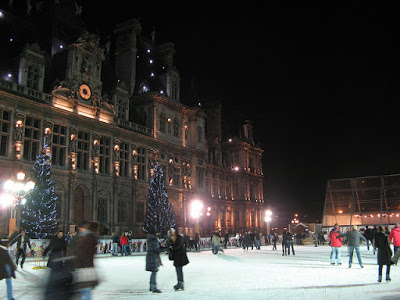 Ice –skating photo by Oliver Bruchez

4. Paris Christmas markets are also a popular attraction. They are open from the end of November through Christmas. You can find great holiday gifts at these Christmas markets.

5. See great Christmas shows and concerts in Paris. Christmas in Paris is very unique. The Christmas shows start in the beginning of December. Parisians consider Le Raveillon (their Christmas Eve dinner) a big event. The meal is after Mass. It includes traditional food like oysters, turkey, un bouche de noel cake and foie gras. After the meal, diners leave their shoes for Santa Claus (Pere Noel in Paris) to fill with treats.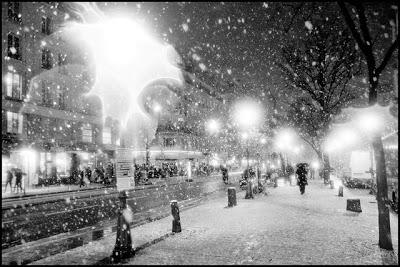 Paris Christmas photo by Zoriah

6. Spending New Year's in Paris is like no other. Parisians celebrate with elaborate dinners including champagne and fireworks. The New Year's celebrations in Paris are boisterous. In late January, there are great Chinese New Year celebrations around the city.

7. You will find the best sales shopping in the winter in Paris. France only has two sale seasons per year. Winter is one of them. In late January, you can find great deals in many Parisian shops. Especially due to the fact that Parisians rush to move Christmas inventory that wasn't sold. Inexpensive items can be found at the winter sales.

8. Blend in with the local Parisians. February and March are the months in which few tourists are in Paris. These are quiet months for those who enjoy a beautiful city without the crowds. There are fewer festivals, celebrations or special events during February and March. However, they are the best months for deals on incredible hotel rates in Paris and airfare to Paris. It's also a great time to breeze through short or non-existent lines at the museums and other attractions.
About the author:
Leah Prendergast is a
guest writer for Anytrip.com  a hotel booking site for affordable travel.