The Gujarati thali – it's an experience !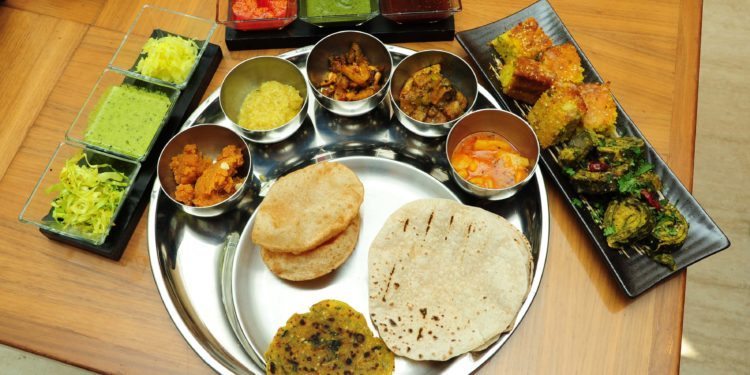 In Gujarat all that one does is to eat – in the streets, in the restaurants. Last month, I was travelling a bit around Kutch and finally landed in Ahmedabad with a bit of an upset stomach after all the eating .Dabelis, samosas, jalebis, bhaji paav, fafda, dalvada ..I can go on. Where else will you hear about "nylon" sev,  "jail na bhajiya or "dosa khakra" ?And yet, that did not stop me from eating my heart out at Courtyard by Marriott Ahmedabad who hosted me for a couple of days.
I drove into Ahmedabad on a late Saturday night after a rather tiring journey traversing Kutch, Little Rann of Kutch and Patan.I was so tired and all I wanted was to sleep in the comforts of the suite room that I was staying. But the Executive Chef Satej Saigonkar insisted that I try out their Gujarati Thali and their signature dishes at Shakahari, the fine dining vegetarian restaurant at Courtyard Marriott. I had tried the thali in a couple of other restaurants in Gujarat and I was tempted. Being a vegetarian and some one who loves local food, I was impressed that the food was authentic and prepared by a Gujarati Maharaj, Mitesh Saraiya.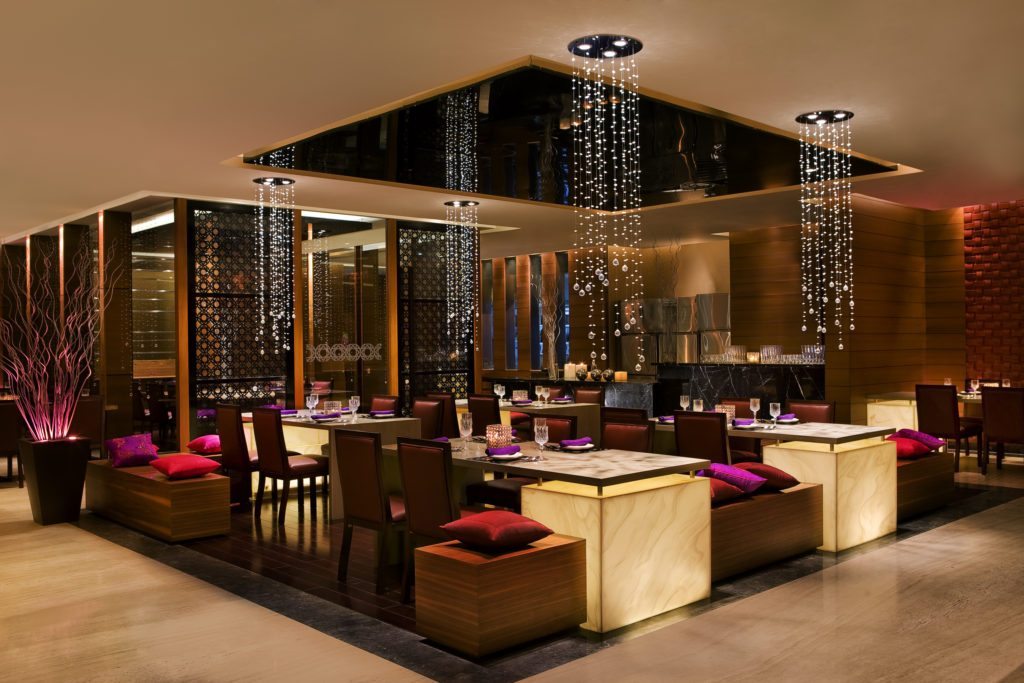 The thali arrived and it was like the mythical akshaya patra..there was no end to the servings. The portions were huge and delicious. I had been eating the entire day and hence I tried out some of their signature dishes and found them to be different from the usual menu.
The farsan arrived and the first item on the menu was the Patra made with Arbi or colcacia leaves .There was also Handwo made with rice, toor dal and vegetables and Khandvi, which is essentially favoured during breakfast but I got to sample it here . Made with besan and curd, its a bit sweet and sour with a tinge of sugar and lemon. There was never ending supply of rotis or breads – thepla, rotla, fulkas puris but the speciality was the three vegetable dishes served alongside . The surprise was kaju karela, a combination of cashewnuts and bitter gourd which to my palate was rather unusual. And there is another ingredient – raw bananas. Needless to say, the bitter gourd was not bitter at all. Oondhiyo is actually a Gujarati speciality, slow cooked with over ten vegetables which are usually grown locally here in the winters. It has a  sweet and spicy flavour which I have begun to understand is the traditional taste of most Gujarati dishes. No Gujarati thali is complete without aalu or potatoes and so I was served aalu nu shak to go with the rotis.
After khichdi and kadi I entered the sweets section – I am not sure how many I tasted. There was Adadiya pak, soaked in ghee made of "urad" flour,  a winter special, from the Kutch region. My favourite was the Gulab pak, a Gulkand burfi made from rose leaves and petals. There was moong daal halwa and finally another dry burf which is a combination of wheat and jagge called Sukhadi.
I probably had the most sumptuous meal in my life. It was not just dinner – but an experience
If you want to enjoy great food besides street food at Ahmedabad, then do head to Marriott Courtyard. Three of their restaurants have been awarded the Times Food Guide in a row – Shakahari for the Best Vegetarian Category, Java Plus for the Best Coffee Bar and Momo Cafe for the Best All Day Dining Category in the Non Vegetarian category.And if you are heading anytime there soon and want some international cuisine do not miss the Mexican Food festival that is going on now with international chef Tania Tovar on tour.