Sindhudurg and her stories
"Can you see the fort there?" We were at the Malvan beach, when we saw a two-mile-long wall of a fort standing tall against the horizon. "There are close to 15 families staying there even now. My aunt lives there…"
We had befriended a self-styled guide who decided to give us an armchair history of Sindhudurg, the fort that lent its name to the district. "Sindhu means sea and Durg is, of course, fort; hence the name," he explained.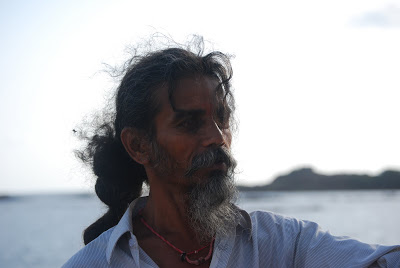 Built by Maratha emperor Shivaji in the 17th Century across 44 acres of land, this ocean fort located in Kurute island is home to several shrines, including one dedicated to the warrior king built by his son Rajaram. A footprint and a palm relic of the Maharaja are among the tourist attractions here.
The monsoon had just set in and none of the boatmen were willing to take us ashore to the fort, but they vied with each other to tell us stories. When Shivaji was ruling over Konkan, he was looking for a sea fort that would defend him from the onslaught of the Siddhis of Murud Janjeera.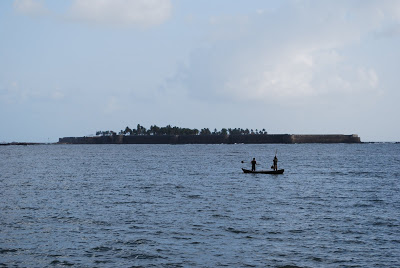 The Janjeera fort had been unconquerable and Shivaji selected the rocky island of Kurute, and along with his commander, Hiroji Indulkar, built the fort at Sindhudurg. Built using molten lead mixed with mortar, it had 32 towers and was meant to be their naval headquarters. The fort remained with the Marathas before it was taken over by the East India Company.
I was more curious about the families living in the abandoned fort today. "My aunt stocks a lot of food until the monsoon gets over. It's very difficult to keep sailing in the choppy waters." The guide told us that most of the families were those of mavlas or soldiers who fought in the Maratha army. For generations, their descendants lived here; the younger generation has, however, moved to the shore in quest of employment.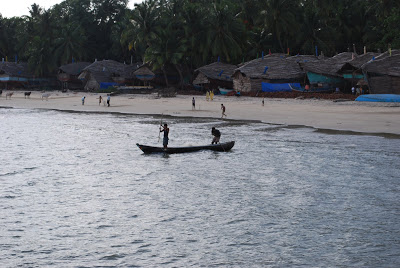 Tourism seem to be their main livelihood, besides fishing. "Most of the houses are ancient as well. We cannot even sell them, and there are no facilities here; so, its like we are all cut off from the world, and continue to live in the glorious days of the Maratha empire."
The tides recede and a private boatman offered to take us ashore. "Madam, there are ponds there which will never become dry. I will show you hidden passages. Did you know there was a coconut tree with a branch…?"
As we start negotiating the rate, I wonder about the families stuck in a time warp, cut off from civilisation. We start sailing to listen to their stories.
Published in Inside Story, Metro Plus supplement of The Hindu on September 21,2009