Here is my inside story mutilated by the hindu today…I would recommend that you dont read it in the papers, but  here
If you ever meet a  group of tourists, travelers, backpackers and photographers who have just returned from Ladakh, try asking them the question – " So which lake did you like  – Pangong Tso or Tso Moriri ? " You would have probably touched upon one of the most high voltage debates ever. As decibels level rise , you realize that that these two high altitude lakes in Ladakh  have loyal fan clubs .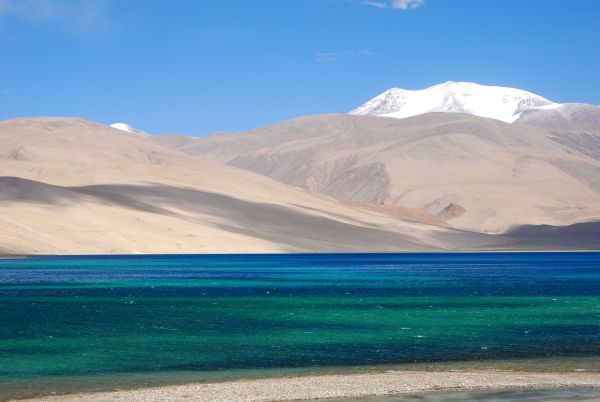 I visited Tso Moriri towards the last leg of my Ladakh tour after camping a night out at Pangong Tso. I was so overwhelmed by the raving reviews from friends that I decided to leave Leh rather early in the day . It started raining just as we left. .Following the Indus and her course upstream, this was my first brush with the rains in the mountains and suddenly, the Ladakh that I knew – the cold, dry desert was transformed into a green plateau.
We  were in Changthang plateau , high up above 14000 feet, in the land of the nomadic Chungpas, who brave these harsh terrains, moving settlements , finding temporary shelters, travelling around with their yaks and goats, extracting salt from lakes and exchanging salt and pashmina wool for food . Their settlements were scattered around the pastures ; we saw a few yaks and goats grazing, while a few boys looked on.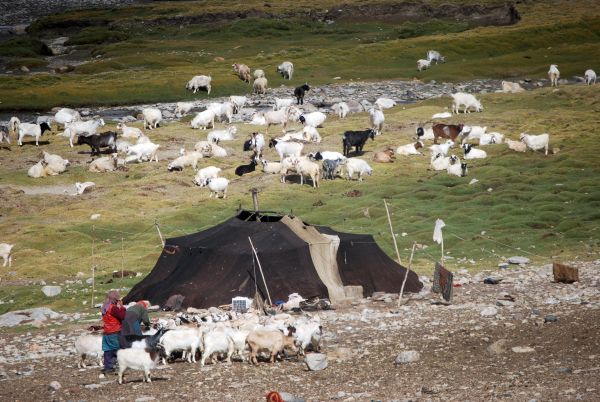 Dorjee ,my driver spoke to a few of them who offered to show us around the rebo or the tents made of yak skin. They would probably leave when the summer ends and follow their age old trails, trying to sustain their lives and livelihoods.
However Dorjee said that some of them are now living in permanent structures, and their lifestyles have changed.  "They even have bank accounts madam, " he exclaimed as we reached Korzok at 15000 feet near Tsomoriri. A remote village with about fifty houses and a 300 year old monastery, I caught it amidst the flurry of the tourist season. The monastery was getting ready for its festival as a few lamas were practicing their cham dance without masks or costumes though. Dorjee explained that the festival largely interpreted the victory of good over evil and the establishment of Buddhism in Ladakh. The legend goes back to the 9th century when a Buddhist monk killed king Lang dar ma who tried to uproot Buddhism in the region.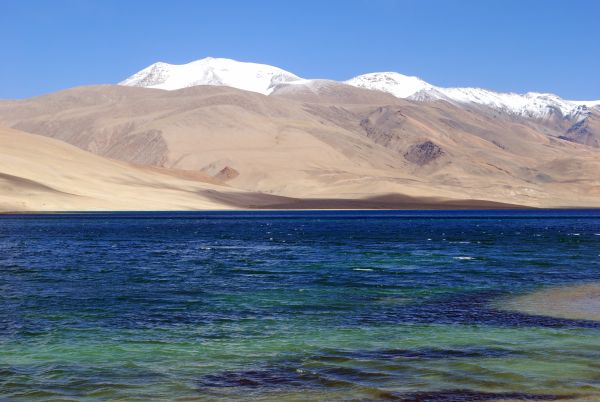 Dorjee was in a mood for more legends. But the lake was calling. Locals revered it as a sacred gift of the living planet. The azure waters sparkled liked a sea of emerald as the colours shifted from an indigo blue to sea green . The mountains formed a formidable backdrop, as the peaks  glistened with a coat of ice and snow.
The waters seemed placid , but they had a tragic tale to tell. A young girl from Korzok , Tsomo was herding her yaks ,when one of them ran into the lake . Tsomo rushed towards the lake, yelling " RiRi Ri "calling out to the yak. But as she stepped on to the ice, the waters swallowed both of them .
A sudden sand storm blew over us as we stood on the banks of the lake ,listening to the folklore. Dorjee threw a few pebbles into the lake as we watched the circles of ripples . The sun was setting and the temperature suddenly dropped and it well below 0*C . Dorjee laughed as we quivered in our jackets , " This is summer madam, but wait for a couple of months, it will be – 30 *C . ." I walked to our tent and flapped the covers down .
Months later, as I reminisce my Ladakh diary  , here is my verdict on the lakes . Personally I feel that they are incomparable and yes,  Tsomoriri is beautiful but my favourite will always be Pangong Tso .
Coming up soon – the experience of camping at Pangong Tso