Lakes of Ladakh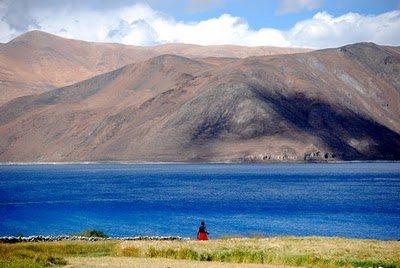 Ladakh is not just a cold barren dessert with monotones. If you want to see some brilliant blues then you must head to see the lakes of Ladakh which are nestled up in the mountains. One of the main reasons I wanted to go to Ladakh was to camp at these high altitude lakes. Nestled at heights of 15000 feet and more, Ladakh's lakes – Pangongtso, Tsomoriri and Tsokar are completely secluded from human habitation, but for a few villages like Spangmik and Korzuk near Pangong and Tsomoriri respectively.
The other attraction was of course, the birds that breed here- black necked crane included. The three lakes are completely different from each other, in terms of landscape and you cant be satisfied with seeing just one.
My husband  and I camped in Pangong , where we took our own tents and had a cook along with us, who prepared some of the best momos Ive ever had. However most of the lake lies in Tibet as only 40 % is in India.
In Tsomoriri , we were less adventurous, where we stayed in a camp , but it soon touched -2 and we were freezing .It was where I had a brief spell of altitude sickness, although it was at the fag end of my trip. I was literally sleepless the whole night.
We had a very brief glimpse of Tsokar, which looked completely different from the other two lakes. But there were several wild asses here
There was a fourth lake that we encountered on the way to Tsomoriri and  it looked like a mystery lake – greenish blue , with absolutely no one around. ' Called Tso Kyagar or Kiagar Tso, I wanted to linger here but we did not have too much time.
These high altitude lakes of Ladakh are tourist attractions by themselves but one needs to be very careful while lingering here because of the lack of oxygen here. And it is also advisable to visit only if you have spent enough time acclimatizing in Leh.