Made in Kashmir – cricket bats !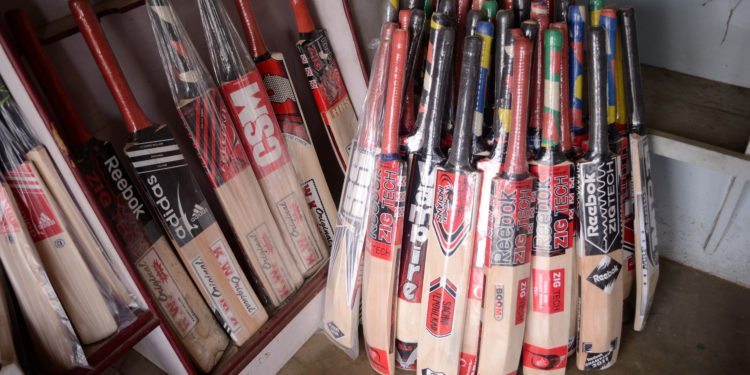 Cricket bats made in Kashmir
Little pockets of sunshine filter through the tall trees that slope gently downwards along the green hills .I take in the refreshing change of scenery as I drive through the dusty pathways of old Srinagar town towards the touristy Pehalgam. I warm myself with a hot cup of Kashmiri kehwa and watch the landscape change colours along the way.  In case you are imagining snow – capped peaks and misty rivers,  that is a long way to go. All I see in front of me are some dowdy storehouses and old factories that soon give way to barren fields of saffron, which had bloomed a few months ago in October.
Some scattered groves of poplars and deodars lend a green touch before the shops take over. This is Pompore, the heart of saffron retail industry where every shop proclaims that they sell 100 % pure saffron. My driver Bashir tells me that saffron was brought in here by the Persians more than 2500 years ago and it is considered to be one of the best in the world . The sales pitch works and I buy a small box before heading towards Sangam .
The shops now sport different brand ambassadors. There is Sachin posing elegantly, Sehwag smiling away, Kohli looking a wee bit aggressive and Dhoni oozing charm in his old look as his long mane of hair flies in the wind, as he swings his bat. Just when you wonder if this is a promotion for IPL, you see cricket bats of various sizes and shapes hanging from every shop window, while stacks of willows are kept atop shops, factories, buildings and on the roads.
This is the famous Kashmiri willow, next only to the British willow, brought to India by them. It is today a small scale industry that gives thousands of Kashmiris their livelihood, besides a passionate flair for the game. Almost seven villages in the districts around South Kashmir manufacture these bats, some of these families have been doing this for generations using traditional methods and machinery.
I speak to the boys in the shops about cricket and their faces swell with pride when you name Parvez Razool, the only Kashmiri who played in the one of  IPL seasons for the Pune Warriors. " He has not been given many chances, " complains one, as the other takes me to a godown where bats in various sizes lie scattered where machines cut planks of willow into bats, before pressing them down and shaping them. The cane for the handles am told is imported from Singapore or procured locally from Punjab.  " The finishing is done here but  the bats are then sold in Jallandar and many times they are referred to as Jallandar bats, but it is the Kashmiri willow, " says one of them adding that almost five lakh bats are sold in the Indian and International markets from here.
We discuss a little more about the IPL and the future of the Kashmiri willow in the international market. Another boy brings in some more bats used for tennis ball cricket from the go down and arranges them in the store. " Sehwag and Yuvaraj have used our bats, " says one of them proudly.  Besides the political scenario, the industry's fortunes swings up and down based on the tough competition between the Indian and Pakistani teams. As I leave , I ask them who is their favourite player . And pat comes the answer from all of them – "Shahid Afridi !"
More on Kashmir
Trudging along Sonmarg glacier 
A meadow named after Jesus – Yousmarg