Passes of Ladakh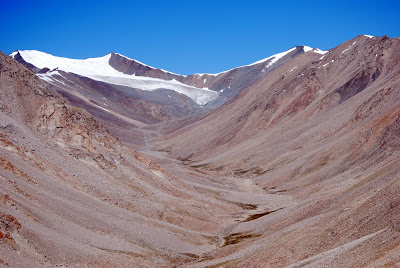 Breathlessness and Ladakh go hand in hand. If the views do not stun you with their stark harsh beauty, the heights will definitely make you go breathless. It is little wonder then that Ladakh is called the land of the mountain passes . Through out our many journeys around this mountain kingdom, we pass through several passes, however three of them stay in my mind .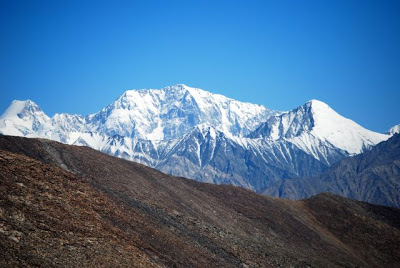 Khardungla  is apparently one of the the highest motorable mountain road at 18,380  feet in India . This is the gateway to the Nubra and the Shyok valleys and although the pass is hardly 39 kms from Leh, it would take you at least a couple of hours to reach to the top.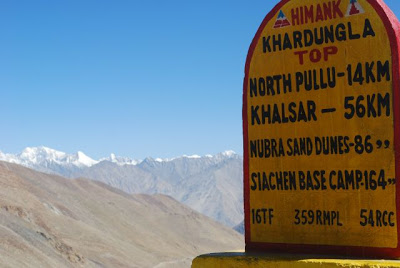 It was bright with blue skies when we reached there and filled with people, who presumed its a picnic spot, despite warnings not to stay outside for than 20 mins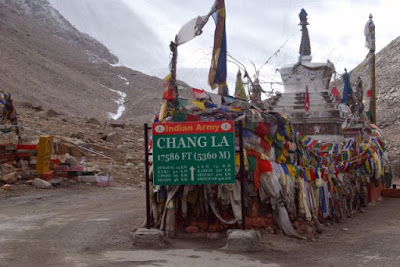 Changla  is the next, which I crossed on the 5th day of my stay in Ladakh. This pass , named after a saint is at 17590 and is enroute to
Pangong Tso
. We had our breakfast somewhere on the mountain roads, just before we climbed uphill towards the pass. You would meet a few nomadic tribes here, who are known as Changpa .The weather was already cloudy and foggy with chill breeze giving us a shiver now and then. We quickly used the rest rooms, which were tented pits and rushed to have breakfast as we climbed downhill.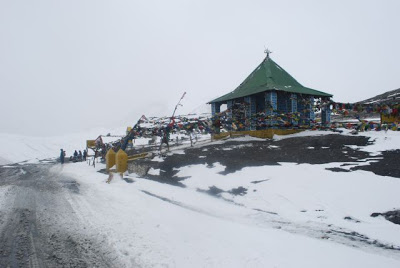 Tanglang la , which is on the Manali – Leh route is almost as high as Changla and we crossed this pass on the last day of our trip when we were returning to Leh from Tso Moriri via Tso Kar. After ten days of sunshine and rain, it decided to snow, just as we were entering the pass and within minutes of us crossing the pass, we encountered a snow storm and a road block. A combination of prayers and some dare devilry by our driver Dorjee, brought us safely home to Leh. You can read about our misadventure
here 
Here are some of the skies from at high altitudes..To see more wonderful skies, visit
Skywatch