Pondicherry – A colonial hangover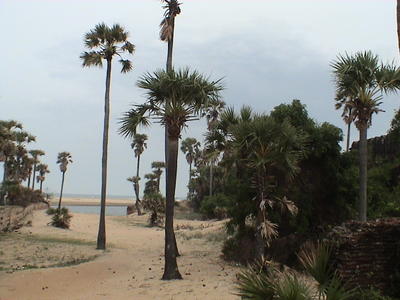 It all happened in a moment. The sky changed hues, the landscape altered, even the familiar turned quaint as we reached our destination. Pondicherry is a medley of old world charms, with a potpourri of people; where history meets legends and a confluence of cultures exist. Here, the past and the present blend, as nostalgia lingers in every corner of the city.
We went to Pondicherry in search of new landmarks – to look beyond Auroville and the Aurobindo Ashram .The French influence is almost omnipresent . You can sense it in the streets , in the red kapis of the policemen, in the architecture, the cuisine and even in the accents. It is not just the French, but even Roman connections are evident here . Excavations unearthed in Arikamedu, in the outskirts of Pondicherry have proved that Romans had settled here . Legends associate this sea side town with the ancient Hindu sage Agastya . The 300 odd temples here are testimony to the same . It is difficult to typify this town which smacks of the old colonial era and yet is so distinctively Indian .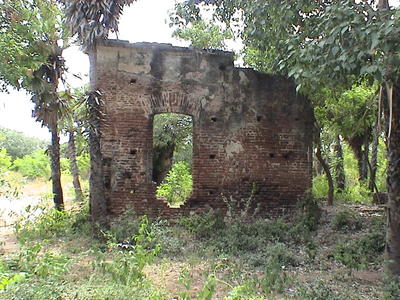 Even more difficult is to find accommodation in this popular weekend getaway, that too on a Saturday afternoon. We drove past a few resorts that boasts of a sea view, crossed many a cottage in and around Auroville and entered the heartland of the city, looking for colonial bungalows which offer guest house facilities . Meandering our way through the maze of streets, we set out in search of a heritage guest house , Patricia Guest House.
Our enquiries led us to a nondescript door on Rue Romain Rolland shrouded by greenery. We could not see beyond the huge compound wall, not a soul was around ; just a cycle leaned against the door. After a brief wait, the portals of this house opened to unveil two portions of a renovated old bungalow , more than a century old, enclosed by foliage . A small tank of water becomes a fish pond, even as a huge metal pot hangs over it, supported by a rope
A series of large pillars support the open hall which serves as both the living and the dining room. An eclectic array of curios and antique furniture dots this space –from sea shells to exquisite pottery , from colorful lampshades to terracotta dolls, the mélange is unique . At one end is an antique wooden swing touching the red oxide flooring, at the other are petite breakfast tables and chairs , overlooking the garden. .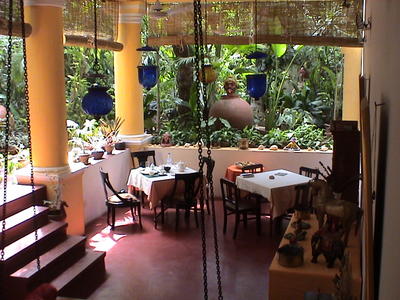 Run by Patricia Michel and her son, Thierry, this guest house currently offers three rooms and a colonial suite with breakfast. Thierry recollecting his childhood, says that this 150 year old bungalow owned by his grandfather was once an arena for cock fights. It is a bit difficult to understand his accented English as he takes us on a tour of his house.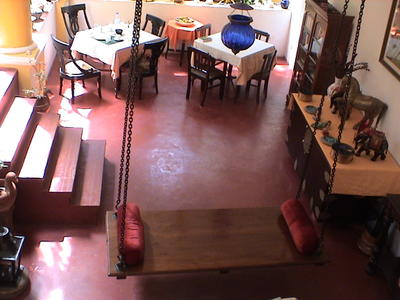 A narrow staircase leads up to two levels, to the rooms which have attached bathrooms and private verandahs as well. Our room was on the first level which was spacious and had the same feel as the hall downstairs. A huge wooden bed covered with mosquito nets is the first thing that meets the eye , placed three feet above the ground . The sun reflects through the stain glassed window panes, creating colorful patterns on the walls .
The second part of the guest house is the heritage portion with a kitchen and a living room. A vast expansive suite with a private garden and a lounge is now being renovated and will be soon in the offing. Its almost a house in itself with a living room and a dining area enclosed in that space . Scattered by antiques and artifacts , Thierry calls it a colonial suite while I feel that there is a beauty in that clutter . Every item has been carefully detailed and arranged, be it the wooden furniture or the dry flowers . The walls are adorned with old paintings or with buffalo head mounts . Its like living in a museum, except that this is bright and vibrant .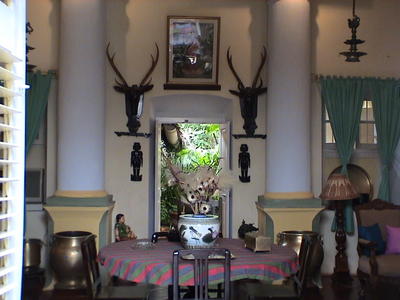 The duo also manage another colonial guest house which is a home stay and is just a few streets away. In fact Pondicherry is full of them now, complaints Thierry who has come back from France to manage this property . Several bungalows are now converted into hotels and restaurants; we had dinner in one of them called Dupliex, named after the erstwhile Governor General and housed in the former Mayor's residence . It was not just the food or the experience that we partook, but a large slice of history as well. The trip did give us a hangover, of the colonial variety