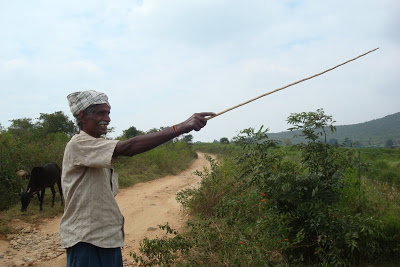 " Can you see the cattle ?" A herd has just stopped our jeep from moving any further.."Yes, so .. in India, you see cattle everywhere." " Yes, but this is forestland and you see cattle grazing right in the middle of a forest ..thats the problem..beginning of man-animal conflict." Mithun opens the book "Romancing the Elephants" . With him in the jeep are the German couple and us gazing at a satellite map where the greens and the browns merge.." The forests have become overgrazed, its just shrubbery now . This is illegal. and you will find villagers complaining that animals walk into their homes and lift their cattle..but they are actually encroaching.."
" But where will they go ? I mean, the villagers .." "Ah ! thats what you city bred thinks..most of the villagers are migrant..they dont live here..or they are tribals who were living in the forests and have been rehabilitated..and the cattle, you think they are for milk ? Its mainly for manure..to send to neighbouring states and towns..""You mean, Tamil Nadu and Kerala ? They have their own cattle.".."not enough..agricultural lands need manure..all these cattle are raised and the dung is processed into manure and sent there..also beef.."
————————————————————————————–
" See that hillock ..that is the crucial chicken neck of this corridor..and that is the resort I told you about..they have fenced all 40 acres , but the built up area is only 10 acres.." " But isnt tourism good in a way..I mean they hire local people, prevent poaching..?" " " They have to hire local people as they cant get anyone..yes, tourism is good in a way, but not all resorts here are into eco tourism..they are into what you call green washing..just having some huts and less towels doesnt become eco tourism .."
————————————————————————————-
" Does he carry a rifle with him now ? " " A double barrel gun .."elephants attacking sarva sadhanam .." " Very common,he says, he uses it then .." Nim hesaru .." "Kempanna." " Idhe oora ?" Illa, Chikatti ,Nanjangudu hathra..familyala ooru alli ." " He stays in the quarters here ? " " Can you pls translate what he says ? "
"He is Kempanna , a watcher and his beat is the Moyar range…4500 acres and only 3 of them watch the entire area…the three go together all the time." "Poaching, wildlife chasing him, looking for dead beasts.. " ." yen maduthu ?" " Biggest problem is he says is of cattle grazers and they are not allowed into the range and they have lots of fights." " So what time does he start his day ? " 8 am till 6 pm and night sometimes…if there is any problem ..nights there are elephants..its dangerous .."
————————————————————————————–
"Hey, Baaro illi.. Nim Hesaru ? " "Gaviyappa" " Yen, nimuhasugule jaasthiaagbittidhe.." " Aye ..aye..manne, ondhu kempu huli bandhuhodathabidithu ."
"Howda ! kempu hulia..athara yennum ille .." " Aye..Aye..challenge ..yeradu kara idhe..ondhu kappubare, inondhu kempu bare…"
Mithun laughs . " He is challenging me that there is a red tiger.." You mean, he is referring to the stripes.." "Yes, he says there are two..one he claims is red and the other black..one of them lifted his cattle day before yesterday .. " " Wild animals here ?.." " yes, elephants, leopards, hyenas , wild dogs also.."
" So, how many villages are there ?.." " About 10 and more cattle than people.." " But why is this land fenced ? " "One North Indian – he has bought the land here and fenced it.." " and is he building a homestay ? " " No, grows seasonal crops – here try, these "? Gaviyappa picks up some horse grams and gives us." Hope these fences do not electrocute him " ..We leave
"Aye aye..alli nodhu ..guddatha mele..aane idhe.." Gaviyappa 's eyes strain as he points to elephants on the yonder hill.
————————————————————————————–
" This village is Lokhire..and it is the best among VFC ..villages and forests conservation ..they are managing the entire area, growing crops, and ensuring that the cattle does not graze into farm lands ..very good cooperation..we also wanted to set up a home stay here and ensure the villagers get the benefit..now we will go to Chikyelshetty."
—————————————————————————————
" We will sit under this tree…and have some refreshments by the stream.." " Nice temple ."."yes, the priest and his family helped us to run this home stay..amazing…and a modern toilet too..yes, they had this idea of having plants as well.." "So, can we stay here ? " " Yes, only for you..we had to close this down as the authorities did not approve..we were only giving tourists a taste of rural tourism and wildlife..food is cooked by the villagers..no alcohol as there is a temple here..but you can drink by the stream.. ! " " Where can you get a view like this ..fields and a hillock outside your door ? "
"Uchaya the main guy is behind the furniture project and we will pick him up in Bandipur..he is coming from his village there "" Oh ! we cant see the furniture or the workshop ? " " They are kept locked inside a school, the workshop has shifted .".."So who runs it ?" " Uchayya is the main guy and there are two NGOs – Atree and ForestScapes. "
" This village has about 70 people…where ..I hardly see a few homes ? " "Full of lantena" .."we will go towards the school….you can take the pictures from the window .." " School hogthiya ..yava class ?" "Eight standard ..Ivathu raja " "They want to pose for a picture..with goats.."" Where are these guys ? I think we have lost our way..this is real India..nice..can we buy a bell like that ? The one around the cow's neck " "Will try in the market.. " "School yelli..?" "These are the furniture..any orders coming in ? yes, one small homestay have placed an order".."why not the others who say they promote eco tourism ? "
————————————————————————————–
Thanks for your patience in reading this series.Bandipur is a national park located in the state of Karnataka beyond Mysore.The forests extend into Tamil Nadu as Mudhumalai and into Kerala as Wynad.I have deliberately kept away facts and travel related information from this posts. The idea is also to create a diary feel, raw, unedited and little choppy without information or details ..but I wanted to try a new style of writing and I wanted to bring out some aspects of wildlife and eco tourism. The tendency is to always describe a safari and focus on sighting..but there is more to wildlife than just game. The conversations are of different subjects and it doesnt matter who is talking or even sometimes the context or the descriptions…In fact I had recorded a conversation on my phone, but my file transfer is not working well..I deliberately avoided posting pictures as well..
I didnt want these posts to go into a series of descriptions and narratives and the idea was to cut to the chase and get readers into thinking..of wildlife, eco tourism, man animal conflict…I am not an authority on any of these things to pass a judgement or even a solution to some of these issues..but I wanted to create an awareness ..the trip opened my eyes and I hope I have tried in my limited way to open your minds to some real stories..thanks..and here is one last conversation….the last word, I would say ..By the way, I acknowledge my husband's impatient contributions in helping me with the Kannada while writing this post.
————————————————————————————-
"Ah smellu..yestu gama gama idhe..basmati rice thra.." " Cooking inside the forest right in the afternoon..?" " No, the smell of basmati rice..a tiger's urine smells like that.." " Eh ? " " You mean, there is a tiger here, behind these bushes..?" " No, a tiger's urine smells for more than half an hour..even after the tiger has left..sometimes over 1/2kms..even some plants give out that smell..gama gama idhe alva..sakath smell ! " I have sinus and a blocked nose..