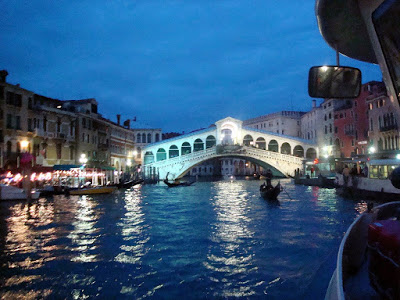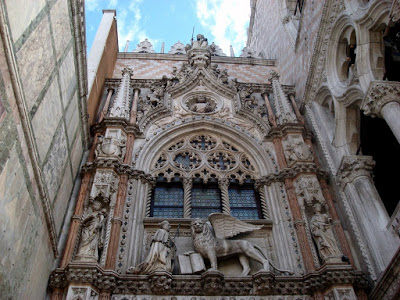 Words defy you as you look upon Venice ..To say its beautiful is an understatement . Its magical, its romantic, its pictureque, its unique, its vibrant !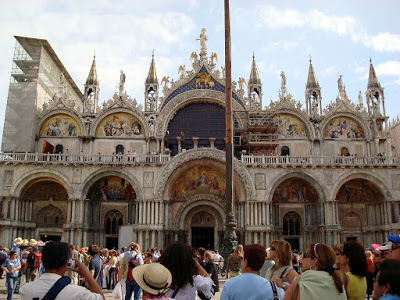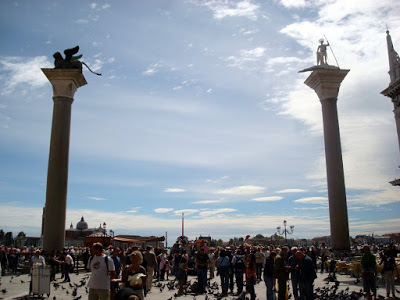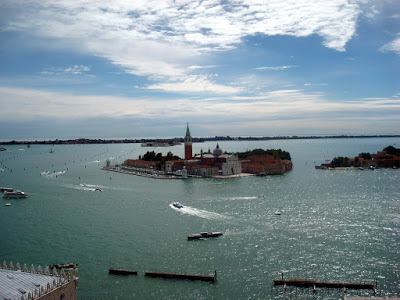 We were still in the train when we got our first glimpse of Venezia. It was a long jouney from Munich and I had not slept too well. The warm rays of the sun were such a welcome relief from the cold, damp feel of Munich . As we looked out of the window, gazing at the vast expanse of water , a sudden wave of excitement swept over us. We were in Venice .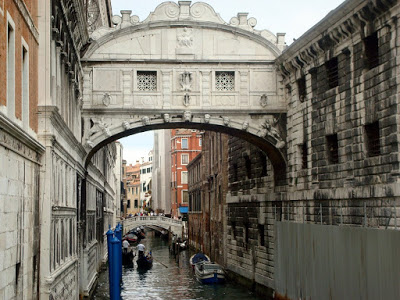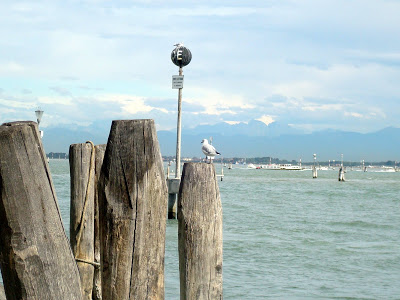 Through the cobbled streets of Venice , looking for San Marko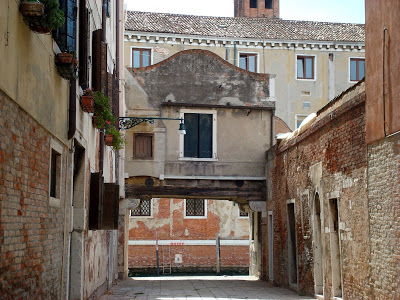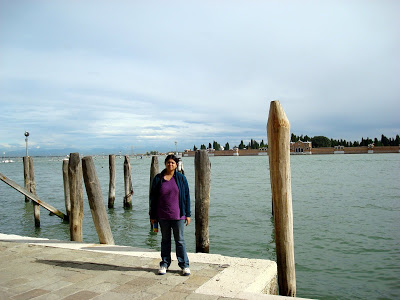 It was still early morning as the train reached the station . We had to go to Murano, an island in Venice known for its glass industry . The morning breeze gently refreshed us as we waited for our water bus no 41 to ferry us to our home stay . A 45 minute ride through the most beautiful canal and we were in Murano, but no sign of our home stay .Beautiful bridges, bright boats and colourful churches greeted us as we walked in search of our homestay .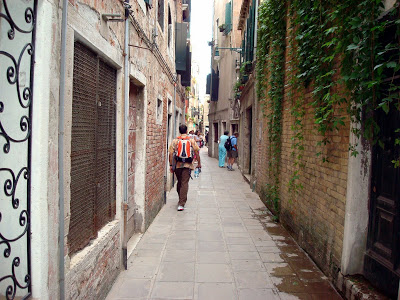 Most shops were just opening as we finally made our way, only to figure out that our room will not be ready before 1 pm. We were hungry, badly in need of a bath and it was still 8 am . In India, we are so used to getting a room at whatever time you walked in, especially if you have a reservation – but this is a different scenario . I was to get a similar experience in Swiss too.. Anyways we managed to refresh ourselves quickly and with a map in hand, went in search of another destination – San Marko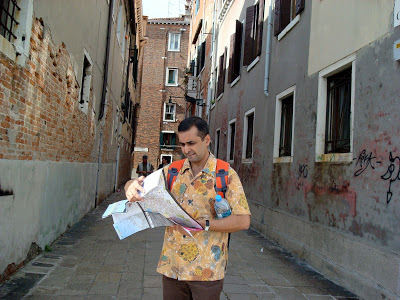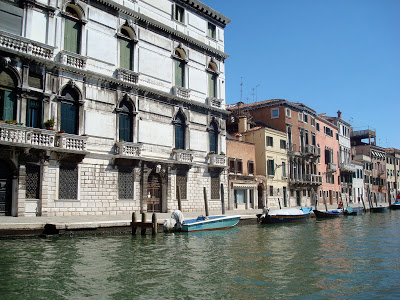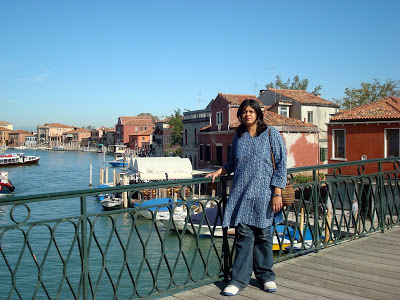 The cobbled streets of Venezia were long and winding; they often were a dead end , stopping at a canal or at the church ..we crossed bridges as we went looking for San Marko …We could have taken the water bus directly to San Marko, but nothing like discovering a city through its narrow lanes and losing ones way through them . And what a sight – when we reached ! The swarm of people was the first to hit the eye..as millions of tourists had converged here . Coming from India, we are so used to crowds , but this was something .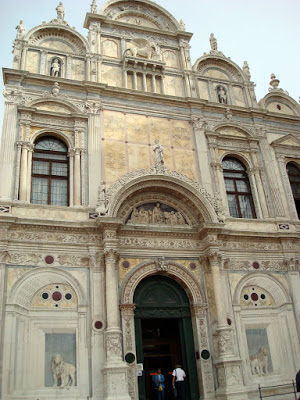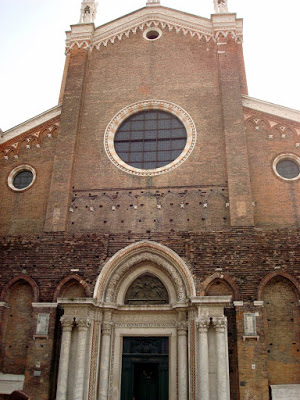 San Marko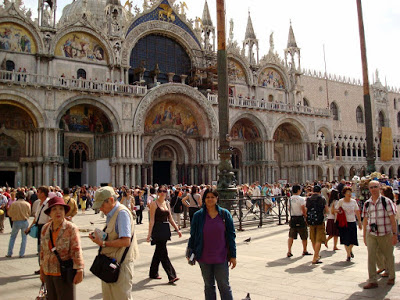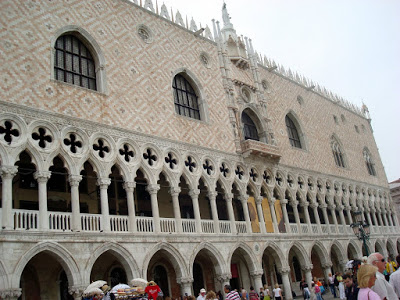 San Marko is a phenomenon . . It dates back to the 9th century and it is said that in 832, the first church dedicated to Evangelist St Mark was consecrated. According to a legend the reamins of the saint was stolen by two Venetian sailors from a monastery in Alexandria and brought to Venice .The symbol of the winged lion became the symbol of the city and St Mark, its patron saint. You cant miss the Piazza and the Piazzetta , with its two columns.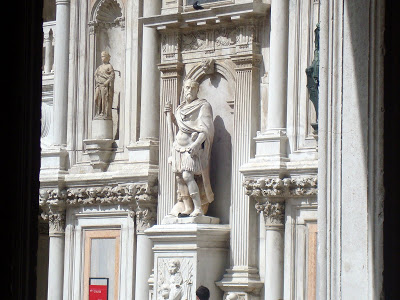 The St Mark's Basilca, the St Mark's Campanile, the Doge's palace and the clock tower are housed here . We waited in a long queque that took us into the basilca. Unfortunately, no photographs were allowed. The plan is like a Greek cross and the facade is planned in two orders. I will not go too much into architecture here , as Im not an expert , but you cant miss the four bronze horses here , which were brought from Byzantium after the fall of the city during the fourth crusade .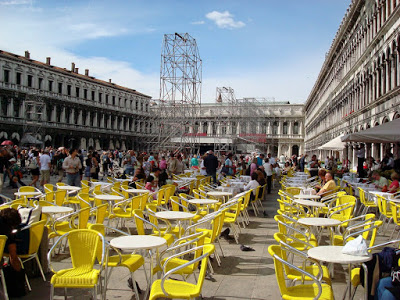 Another sea of humanity were waiting at the entrance of The Ducal palace ,which was the residence of the Doges until the fall of the Venetian Republic in the 18th century Again photography was prohibited here . It is flamboyant and yet beautiful . Filled with beautiful frescos , sculptures and carvings etched in gold , this palace takes your breath away as you move from one apartment to another, taking in the art and history . From Adam and Eve to Jupiter and Mars , all Gods and Godlike mortals grace this palace.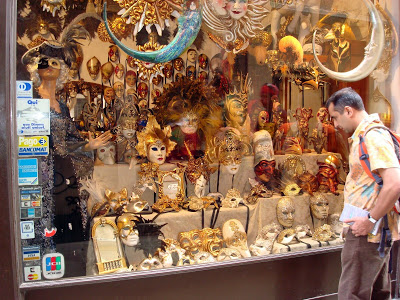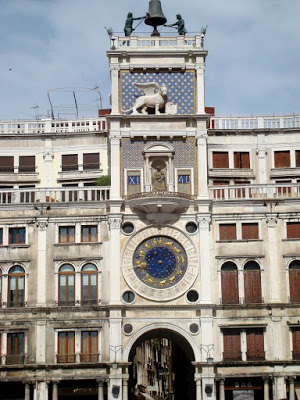 Paintings adorn these walls telling you stories from mythology and history as you wonder if there is a differemce between the two… We move from one room to another , from their apartments to the halls , until we come to the Bridge of Sighs ,the bridge that linked the ducal palace with the prisons on the other side of the canal. It is called so , as poets imagined prisoners sighing as they walked up to the prisons . Dark dingy dungeons were a perfect foil to the grandeur of the council rooms as we returned back to the square , sighing !
Views of Venice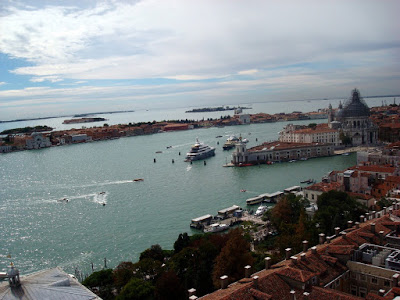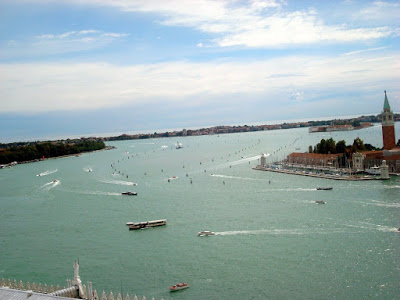 We climbed a tall tower, actually were uplifted to see views of Venice . I am not sure of the height , but I dont think no modern sky scrapers have reached these heights . Huge bells hung aloft there and one of the bells called "marangona" used to be rung to announce the beginning and the end of the days work of the carpenters and craftsmen .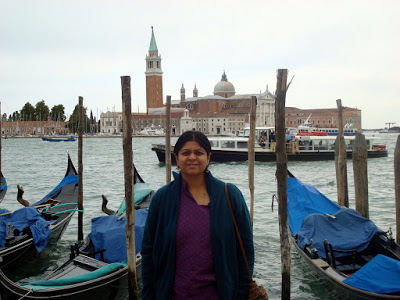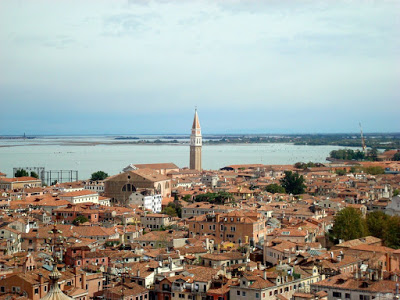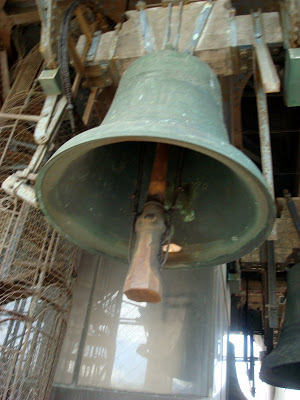 Pigeons at St Mark Square or San Marko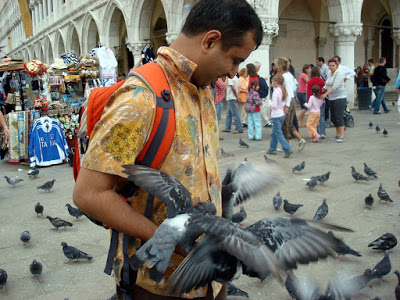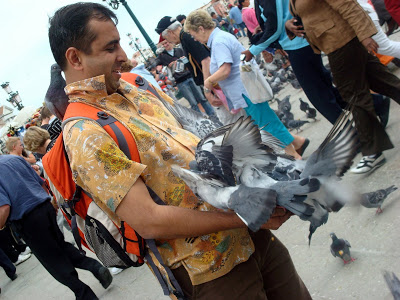 And of course- the pigeons …feed them and they will flock you ..fluttering away , their greed knows no bounds as they move from one tourist to another waiting to be pampered and fed ..and they will dump you, if they know that you are here just for a picture !We went back to Murano to claim our room and to give our tired feet a break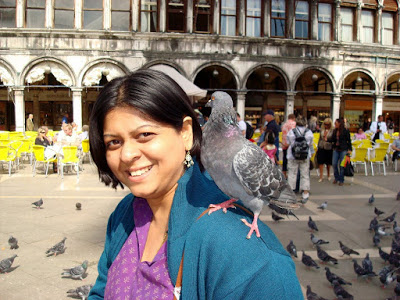 Sunsets at Venice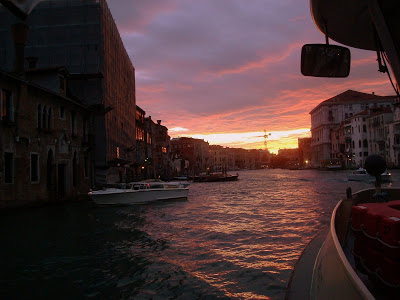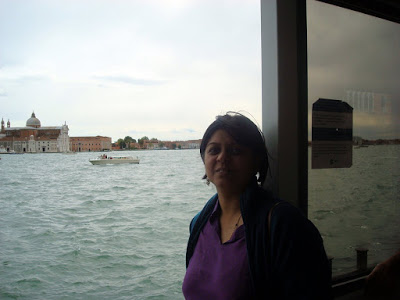 The sunsets were magical as we returned to San Marco to embark on the grand canal tour . The cityscape changed as the sky changed colours a myriad times…from pink to dark blue to black as we sailed along …we stopped for a picture here and there, admiring the sights and sounds of the city .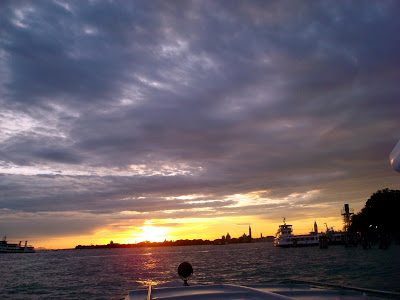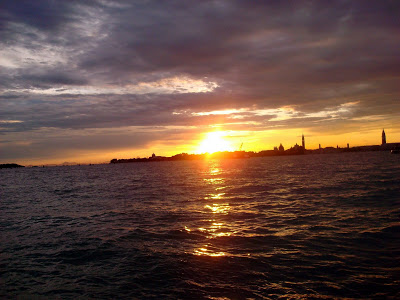 Through twilight to night – the grand canal tour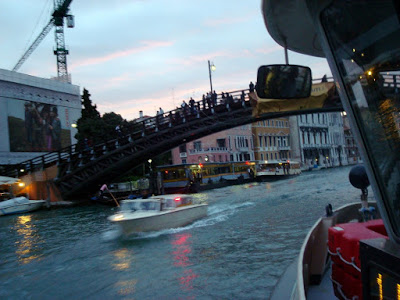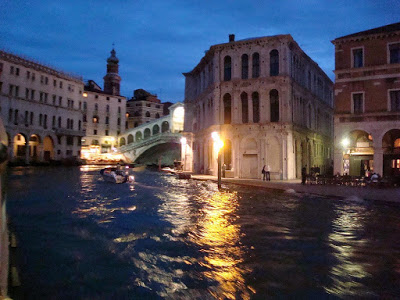 And then came the moment at the famous Rialto bridge . If San Marko was the political and religious centre of Venice , Rialto was the economic centre ..home to the markets, especially the famous fish market. We clicked pictures continuously as the bus sailed through and while some may be soft focus, the sheer montage of colours and lights still tempted me to post them . We returned to San Marko to enjoy a romantic dinner by the wharf and the festivities and music …the evening was peaceful,night was young and nothing could possibly go wrong ..but whats life without a dash of fear and adventure ! So heres a little anticlimatic end ..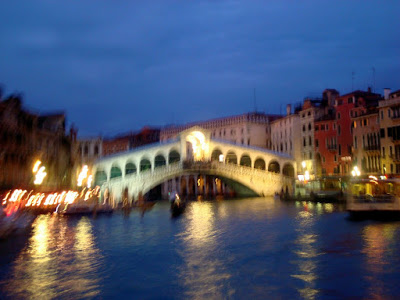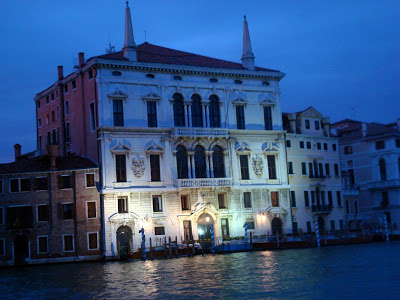 It was 20 mins past ten as we walked hand in hand post a lovely dinner. The lights of San Marco with its gentle strains of music lured us ..we had nothing to worry as transport was there till midnight and we knew the route of 41 by rote now, having taken the route thrice . So, as we waited at the stand for our water bus to come, we thought there was nothing to worry until the last passenger took Route no 51 and we were still waiting …the wine had not gone into our heads as yet as common sense told us to inquire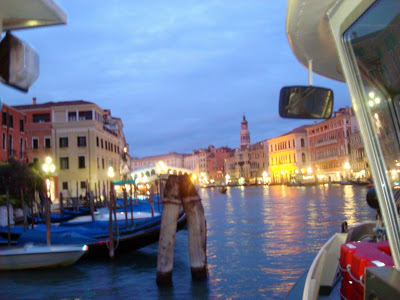 We were then shocked to hear that the last bus had departed at 8.40 pm and there was no way one could reach Murano now..after convincing the lady at the counter that we were staying at Murano ,she told us to take the last 51 and change to 41 which would reach the transit point by 11pm …..worried and anxious and wondering what would happen if we missed that last option, we ran to catch 51 . Language is an issue here as well..most of them dont speak in engish …when we inquired where 41 would be available, we were told that this is 41 .We didnt understand , but as the route got familiar , we realized that the same bus(51) was leaving for Murano and it would be rechristened as 41 after reachng its destination ..I wonder what would have happenned if we had missed this..only the patron saint of the city would have helped us !