A holiday in Udaipur after 14 years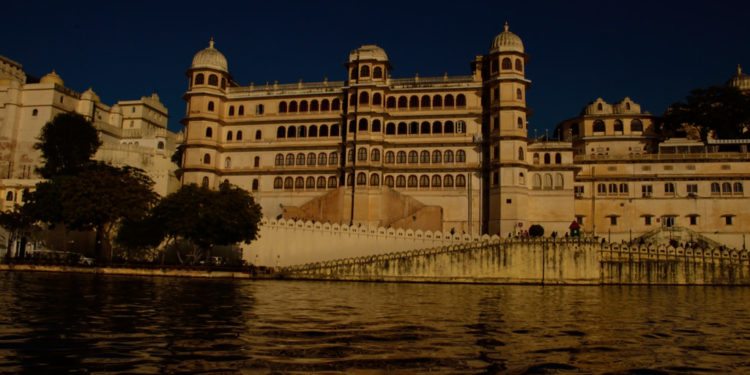 As a travel blogger and writer, I hardly go on holiday, especially with my husband. Every trip invariably becomes work as I always end up looking for stories. But, this time I decided I needed a break. I was in Rajasthan on a road trip and I had a few days in between two assignments. So I called up my husband and asked him to join me for a holiday in Udaipur.
It had been 14 years since we had been to the City of Lakes with a short detour to Chittorgarh.  Nostalgia was in the air. It was the first trip we had made as a couple. All I wanted to do was to go on long walks, sit and watch the sunset together and wine and dine at roof top restaurants and remember the good old times.  And we did exactly that.
It was our first " do nothing " holiday in many years. We had no agenda, no things to do or see, no stories to explore, no early morning flights to catch. We had just one thing in mind – to go back in time 14 years ago and explore Udaipur the way we did then.
As I pen this post for #ErtigaHolidayDiaries, reliving nostalgic memories, I realized that we forget the very essence of holidaying. And I promised myself that we will have more holidays together this year. So here are some vignettes of my holiday in Udaipur in the form of a photofeature.
Fog filled the scene as we watched the Lake Pichola from the City Palace in Udaipur. It was the first day of our holiday in Udaipur. The best part of any holiday is to just soak in the beauty around us. As we joked, " This is our favourite Monday morning blues."
The silence was soothing. We just sat together and gazed at The Lake Palace for a while. One of the things I like about slow travel is to just linger and watch a scene without letting time get to you. The City Palace was filled with people, so we took a break to just do nothing.
Memories of a good holiday are like often like this – little bursts of colour, reflecting happiness and bringing a smile to our lives. The City Palace has several such colourful corners . They say in olden days there was no electricity and hence there were rooms filled with glass and mirrors which reflected light and the kings and queens enjoyed a bit of romance in the play of light, colour, shadows and darkness. Our holiday in Udaipur was also like this..colourful and vibrant.
And then there were picture post card moments like this for #ErtigaHolidayDiaries. Like everyone else we went on a cruise in the Lake Pichola to see the palace bathed in sunlight. The wind was in my face . The husband and I took turns photographing. We watched as the waters turned golden with the sun's rays caressing them.
Finally, we took a photograph to frame our memories. Fourteen years ago, we were in the same place and we had posed exactly in the same place. Time has indeed flown but memories remained the same.  We laughed ourselves silly, but I thought this was the best moment of our holiday in Udaipur. This probably will be the moment for #ErtigaHolidayDiaries.
Holidays are all about the unexpected. And we had an unexpected visitor as we went to see the sunset at Lake Pichola. A little parakeet was so amused by the mobile phone as it wanted to see the photograph we had took.
Watching a sunset together in absolute silence is one of the most blissful experiences of a holiday. For us this was our favourite sunset – at Lake Pichola. We saw a sunset everyday and every sunset was a moment to cherish. Many a time we waited until the stars came out and we walked around in little lanes of Udaipur, exploring little nooks and corners. #ErtigaHolidayDiaries.
The lazy traveller and photographer in me decided that I had to soak in the scenes and I was tired of seeing everything though the lens. So I handed over the camera to the husband and this was one of our favourite moments as we watched the sky change colours and the lights come up in the City Palace and the other monuments around it.
What is a holiday without some delicious food ? The flavours of Rajasthan still linger as I lose myself in the fragrances penning this #ErtigaHolidayDiaries. We tried street food to gourmet cuisines. Hot delicious Kachoris and Samosas, Dal Bhatti Churma, Sumptuous Thalis to roof topdining and wining – holidays are also about gaining calories and not feeling guilty about it.
And all good things eventually come to an end. We are back to civilization, to mad jobs, to deadlines and we are now slaves of time and yet, on our holiday in Udaipur, time just stood still.  Memories are today all that we have, some printed in frames and the rest, etched in our minds. Sometimes, we need those moments to bring us closer to ourselves as well.
The #ErtigaHolidayDiaries gave me an opportunity to go back in time and relive my best holiday in a long time and the moments we cherished together, most of the time doing nothing and simply walking together in silence.
To share your own #ErtigaHolidayDiaries, visit their Facebook page or check out their twitter handle @ertigabymaruti
More posts from Rajasthan
Udaipur – Old photos tell a story