A speck in the horizon..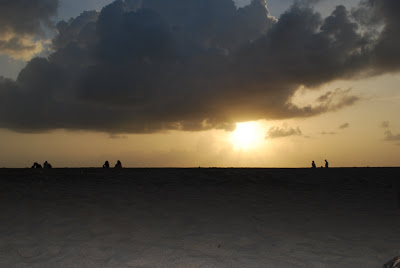 I was in Sindhudurg on the Konkan coastline last week when the dramatic skies above the Arabian Sea changed from a bright blue to gold to rosy pink to grey and black. We spent every day at a different beach, but this picture of the Tarkarli Beach stands out in my mind. It may not enter a picture post card contest, but it gave me a perspective of life..how insignificant and small we human beings are when compared to nature. It reminds of the last two lines of Keats'(my all time fav poet) sonnet, " When I have fears that I may cease to be " ..
…then on the Shore
Of the wide world I stand alone and think
Till Love and Fame to Nothingness do sink.."
What does it remind you of ?
For more wonderful skies around the world, click here