A couple of langurs greet us as I listen to my guide Virupaksha gush about his hometown. " Anegundi is older than Hampi – in fact this is the mother kingdom ." Indeed, Anegundi  is ancient,with cave paintings of prehistoric man, it is the mythical Kishkinta of Ramayana , it is holy as the Pampa Sarovar flows here and it is historic with ruins of forts, palaces , temples and gateways hidden around  the boulders. But the most important aspect of Anegundi is that it is a lively settlement, with a charming village that opens its doors to most tourists who visit Hampi
A fisherman and his wife are busy making nets  near the Tallarighata gate, as we sip tea in a small shack, talking to some old women who are lost in the passage of time. "You will find another gate in Hampi as well, " says Virupaksha  and explains that these gates were used to collect tolls or taxes during the Vijaynagar dynasty from people entering from other kingdoms.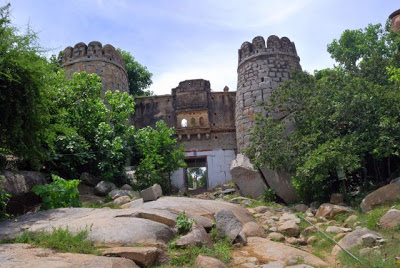 An auto driver decides to take us on a whirlwind tour of Anegundi . We see the village,  palace , the main entry gates and then climb up the old Durga fort listening to more stories . " The Vijaynagar kings used to come here and pray before every battle, "says Virupaksha , and then they go to the holy Pampa sarovar lake and the lakshmi temple there. "  We climb further to see  an ancient entrance to the fort, ruins of a palace and tombs .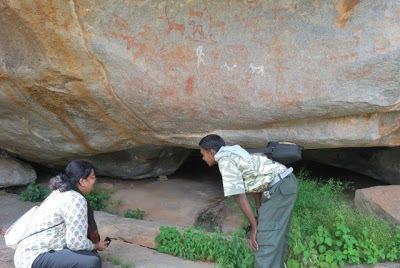 But Anegundi is ageless  –  be it the settlements of prehistoric man or the myths around the Ramayana, there is a mysticism around it. " Kishkinta means a bush, a forest where monkeys lived, " explains Virupaksha, telling me about the Hanuman temple atop the Anjanadri Hill where tourists climb more than 400 steps to reach there.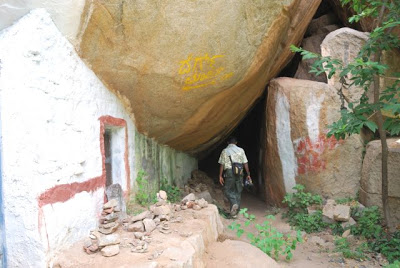 As we lose ourselves in the green fields below bordered by the boulders, Virupaksha warns us that the last coracle would leave for Hampi soon. A few minutes later, sitting precariously on the rim of the coracle , carrying  two bikes and a dozen people , I cross the river Tungabhadra .  My thoughts get carried away to a passage in Robert Sewell's book , " A Forgotten Empire , which narrates the observations of a 16th century Portuguese traveler , Dominoes Paes who had visited the empire.
 He mentions that the coracle was used even then to carry "" fifteen to twenty persons and even horses and oxen can cross in them if necessary . "Paes adds ," People cross to this place by boats which are like baskets, inside they are made of cane and outside of leather…and the boats are always turning round, as they cannot go straight like others; in all the kingdoms where there are streams there are no other boats than these."   It is interesting, I thought as we reached Hampi that a relic like the coracle lives along with the monuments from the Vijaynagar days.This story was published today in Metro Plus in my column, The Inside Story