Why I bought a credit card finally after ten years
A confession. I don't have a credit card – at least for the record, I did not have one until yesterday. The last time I had a card was almost ten years ago and I had a huge dispute with the bank which had issued it. I had bought it because it had a tie up with one of the premier airlines and owning and spending on the card got me mileage points. But I did not renew it after my dispute with them and for around a decade I continued without a card. Strangely I never felt the need for it. I am not a compulsive spender and my debit card was good enough. But all that changed this year.
It all started with an embarrassing incident early this year. I was in Australia and although I was there on a sponsored trip, the receptionist at the hotel refused to check me in until I furnished a credit card. They said they needed it for incidental expenses, in case I spent on anything such as the items from the mini bar. Else I had to furnish huge sums of money as deposit. I was surprised. This had never happened to me before, either on my personal or professional trips. A fellow traveller, practically a stranger agreed to help me by giving his card details. I told myself that I should get myself a credit card but promptly forgot about it the moment I reached India. But the incident repeated itself in Canada a month ago and I promised myself I will not allow myself to be embarrassed again.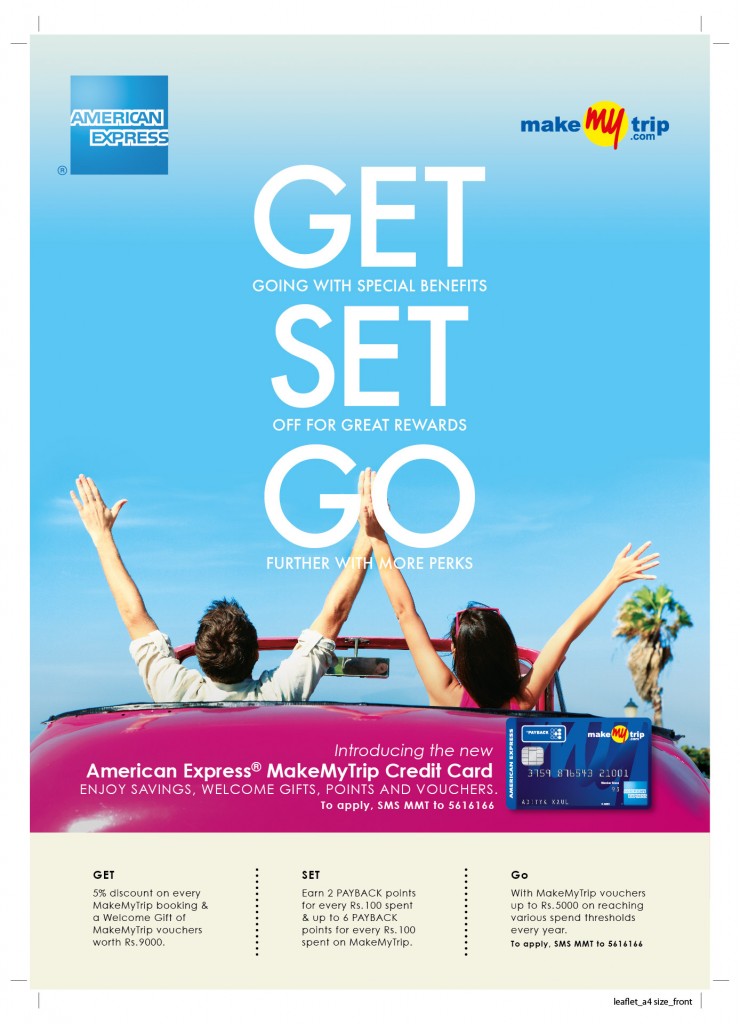 I wanted a card that would help me travel more every year without much guilt. And I did not want to deal with the same old bank. And my search took me to the travel site Make My Trip.  I was looking for options for my year end holiday and instead of destinations, I found a credit card that ensured that my flight tickets would be free – the Make My Trip Credit Card. The banner said that if I buy this card, I can get vouchers worth Rs 9000 free. All I needed to decide now is the destination.
More benefits. Ideally if you book your international and domestic flights and hotels on this site, through this card, you get a 5 % off on every booking you make and considering I do quite a few of them in a year, this should help to save cumulatively a lot more.  If you are planning a trip anywhere overseas and your budget is anywhere between Rs 1.25 – Rs 2.5 lakhs, you get vouchers around Rs 2000 and Rs 5000, which can be ploughed back on your next weekend getaway or a trip in India. If you use your card on Make my Trip site, you get 6 PAYBACK points for every 100 you spend and 2 PAYBACK points for every Rs 100 spent on any of the 50 PAYBACK partner brands.
I am only interested in the travel related opportunities. Considering I travel almost every month, this card tempted me . And so, I finally opted for a credit card after a decade. And I hope by the time I fly overseas again, I wont have to face any embarrassing incidents anymore.