Explore Chennai by foot this Madras Day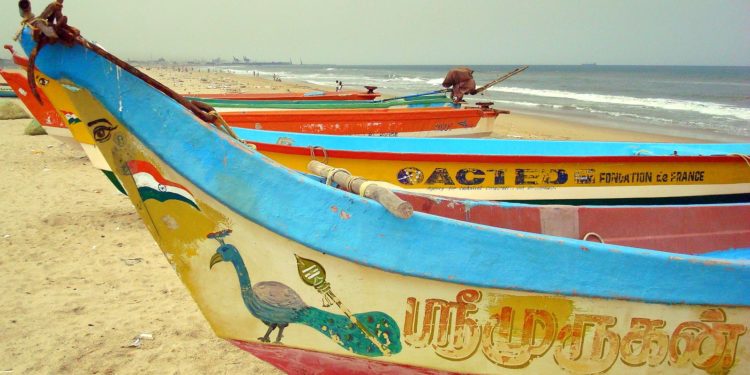 Chennai walking tours
I have always believed that as a traveller the best way to explore a city is by walking. Getting lost in nooks and corners, chatting with the locals, enjoying the sights and sounds, tasting the local savouries, stumbling on a piece of history by the way side, visiting a colourful market – you can discover a city's secrets on foot.
Also read – Discover a city through its streets
While some cities have organised walking trails, others do not. You can either walk aimlessly or explore some of the trails on your own. I have gone on several walking tours in Europe and UK and my favourites are the spirited ones – wine, whisky, beer..I have also been on several literary and cultural tours and some of the walking routes take you along picturesque old towns with canals and bridges, cathedrals and palaces.
Back home in India, walking tours are quite a recent phenomenon and are rather niche. Most of the big cities – Chennai, Bangalore, Mumbai, Delhi, Kolkata, Jaipur have walking tours and although I have not explored all of them, I have been on a few in Chennai.
Read – Ten reasons to visit Chennai
Come August and the city celebrates its birthday this month. And with Madras Day around the corner, the city is buzzing with events and walks and talks are the flavour of the season. If you are in Chennai or visiting the city this month, then these are some of the walking tours that I would recommend
1. The Fort St George Walk
Well, this is where the birthday party is actually happening because Madras Day is really about the foundation of Madras, the settlement by the British, who built Fort St George here. The settlement eventually became the city, Madras or Chennai as we know it today. The remnants of British India can still be seen here in St Mary's Church, the oldest Anglican church in Asia, the Fort Museum and erstwhile homes of Robert Clive and Arthur Wellesley.
Read – St Marys Church Chennai
The street names still carry a touch of nostalgia. The walks here are regular but since the Secretariat is also housed here, the permissions are still awaited. So, do check out the Madras Day website for details.
2.Photowalks – the Village Road in Nungambakkam
I love photowalks. There is no historian with his nose up in the air dishing out his knowledge. You can just soak in the atmosphere and capture in your mind's eye whatever appeals to you. Most of these walks happen early in the morning, so the weather is comfortable and the lighting is great. Whether you are carrying a mobile phone or a DSLR,  you can document the city the way you like.
I went for one of them in Triplicane and another near Central Station and I just loved them. There is only one photo walk updated on the site so far, so do check if there is anything happening closer to your homes.
3.Heritage Walk – Harrington Road
To be honest, I have not been on this trail but if I was in Chennai, I would have gone on this walk. Last year there were several walks organised along the River Cooum and I had the pleasure of having an exclusive one organised for me by Venkatesh, a famous novelist from Chennai.
This time the walk is organised by  journalist Sudha Umashankar and a heritage enthusiast Padmapriya Bhaskaran as they take you along the lanes of Chetpet. You need to register for the walk but it is free. Details on the Madras Day website.
Read – On the Cooum trail in Chennai
4.Heritage Walk – Living Statues of the Marina Beach
This is a walk that you should not miss. Think Madras and you think Marina and the statues that line up the beach. Every statue tells a story and this walk takes you into the lives of the characters who have been carved in stone.
This is an annual feature of Madras Day and you can watch these statues literally come alive as they are more than just poetry in stone.  You need to register for this walk as well.
5.Heritage Walk – Kapaleeshwar temple, Mylapore
I can lose myself for hours around the temple and the tank, its lanes, its markets, its food and its flavours.  Mylapore is an entire city by itself and the temple forms its nucleus. History meets art and architecture as noted art historian Dr Chitra Madhavan leads this tour. There is also an interesting focus on the culture of traditional games. There is a fee attached to this walk and you have to register for the same as well.
6.Food walk – Sowcarpet and Mylapore
There are seven walks listed on the Madras Day website and if I were you, I would ditch all of the above and go for only the food walks. After all, who wants food for thought when you can actually sample the flavours of the city from its streets. From legendary eateries to delicious street food, take a pick. Two of my favourite areas for food tours are Sowcarpet and Mylapore. Last year I was lucky to have a companion in Vasudevan and we literally devoured the streets of Madras on our own. I would probably come back for this .
Read – Ten old eateries in Chennai that you must not miss
Well, there seems to be some more of these Chennai walking tours this year – one on the textiles, another on movies and a third on trees. There are also several other talks and other events as well. So, take your pick and bask in the glory of this glorious city, that is home to me.
Read – 30 things to do in Chennai
Which one would you like to go for ?