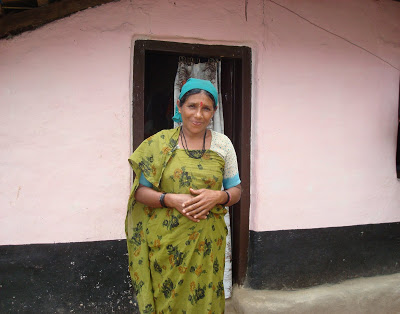 The scenery is mesmerizing. The winding roads take you through a maze of greenery . At every labyrinthine corner, you meet a collage of colours which explode into shades of greens, browns and yellows. The roads seem to have no particular destination . They just lead you from one part of paradise to another. As we squint though the green fabric , we pass plantations of coffee, cardamom and pepper which merge with forests, foliage and fauna. There are no villages, no people, no shops , no cars . We deliberately slow down to take in the moment. After all, you do not get to see paradise on earth often.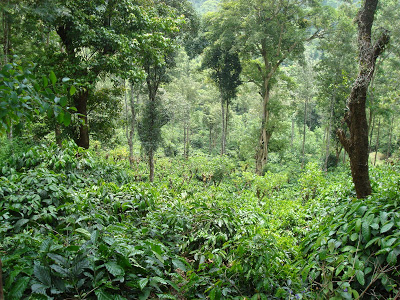 We are in Coorg, locally known as Kodagu or Kodavu from the Kodavas who inhabit this region. As we go up the Western Ghats, we see the slopes carpeted by coffee plantations interspersed with pepper .It is an ode to nature and no wonder it has been attributed the sobriquet, Scotland of the East.There is a beeline of tourists who visit Coorg and the proof of it are the various boards of homestays which interrupt the seamless flow of greenery .The colonial bungalows, the sprawling estates, the charm of a plantation lifestyle has lured many tourists to Coorg who live in homestays and resorts that offer you a glimpse of the charming town and its cultural landscape. But there is more to Coorg than coffee as we discovered during our holiday. A heady mix of hidden myths and legends, a lost history and cultural and spiritual influences add to the magic .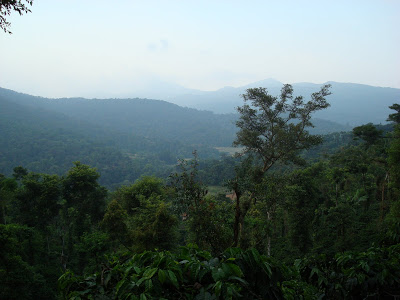 Our visit to Coorg was on an impulse . It was mid April and the heat in Bangalore was dry and devastating. Chennai was reeling under the spell of summer as well . When two women from these two cities got together to discuss weather , it resulted in a Coorg trip. So, my friend took the Shatabdi one evening and landed in Bangalore and we planned to take the early morning train to Mysore and thereafter drive to Coorg .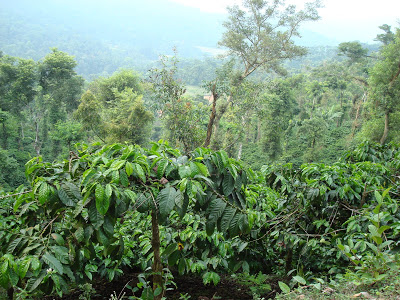 The day dawned and it started quite dramatically. I am not a morning person and even the excitement of the trip did not stop me from waking late and so the situation was such – 15mins for the train to leave and we were still in a ric persuading the auto driver to shrug off his slumber and take us in a jiffy. As the auto sped down the by lanes of Bangalore , a deep thud and we did not know what hit us. Shocked, we stopped to realize that a poor crow had thrown itself on the windscreen and had lost its life. There was nothing we could do and we insensitively continued on our journey to reach the station in the nick of the moment .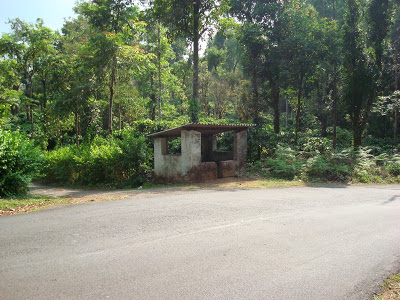 If you like train journeys, there is nothing like looking out of a glassless window of a regular compartment and enjoying the views and glimpses of morning life. It refreshed us and removed all traces of guilt that we felt for the crow . The train chugged and pulled along stopping by every single hamlet where vignettes of simple rustic life greeted us . The journey passed off quite peacefully with no more incidents as we reached Mysore and immediately started our drive to Coorg .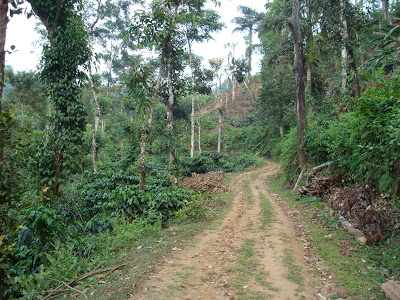 We had to make our choices while planning our trip there. The coffee estates with its colonial flavour lured us initially, then we thought about Nagarhole Forest and Irpu falls or Titimathi and its bird life , another option was to go to Cauvery Nisarghadhama and Dubare elephant camp and see a slice of tibetan life in Bylakuppe ..we had never been so flooded with choices in just one region . We decided finally to let go of all these and go to Kakkabe and head to Bhagamandala, Talacauvery and Madikeri .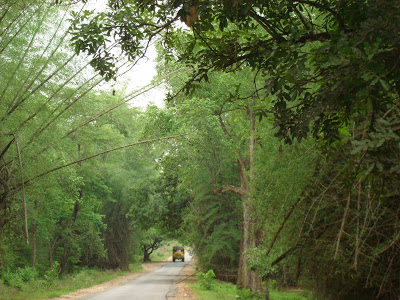 Our drive from Mysore took us a leisurely four hours as we crossed Hunsur, Tithimathi, Gonikoppa and Virajpet . A downpour greeted us as we entered Kakkabe. All homestays were running full, so we decided on a resort .The rains were unusual, explained our guide , Kailash, a Kodava who worked in the F & B department of the resort where we stayed.And then began our initiation into the myths and legends of Coorg ..