Cruising down Tonle Sap Lake in Cambodia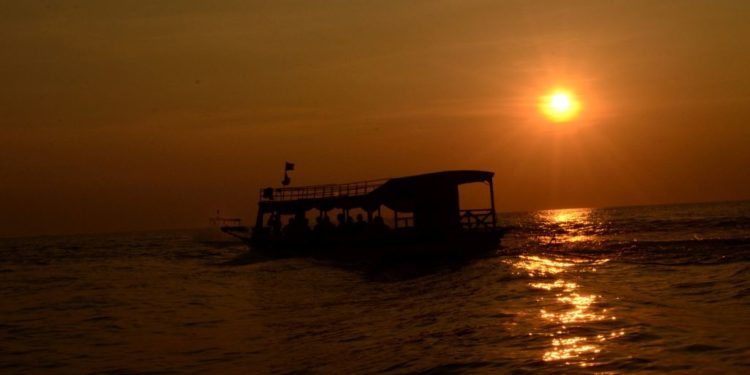 It was a beautiful day, one of those days when you would like to lose yourself in the never ending blue sky and watch the aimless drifting clouds float around it. I was in Siem Reap, Cambodia, sitting amidst the ruins of a small shrine in Angkor Thom
But then temple hopping in Cambodia can be tiring sometimes, as one can see several such temples dot the landscape. Hidden amidst trees, some of them are still in ruins, while the others are barely being restored. However I wanted to explore a different facet of Siem Reap . My tuk tuk driver Ramaon immediately sensed my mood and asked me if I wanted to visit the Tonle Sap.
The largest fresh water reserve in South East Asia, Tonle Sap is both a river and a lake, swelling and shrinking according to the seasons and changing directions twice in a year . We were almost at the beginning of the dry season and the lake was still brimming, with the water flowing into the Mekong river. Yet, it was not as overflowing as it will be during the monsoons. Tonle Sap however is more than just a natural water reserve. It is a UNESCO biosphere and a lifeline to several communities, almost three million who lived on floating villages along the lake. Some hamlets were filled with temporary homes, while others built their homes on stilts , right on the banks of this large water reserve.
Ramaon gave me a choice . I could either visit the touristy Chong Kneas , a floating village with lush paddy fields , stilted huts and schools and restaurants floating in the waters. The other option was to head to a much lesser touristy village, where one can get a closer glimpse into their lives. Perhaps the bird sanctuary at Prek Toal, he asked us or wondered if we would prefer Kampong Phluk or Kampong Khleang, villages which are permanent, where the community thrives on a fishing economy while living in the flooded plains of the lake. I was tempted with the bird sanctuary, a home for all the water birds, but I was told that the birding season was a few months away. The dry season was yet to kick in and Ramaon said that the migratory birds would come in much later, although it was the breeding ground for several water birds. I deliberated between Kampong Phluk and Kampong Khleang and decided upon the former as it was relatively closer.
It was already afternoon and the sun was just turning a wee bit harsh. I surprised Ramaon by agreeing to go on the long journey on the tuk tuk.. We continued on the way, tuk-tuking past Siem Reap into the older capital of Harihalaya, often referred to as Roluos and home to a few shrines – Preah Ko, Bakong and Lolei. My favourite was the late 9th century state temple, Bakong. It was believed to be the first significant temple mountain, built originally in laterite and finished by sandstone. Bakong was huge and I was tempted to stay, but Ramaon tempted me with a sunset cruise in Tonle Sap. We drove through tiny villages and were probably the only tourists around, especially on a tuk tuk. A few vehicles went past us , but for most of the time, it was just the road and a lone tuk tuk trudging along it.
The journey came to an abrupt end. We were in the middle of nowhere on a small narrow mud road and we could see neither a village nor a lake around. No vehicles or tourists were around either. We followed Ramaon as we walked down the narrow lane that took us nowhere. Bordered by small bushes on one end and an empty sandy stretch on the other, we wondered where the huge lake was.
Suddenly the bushes parted and we saw small wooden boats floating in a little stream, even as a boatman called out to us. We set sail in a wooden barge, looking at sunlight filtering through the trees as the little stream opened into a large lake bordered by dense mangrove forests. We changed boats and were joined by a handful of tourists as we almost had the lake to ourselves. Meandering  through the waters , watching the reflections of the woods lit by the evening sun, we finally entered the village of Kampong Phluk, a cluster of stilted houses , supported by bamboo that tower beyond ten metres high, partially flooded with water .
The locals were Khmer and we learnt that they form almost three villages with over 3000 people amongst them. Small restaurants floated in the waters offering us tea and refreshments, even as we saw the villagers lost in their daily huddle of lives. Some were having a bath, some fishing, many were cooking, while a few were returning to their homes with their daily haul of fish. We were interrupting their routine as we learnt that they sometimes build temporary homes on land during the dry season, but they often live in these permanent stilted homes, almost covered by water. They grow vegetables, study in schools, pray in monasteries .It is the lake that defines their life .
We left them in their private moments as we sailed away from the villages , lost in the vast expanse of waters waiting for the sun to make its date with the horizon. As the golden rays caressed the waters, we wondered how comfortable and blessed we were in our little homes, not tossed around by the vagaries of nature.