Dawn at Nagin Lake, Kashmir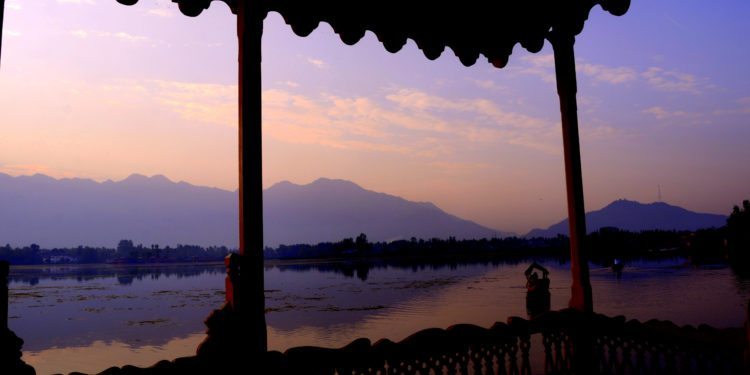 Notes from a  houseboat in Kashmir
It was the quintessential Kashmiri moment. On a placid lake floated a tiny boat brimming with delicate blooms, in vibrant hues. It seemed like the picture postcard had just come alive .Even the cliches here were refreshingly fresh. It might be an antithesis but sitting on the ornate wooden balcony of the houseboat in Kashmir on the Nagin lake, watching a shikara emerge out of the smoky mist, while the silver lined clouds floated past the mountains, throwing a reflection on the dark blue waters, I could not help but feel overwhelmed. I could watch this scene over again and again and replay it in my mind's eye.
 There are certain moments when you travel, when the mind is emptied of all its thoughts and time stands still. This was one such moment, except that it stretched on for hours. The dawn had broken, but the sun had no intention to shine and it seemed to be shining out from behind the clouds. I was finally distracted by one little grebe chasing another, creating a ripple on the waters.
Birding from a houseboat in Kashmir at Nagin lake
I had the houseboat to myself. Perhaps even the lake as well. The sound of silence was music to the ear. Occasionally Ayub the housekeeper of the boat would drop in to ask me if I wanted more tea or what I would like for breakfast, but for the rest of the time, I was just standing or sitting for that matter and staring deep into the waters. William Henry Davies would have been proud. I was staring like cows and sheep at the mountains beyond. The birds soon joined me. A pair of barn swallows perched on a wire close by and contemplated on life . A common kingfisher flew past me in a whizz and all I could see was a flash of blue. Atop the neighbouring houseboat was a common starling with nesting material in its beak.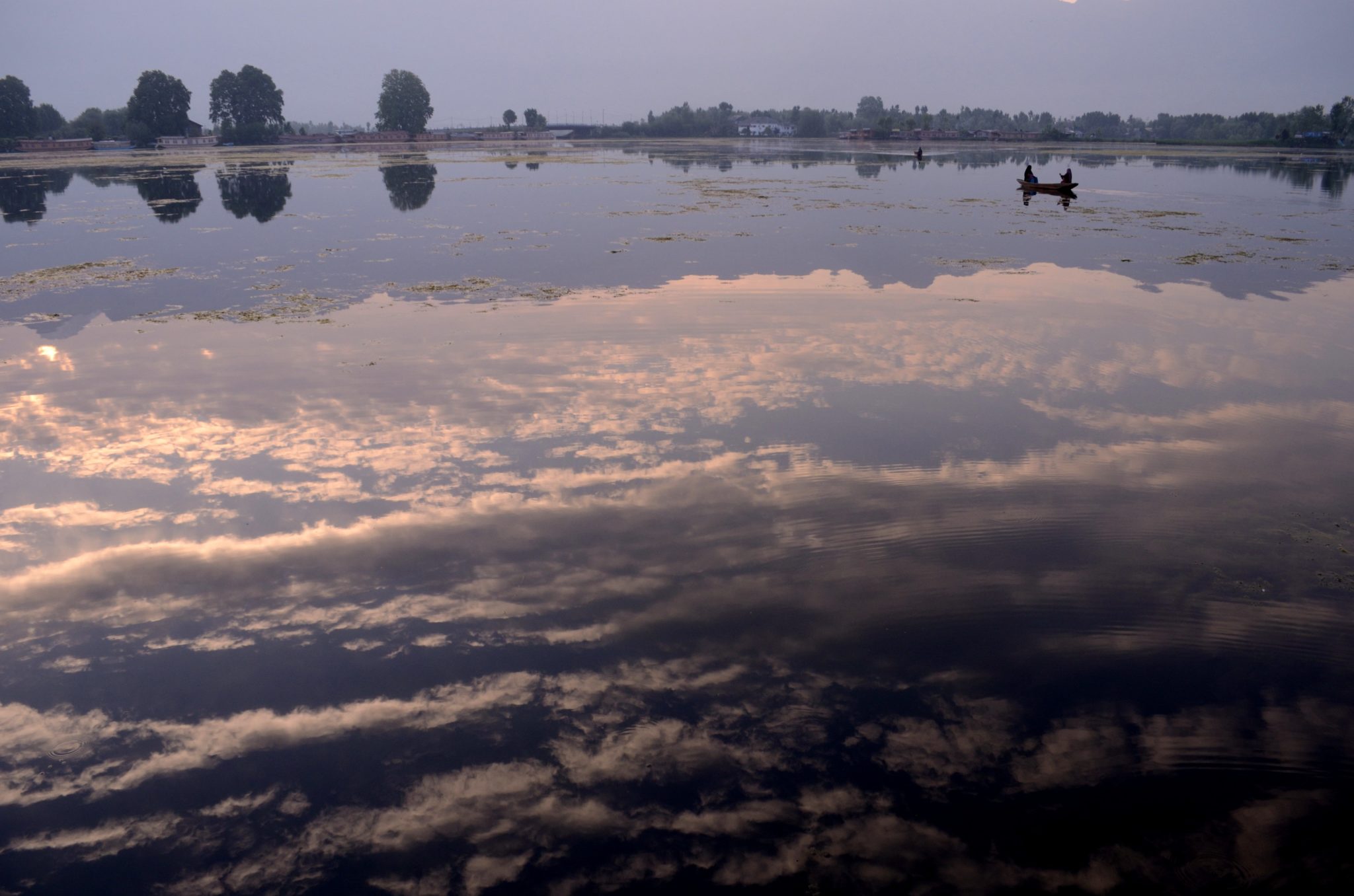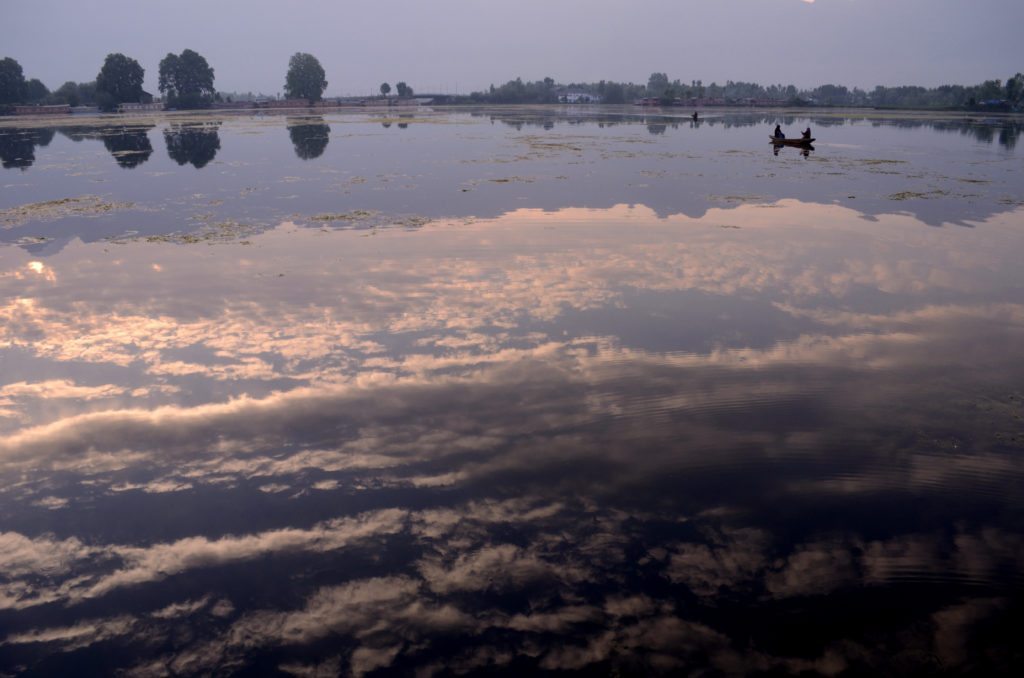 Blossoms at my doorstep – at the houseboat in Kashmir
But the reverie was interrupted. The man with the flowers rowed to my doorstep offering me a bouquet . I could take a bit of Kashmir back with me home, he said, if I wanted some seeds as well. We chatted a bit. He told me that the tulip season had just ended but the pansies were everywhere looking rather bright. He was soon joined by another boat filled with flowers. Srinagar may be filled with gardens from the Mughal era, but these men brought the blossoms to my door. They said they grew them in their backyards but almost every house or houseboat in Kashmir had a little cheerful garden .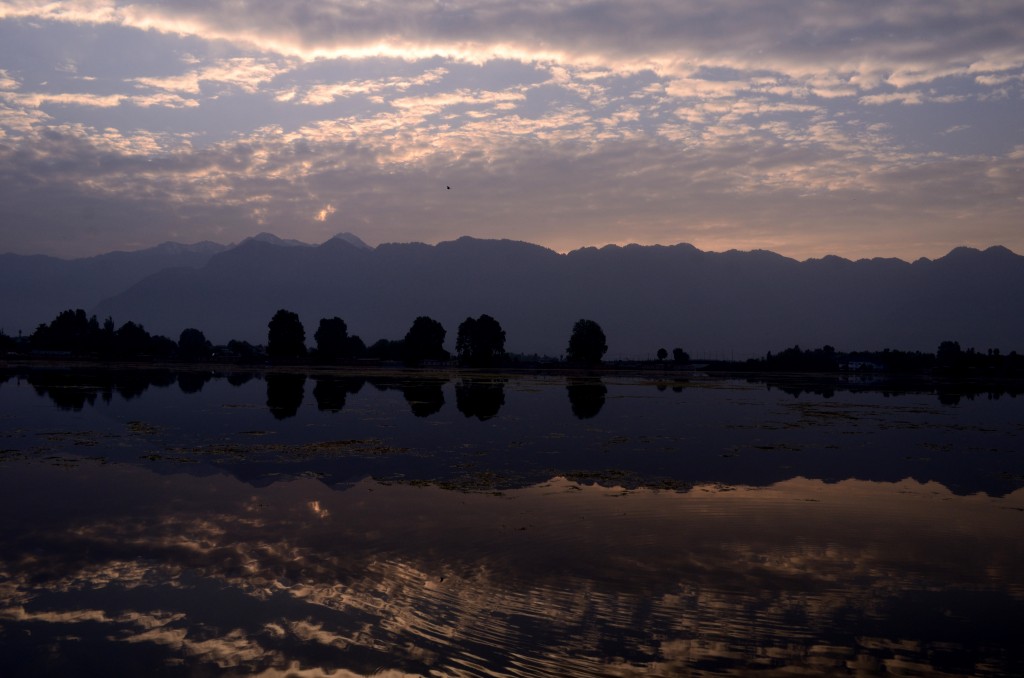 And then the visitors started pouring in. In the distant mist, I could see shikaras in vivid shades of red, yellow, blue and purple floating towards me as they brought in various wares. One had jewellery to sell, another handicrafts, while a third brought in shawls and stoles. I did not have the heart to say no to them as they could be extremely persuasive in their politeness but I eventually excused myself and prepared to get on to the lake and float around in idleness.
I boarded a myriad hued shikara who offered me a ride to Dal Lake. I stretched myself and felt like I was floating literally on the surface of the waters, feeling the reflections of the mountains on the waters. A lily pond appeared out of nowhere and my gallant boatman jumped into the waters to get me a water lily. A night heron posed as a statue while a citrine wagtail passed me by.For almost an hour we floated in silence, as the boatman rowed along small canals where floating vegetable gardens grew.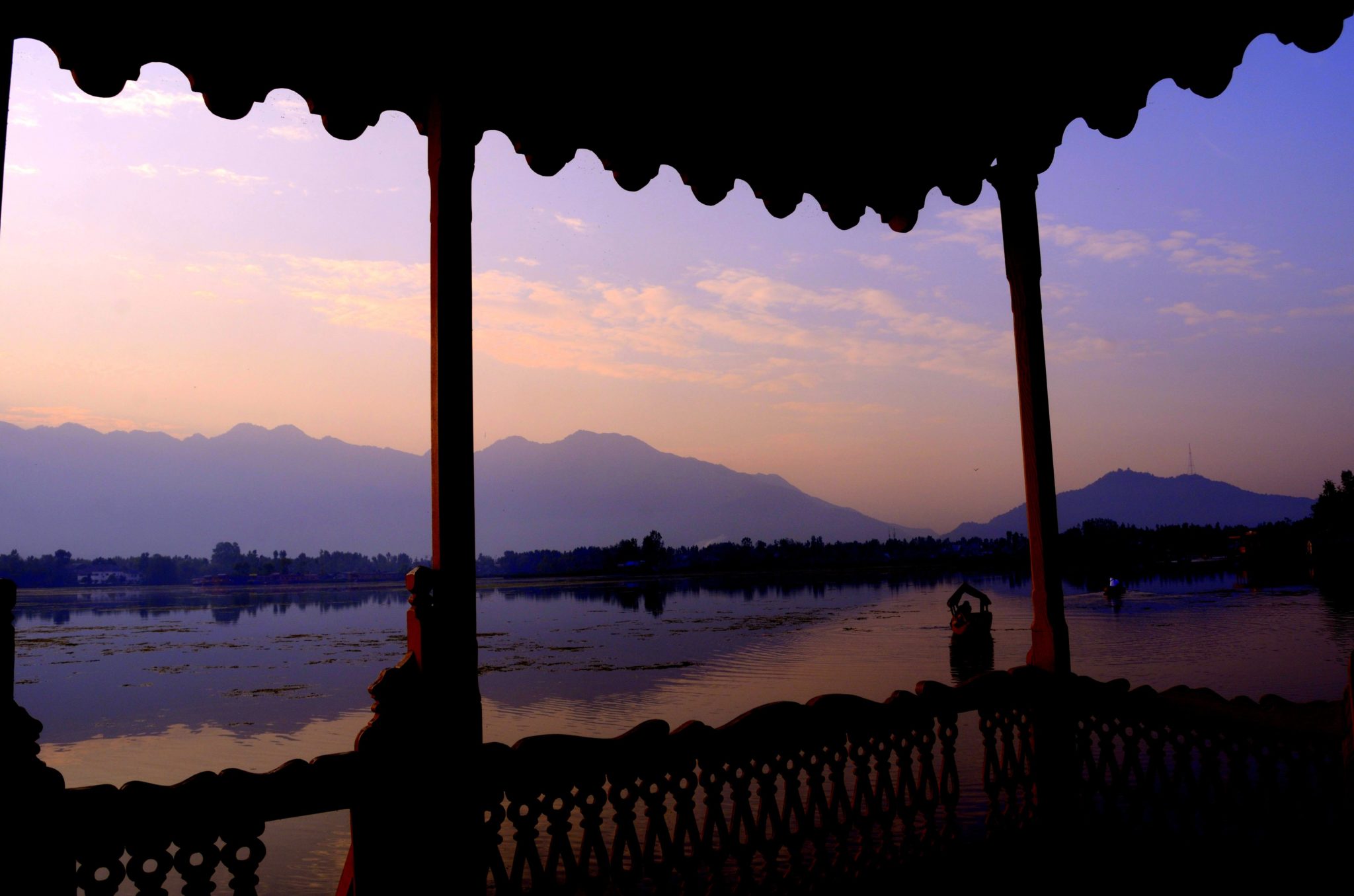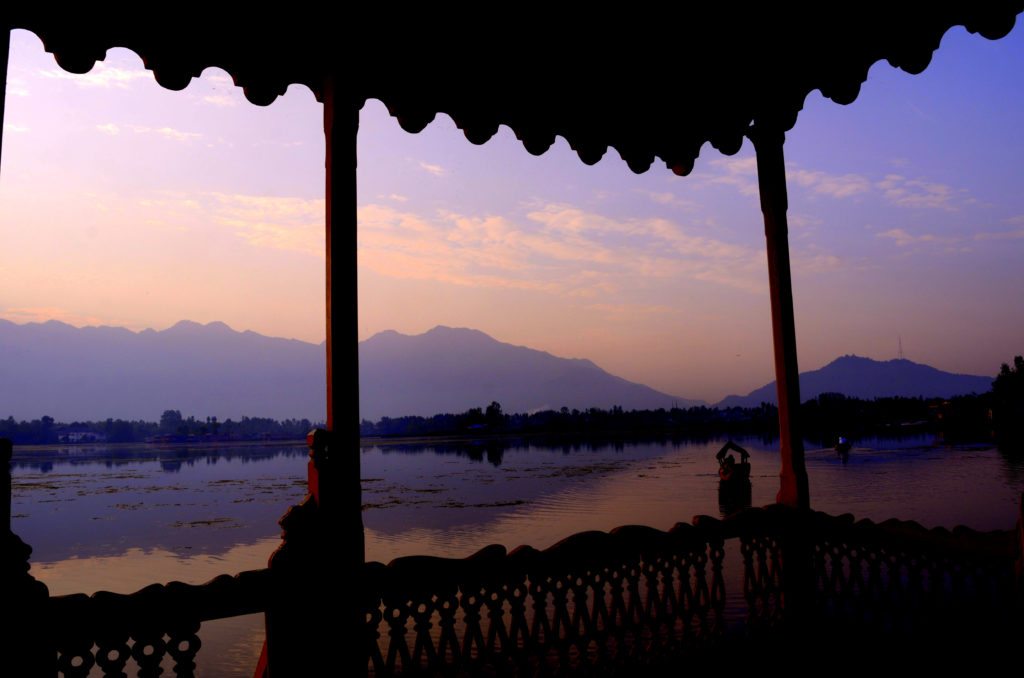 A boat steered by a little girl and her sister passed by us, as the mother sat behind holding a baby. The boat was a virtual nursery filled with little saplings that were going to be planted in the waters. We watched the family at work as another boat interrupted us carrying more vegetables. In this vast tract of waters, we were in a little canal, jostling each other and creating a mini traffic jam. But then this was the way of life for these people who lived by the lake.
I passed by the noisy floating market on Dal lake market and went to a small little home on the fringes of the lake. Their shed was like a warehouse where new shikaras were being built. The Kashmiri hospitality was at its best as they welcomed us with tea and the children wanted us to take their photographs. Almost every family here needed a boat or a Shikara – it was their only means of transport in this world filled with lakes .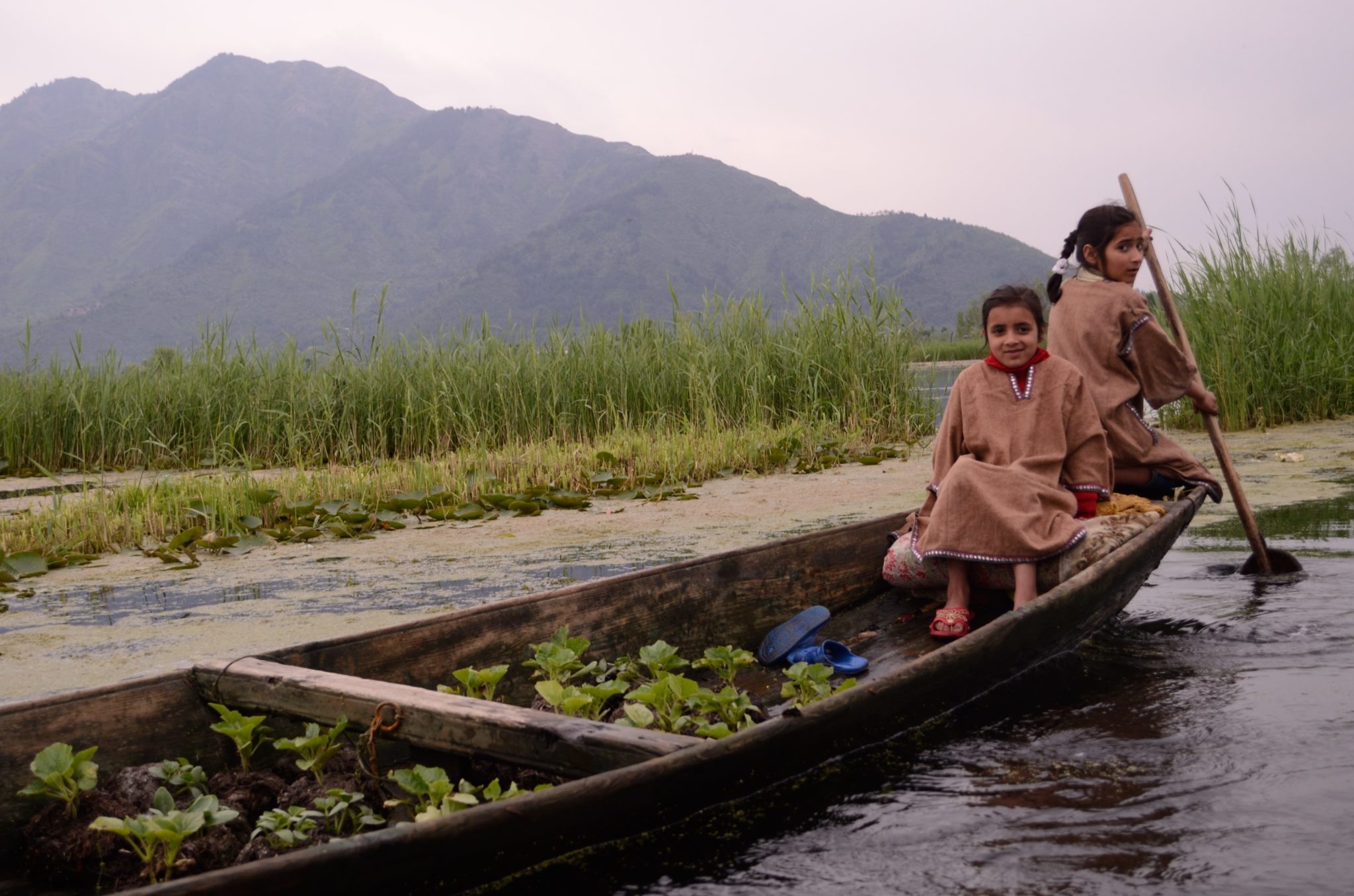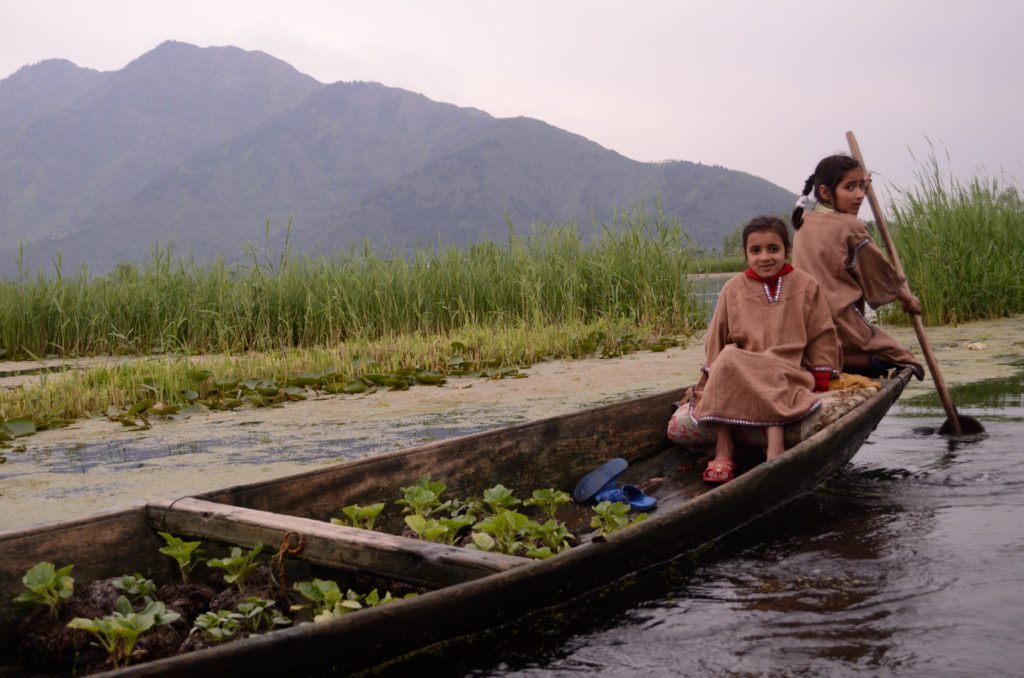 When we stepped outside onto the lake, it was the bewitching twilight hour and the water was already reflecting the dark sky. Tall stalks of water plants followed us as shadows as we rowed gently on the waters. The mountains faded away into a blanket of darkness and the boatman rowed effortlessly charting his own course on the waters, forming a ripple here and there. We rocked gently as his song lulled us to sleep. It was probably about love, but the ditty had become a distant memory. When we woke up, the lights were on in our houseboat and hot Kashmiri kahwa awaited us..All I could remember then was Keats – " Was it a vision or a fading dream ? Fled is that music..do I wake or sleep ?"
Kashmir is both fragile and beautiful and it is a must see for every traveller who wants to see a bit of paradise on earth. On your next trip, skip the Dal lake and stay in a houseboat in Srinagar at Nagin lake
More stories on Kashmir
Trudging along glacier in Sonmarg
Yousmarg – A meadow named after Christ
Kashmir willow – Cricket bats made in Kashmir