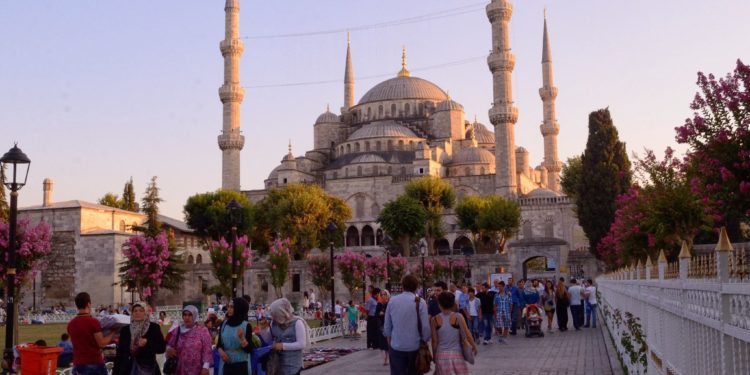 Celebrating Eid Ramadan in Blue Mosque Istanbul
Eid Mubarak ! Every year around this month, my mind takes me to a trip to Istanbul that I went a years ago. Every evening, we used to walk around The Blue Mosque where families would gather together , sit on the lawns and break their fast. Children playing around, men and women relaxing and relatives greeting each other – the atmosphere was so festive. As the lights came up in the city, I used to just sit there and take in the moment and join  my travel companions as some of them would take my camera and shoot some pictures of the evening .
There is nothing really blue about the Blue Mosque, at least if you look at this 17th century mosque from the outside, with six beautiful minarets surrounding a single dome, standing up to the sky. And yet the moment you step inside, the warm sunlight filters through the 200 stain glass windows and treat you to a brilliant display of over 20000 handmade blue Iznik tiles that give the Sultan Ahmed Mosque its popular name .
Istanbul's favourite landmark was supposedly built by the same masons and craftsmen who worked on the Taj Mahal as well. While the lamps inside were once studded with gems, the mihrab is carved with marble. The names of the Caliphs and verses from the Quran are inscribed on the tablets on the walls.  The mosque, located in a park across the Hagia Sophia, houses the tomb of the king, Ahmed 1 .
My best memory from the trip was a late night walk that  I took , along with one of my travel companions to soak in the festive spirit. Walking around the streets of Istanbul , we were absolutely lost in the laughter and energy of the crowds. We had both set out around 10 pm and were hoping to be back in 20 minutes but we were so overwhelmed by the mood that we were there till the wee hours of the morning.
People walking hand in hand thronging cafes and restaurants – almost every where street food counters were set up. There were so many people around, bonding and greeting each other. For a change I saw more locals than tourists . Even today, as I sit at home and write this – my mind flashes back to that one night in Istanbul. If I could dream of one wish coming true today, I wish I am in Istanbul right now. Eid Mubarak people !
More posts on Turkey
An open air museum in Goreme Cappadocia