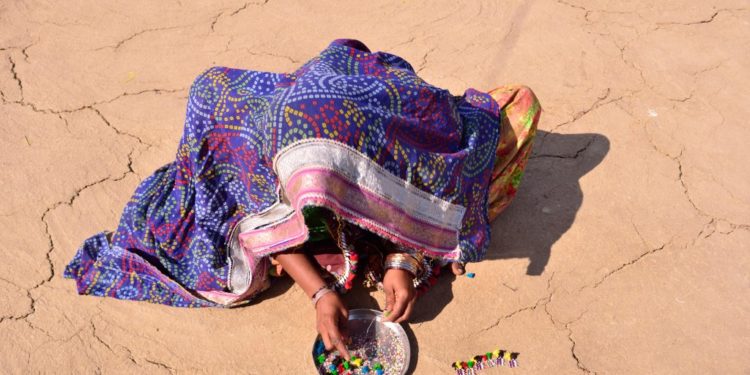 Kutch nahin dekha to kuch nahin dekha is not just a marketing tag line.  During my recent visit to the largest district in India, I realized the truth behind that line rendered in the booming voice of Amitabh Bachchan.  Almost every destination in India is unique in its own way and yet Kutch seems to surpass them in its sheer variety . The landscape, the monument, the talented people – the list goes on. Not just tourists, even birds flock here in large numbers. I was there for just five days last month and I could come up with five reasons to visit this region, but am sure there are more.
The White Rann
If you believe that there is something magical about nature, then you have to visit the "White Rann" to believe it. The Rann of Kutch refers to a land which alternates between being dry and wet according to the seasons and is virtually uninhabitable. The shallow marshlands are under water during the monsoons and when the wetlands dry up, they leave behind an ocean of salt. In the Greater Rann of Kutch, the white sands are an absolute showstopper. I have heard that it is dazzling on a full moon night, but I was content to gaze at them during sunrise and sunset, primarily the former. I had the entire landscape to myself and standing there, I was freezing in the cold, watching the sun rise from the white horizon, lighting up the snow white crystals of salt. It was simply mesmerizing.
The crafts and craftsmen and women of Kutch
The heart of Kutch lies in its villages and you can go village hopping, watching the craftsmen and women at work. Almost every hamlet specializes in one craft and just a handful of families practice it. I started my crafts tour at Bhujodi, where I saw the weavers at work creating magic with their fingers . I went to Ajrakpur, another textile haven where families practice block printing. Another village which is on the must see list is Nirona, where a unique craft called Rogan art is practiced. I was told it's the only place in India where this art, which has its origins from Persia apparently is still done using castor oil. I met with the bell makers of Nirona and the craftsman who creates a riot of colours with lacquer on wooden spoons and rolling spins before leaving to Kavda where pottery is in demand. There are several other villages specializing in jewellery to bandini and you can spend days watching these artisans at work as they tempt you to buy their creations. If you have been to Kutch and you have not been to the villages, then believe me, you have not seen Kutch at all.
A tryst with Bhuj
It was Bollywood that introduced me to Bhuj  and yet, I was told that it is mentioned in the Mahabharata when the Pandavas are exiled. It was an earthquake however that created a jolt and even today the old city bears the brunt of it. The headquarters of Kutch , Bhuj is a 16th century capital town of a princely state and its royal status can still be seen in the forts and palaces strewn around the old town.  The Prag Mahal and Aina Mahal stand adjacent to each other, taking you to the glorious era. The former is built in a lavish Gothic style while the walls of the latter was built with marble and adorned with mirrors. Bhuj still retains the magic of its past. I would recommend at least half a day in Bhuj, walking through the markets, binging on dabelis and revisiting history at the palaces and fort.
Mandvi
A destination for me is not very special if it does not have a beach. So I decided to  head to Mandvi to soak my feet amidst the waves of the Arabian Sea. Mandvi was one of the oldest ports and a summer retreat for the old Maharajas. You can see the Vijay Vilas palace and the harbor even today in the city. But what really fascinated me was the 400 year old ship building industry . Small wooden ships are built here even today by the locals. As the water ebbed during the low tide, I walked watching the ships in various stages of completion as flamingos flocked around them.
Pelicans and flamingos everywhere
Birds of the same feather flock together and if you are a birder like me, you do not have to go looking for water birds in Kutch. They are virtually everywhere – lakes, nallahs, creeks, marshes, swamps, rivers, oceans. Just look for any water body and they are there. I saw huge blocks of the great white pelicans in Bhuj and greater and lesser flamingos in the lakes around Mandvi . Giving them company were black winged stilts, red wattled lapwings, spot billed ducks among other waders and water birds. All I had to do was to stop by a lake and perch myself there for hours until the heat of the sun drove me away.
Also read – My first impressions of Kutch
Planning a visit to Kutch ? Then another reason that I would recommend is a visit to Dholavira to relive the Indus Valley Civilisation. Here is a Dholavira guide for budget travellers published by travel blogger Travelling Slacker
More stories about Gujarat
Sighting birds and wildlife in Little Rann of Kutch
Rani Ki Vav – an ancient stepwell in Patan