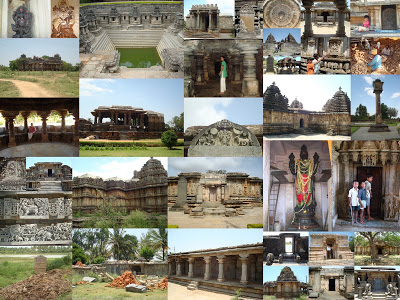 A collage of all the Hoysala temples visited in 2008
The Hoysala trail was one of my best trips this year and it was done in two parts besides several other independent jaunts. My earliest tryst with the Hoysalas was probably as a kid when my parents and I had visited Belur and Halebeedu. A couple of years ago, I went to Belur again with my cousins and then Sharath and I took a day trip to Talakadu and Somnathpur, near Mysore.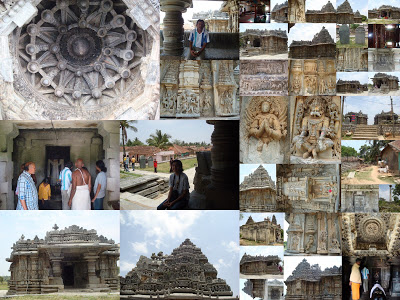 At Mosale, another twin temples awaited us.
However the trip that got me interested was in January this year when I went with my uncle's family to the coffee estate at Bikodu near Belur.We covered just about three places – Belur, Belavadi and Nuggehalli which blogged about extensively. What I saw and read excited me to probe more that led to the trail a couple of months later. As the series has hardly been blogged, Ive decided to post some pictures at least to give you an indication of the trail .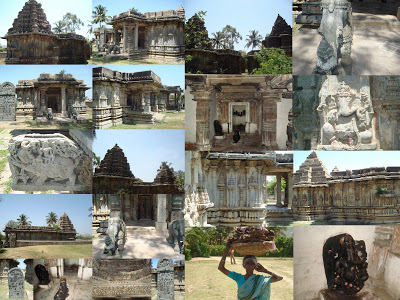 At Marle , where the twin temples of Keshava and Siddeshwara stand built during the time of Vishnuvardhan
My cousin, Lalitha and I embarked on this trail with just 3 full days in hand and an agenda to see at least 20 villages. We made Bikodu, near Belur our base and drove all around the belt, looking at maps, losing our way sometimes .We were indeed the objects of curiosity in most of these villages, especially among kids .Some of the temples were maintained so well by the ASI, some were in complete ruins, some were opened by the villagers, some we opened ourselves. We heard stories at some temples, but at most temples, no one had any information to share.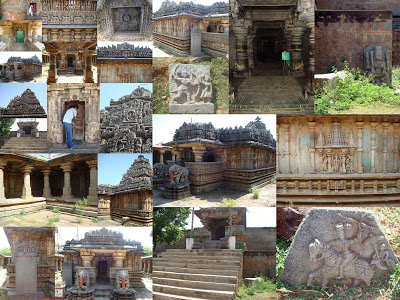 At Hullekere near Gandasi, where we opened the doors to this beautiful Keshava temple.
The villages that we visited included Anekere, Shantigram, Marle, Javagal, Chatachatahalli, Halebeedu, Basadihalli, Hulekere,Pushpagiri, Adagur, Kondajji, Dodagaddavalli,Mudugere, Hullekere, Arsikere ,Haranahalli, Koravangala ,Mosale and Angadi where it all began. Later on Sharath and I went to Arekere and Kaidala besides Somanathpur.