Indians are forever celebrating – births of Gods and Goddesses, their marriages and the victory of deities over demons. For some the celebrations are wrapped in a religious fervor, but for me, its always been more of a cultural tradition , rather than a religious affair. I love most festivals because of their color and vigor and very often , they bring the great Indian family together. All celebrations begin and end with food.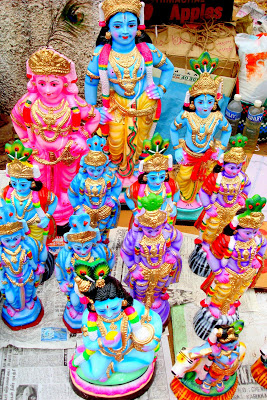 Today we celebrate Krishna Jayanthi or Gokul Ashtami or Janmashtami as it is called in various parts of the country. The celebrations are also as diverse as it can get and today most of the festivities spill from homes and temples to the streets.  The legend goes that Krishna in his childhood used to steal butter from earthen ware pots held aloft or hidden around the homes. In towns today, young boys or girls perform acrobatics by forming a human pyramid to break the pots which are tied up in the air on a rope.  The pots normally carry money and the spoils are celebrated by the community .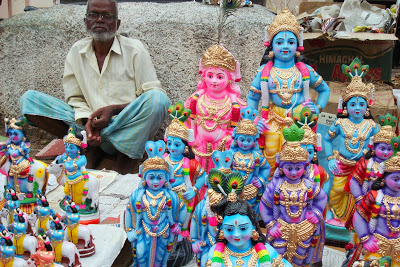 In South, some families welcome Krishna home. As a child, my mother used to tell me that Krishna  will visit our homes during midnight. " He was born in the midnight, remember, " she said and narrated the story all over again. She used to painstakingly create designs of tiny feet on the floor , leading from the entrance to the puja room.Very often I used to wake up and wonder if Krishna had walked down the path. Sometimes I used to place my feet on those designs and pretend to be in Krishna's shoes and get yelled at in the bargain ." Krishna will not come home if you do that, " she used to warn and I used to run away to play. While most of these are rubbished today as superstitions, I believe there was so much of innocence and belief in those little things that made our day. Today, most festivities lack those little things, which gave us so much of nostalgia and connected us to our community and our culture.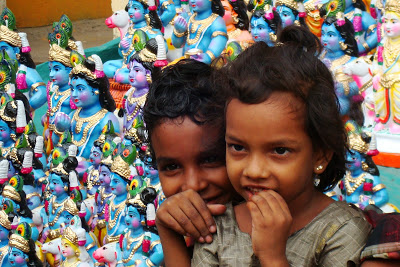 I was in Madras (Chennai ) recently when the street vendors were busy selling terracotta idols of Krishnas to families. With Ganesh Chaturthi , Navratri and Dasara around the corner, the painted terracota idols are making a quick sale. I am down with a bad stomach and hence can  neither enjoy the butter, the sweets and the savories today, nor am I painting feet of Krishna on my floor – but I would just like to revel in the festivities around.