Singapore in three days
Its tough to touch, feel and see any country in a few days , especially if you are a traveller like me. But if you are visiting Singapore as a tourist or on business and you have anything between a few hours to three days in hand, you can still get to experience the country based on your interests. There are no must sees – it just depends on what you want to see .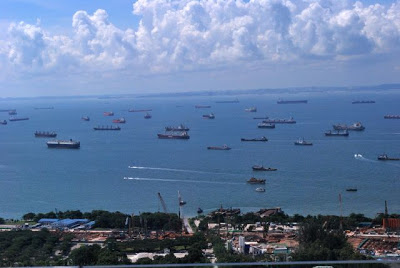 For instance, while we were at Changi airport on transit, we decided to go over to the orchid garden and then an airport official recommended a visit to the butterfly park in Terminal 3.  A friend recommended that I go over to the Changi beach while the information desk asked me if I was interested in a free city tour . I find Changi one of the friendliest international airports and here, you can even get a foot massage for free or you could visit a spa after duty free shopping.
Even after my many visits to Singapore, I realize that I am yet to experience the country to the fullest. However there are certain places that I could recommend , including some of the tourist attractions. This is by no means an exhaustive list, but I hope it will give you an idea to plan an itinerary . While some trips are best covered by a tour operator ,especially when you are running short of time , the better way is to arm yourself with a map and a train ticket .
The proverbial city tour
Now, this is not something that I would recommend, but it has its advantages if you are on transit and have more than six hours to kill at Changi. You could ask the Information Centre to help you register on the tour which is free. You may need to clear immigration though ! If you are however a  tourist, with more time on hand and you are wondering where to start ,then go on one of the hop on- hop off tours. In three hours , you would get an introduction to Singapore. Most of these tours cover a bit of colonial Singapore, show you some of the monuments, drive through some key areas and also stop over at a few attractions. You could probably jot down the places and areas that you may want to come back again in leisure.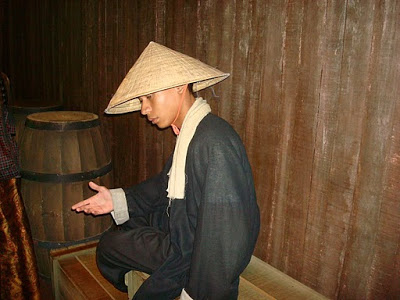 When I first went to Singapore, I did take up the tour and I found the Singapore National Museum interesting Another attraction was the Tiger Beer Brewery . If the bus stops at the Singapore flier, take a tour or do come back here to see the entire landscape of Singapore. Another place to see the skyscape of Singapore is the skywalk at Marina bay sands and that would cost you a bit.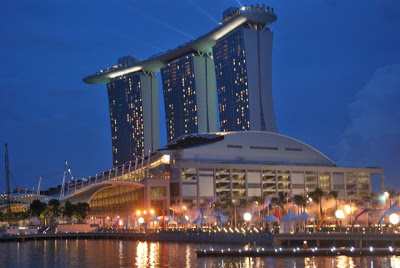 Little India and Chinatown
Some more museums I would recommend – The Peranakan Museum and the Asian Civilisation Museum, which I missed and is recommended by my friend
Vijay
, who stays in Singapore.If you are not really into museums and are more into real people and local flavour , then do visit Chinatown and Little India. Most buses take you on a tour to these places . I would recommend a leisurely trip to both these locales..Little India is a microcosm of Madras , but served rather in a Singaporean fashion with a splash of colour and life. Mustafa, the 24 hours mall  is a good place for bargains, but shop only if you have to.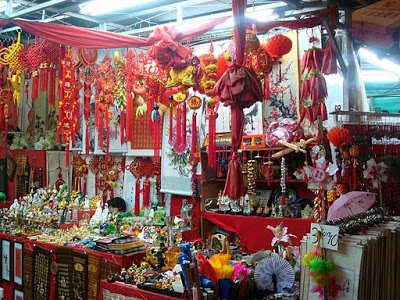 Chinatown can be both colourful and quiet. The oldest Hindu temple in Singapore is located here, but Im more interested in the alternative medicine practised by the Chinese. Walk over to the one of the pharmacies – sometimes you may even find restaurants serving you food , recommended by a doctor, based on your yin and yang .
But all around Singapore, you would find a kaleidescope of temples, monasteries, churches , mosques – all quaint and colourful. Some of them are rather old and they tell you more about the cultural mosaic of this country.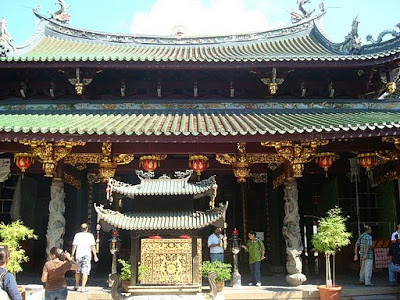 Walking around Singapore
If you enjoy walking and absorbing the sights and sounds of Singapore, then these areas should not be given a miss – the entire Marina promenade, Suntec City styled according to Feng Shui , Merlion Park, Orchard Road for the malls and shopping and Singapore River  for its cruises and  adventure sports – journalist Shweta who was with me was hell bent on trying reverse bungee jumping among other sports  I would also recommend a cruise – there are cruises from a few hours to small islands and cruises that sail to  neighbouring countries. Take your pick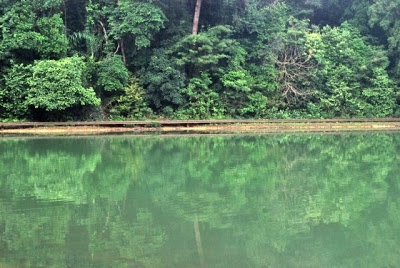 If you prefer nature walks, then there are many reservoirs and parks around Singapore – I went to the MacRitchie reservoir the trails here are wonderful. While this is one of Singapore's oldest reservoirs, there are quite a few around as well
Singapore Zoo and Botanical garden
Talking about nature, the zoos and the botanical garden should be on everyone's itinerary. The gardens are massive and a visit to the Orchid garden is a must. This is a great place for birding as well. The Singapore zoo is one of the best zoos around and  do not miss the night safari. You can visit both of them on your own, but they are by no means close to each other. So you would need ample time for both. Try breakfast with the orangutans in the zoo . If you are into birding like me – jurong bird park should be on your itinerary. This will easily take about half a day of your time. Sungei Buloh Nature Park and Ubin Island are on my list as well for birding during my next trip. You can also visit the
Chestnut Nature Park in Singapore and this post will tell you what to see there.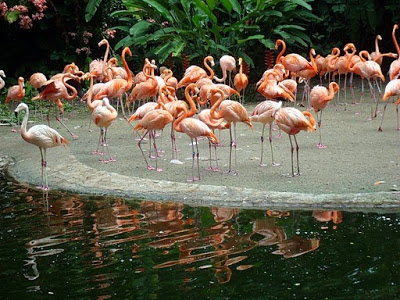 Night life 
Singapore has a vibrant night life. My favourite is Clarke quay and the nightlife around the river. Chijmes is another option. Holland village,Demsey hill and Orchard Road are also great places to hang out.Try the gin based Singapore sling if you fancy a cocktail.  If you like to experiment with food, besides idlis and dosas in Little India, visit the hawker centres. There are quite a few of them – Lau Pa Sat is recommended by my guide.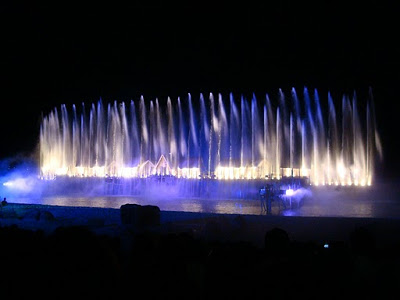 Sentosa island
A trip to Singapore is incomplete if you do not visit the famous Sentosa Island – which has several attractions . You could even stay here. Sentosa can be approached by land or water, but everyone prefers the cable car. The attractions are innumerable – from laser shows to underwater world. Casinos are available here in hotels if you like to try your luck Now, even Universal has opened here and you can see my friend posing below. The beaches are vibrant and a first timer will need at least a day out here
These are just some of the landmarks and attractions in Singapore.. While there are several package tours from India, I would recommend that you just book your hotel and flight and plan the sightseeing there.If you need more help in planning your itinerary , please drop in a line here and I am happy to customise it for you.
This post was written in 2010 when I was invited to Singapore to cover the Youth Olympic Games by the Singapore Tourism Board.
For more posts on Singapore