Krishna Jayanthi Bakshanam – A photo feature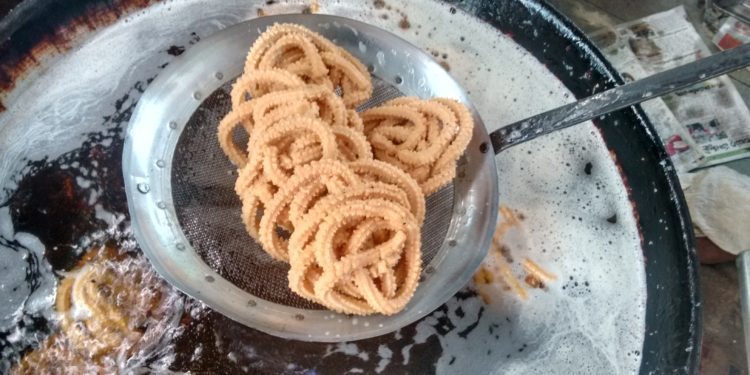 India is celebrating – the birthday of one of its own favourite deities – Krishna . Gokulashtami or Krishna Jayanthi or Janmasthami as its called is celebrated all over India, but every region and state has its own way of celebrating. At home in Chennai, we always celebrated it in the late evening or night as Krishna was born at midnight.
My mother used to paint the floor with baby Krishna's footprints and as a kid, I would go to sleep, thinking that Krishna had indeed visited our home. However the best part of the celebration is the food .  It was all Krishna's favourites – butter, puffed rice and a variety of sweets and savouries, what we refer to as "bakshanam" in Tamil.
Many years later, (although I just celebrate the festival in spirit today) , my memories were rekindled as I walked around the streets of Malleswaram, in Bangalore this morning. At a short distance away from the Krishna temple is the Raam Mandir, where a group of men and women prepare several varieties of bakshanam . There were murukkus, thattais, mullu thengozhal, chakkili, cheedai and a variety of sweets. They have been doing this for almost 15 days and most of them were ready to be sold .It was the last day today and my mouth was literally watering as I took these photographs. Here is a virtual feast for Krishna Jayanthi tonight.