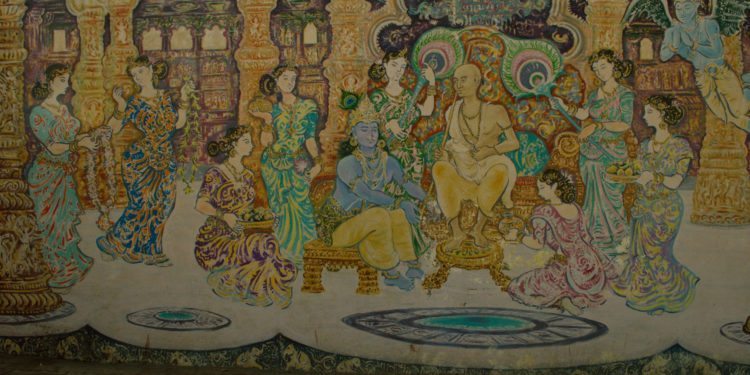 The saga of Krishna and Sudama friendship
Towns tell tales of friendships. Some of these are legendary like the friendship between Krishna and Sudama. A story which is almost a parable on friendship, it took me to my childhood when I used to pour over Amar Chitra Katha comics. A tale which says that friendship towers above all – power or wealth.
I am in Dwarka  and I am reliving the story. Krishna was a king and yet to him, it was his friends who mattered. Sudama was going through a bad phase and he knew his friend was a king, but he still did not want to ask him for favours, lest it came between the friendship. However he did not want to visit him empty handed, so he took a sack of puffed rice to offer his friend. And that is where our story begins.
I head to the jetty to catch a boat to Bet Dwarka to see Krishna's home. Located at the mouth of the Gulf of Kutch off the coast of Okha is this tiny inhabited island called Shankodhar or Bet Dwarka which actually thrives today on fishing. I am for a moment engulfed by seagulls calling out to us. Boats of various hues sail on the shores.  The ocean spreads out in front of me, layered in shades of turquoise. A motley crowd of pilgrims, tourists, fishermen, saffron clad men throng the boat. It is just a matter of minutes and we are in the island, walking past stalls of bhajjis and pakoras making our way to the temple.
Built in pink limestone and filled with carvings, the temple is like a palace. There are small shrines built for every queen of Krishna. Rukmani who is believed to have carved the idol here is absent although Satyabhama is very prominent here. We are not allowed to take photographs of the shrine but we are seated inside a small room which is believed to be the place where Krishna met Sudama. It seems to have a bit of a lost grandeur of a palace. I wonder if its a private room or a durbar. There are a few shrines and a donation box. The guide asks us to sit on the floor as he narrates the story , although I think my mother is a better storyteller. Every devotee here is given some rice and we are requested to donate if interested.
It is not just Dwarka that tells you stories of Krishna. Porbandar, located 100 kms away is the home not just to Gandhiji but Sudama, Krishna's friend. And an old temple with pillars stand in the middle of the town to commemorate the friendship. However I am fascinated by the murals on the walls that tell their story.
Krishna was overjoyed when Sudama offered him hesitatingly some puffed rice. He took three handfuls and relished it . And with every handful he ate, Sudama's humble abode changed and his wealth and prosperity was restored. Sudama himself was not aware of it, until he went home and discovered what his friend had done for him.
The sound of silence is soothing as I sit here for a while. Two old pujaris are lost in a conversation as I walk around taking photographs. The sun is killing and I continue on my journey, thinking of friendships in today's era of social media.