Spundana – Meet the talented and beautiful women of Kutch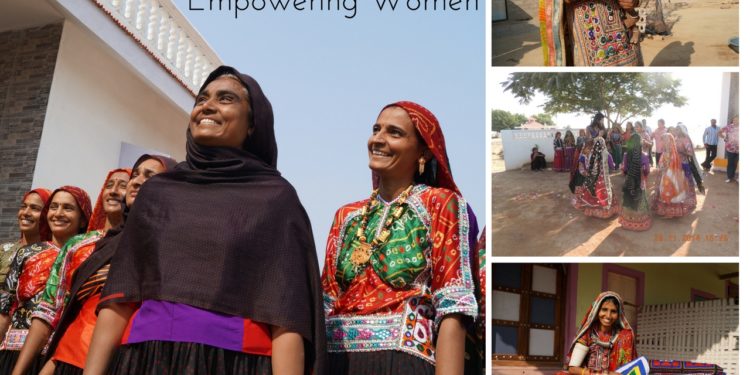 Go on the Spundana trail to see some exquisite Kutch work by talented women
Think Kutch and you think of those beautiful barren landscapes, the dazzling White Rann, the formidable forts and opulent palaces besides the colourful flamingos . Think again and you will see the brilliant hues of Kutch – the bright orange and red bandinis fluttering in the air, the glittering mirrors on backless blouses reflecting them, the earthy tones of the pots and pans, the intricate threads of the embroidery creating a different pattern . Kutch work is one of the most exquisite arts and crafts which literally takes your breath away but it is the stories of the craftswomen which are even more inspiring.
In my many travels in Kutch, I have been village hopping , meeting the artisans and shopping my heart out. Almost all of them invited me into their homes as we made some small conversation. But it was my interaction with some women in and around Anjar that made a difference to my trip. Listening to their stories,  I was not just moved but inspired.
During the earthquake  Geeta Pandya did not just lose her house, but she lost her parents and had to play the role of playing mother for her five siblings. Praveena had a tougher time ever since birth. With one arm maimed, she was considered a burden to the family and was ill-treated all her life. Raniben had lost her husband at a young age. All these women had put their past behind them and were working in Welspun centres near Anjar. While Geet Pandya is a machine operator, Praveena mentors younger women, teaching them arts and crafts. But it was my encounter with the gritty, cheerful, Hiru baa , the oldest member of the group that inspired me. Eighty years old, she was abandoned by her family, but Hirubaa constantly motivates the younger women who are facing various issues in their lives.
Earlier this year, I was a part of Spundana, a trail in Kutch started by Welspun. We went into the heart of Kutch, into villages and towns such as Anjar, Bhuj, Dordo, Nakatrana, Nirona, Lakhpat and Chari Dhund besides the White Rann. We went to see palaces and forts, lost ourselves in ghost towns, did some bird watching, soaked in the spectacle of the White Rann and learnt about the arts and crafts of the region. But none of these experiences came close to my interaction with these women.
Created by Welspun, Spundana is an initiative to revive the dying arts of Kutch and promoting the crafts. But there is more to it than just a catalogue of beautiful products. It recognises the talents and the beauty of the women of Kutch and works on women empowerment.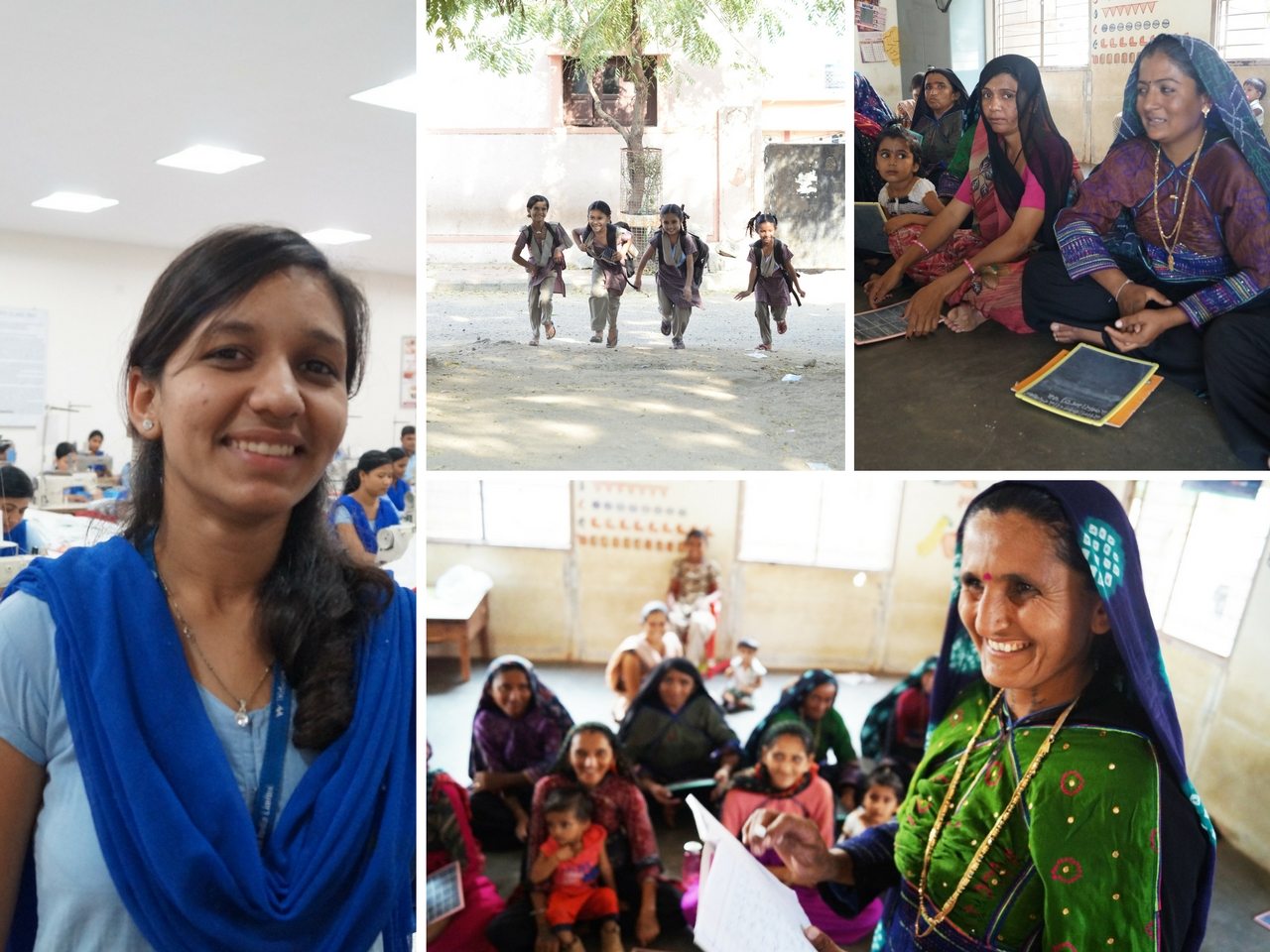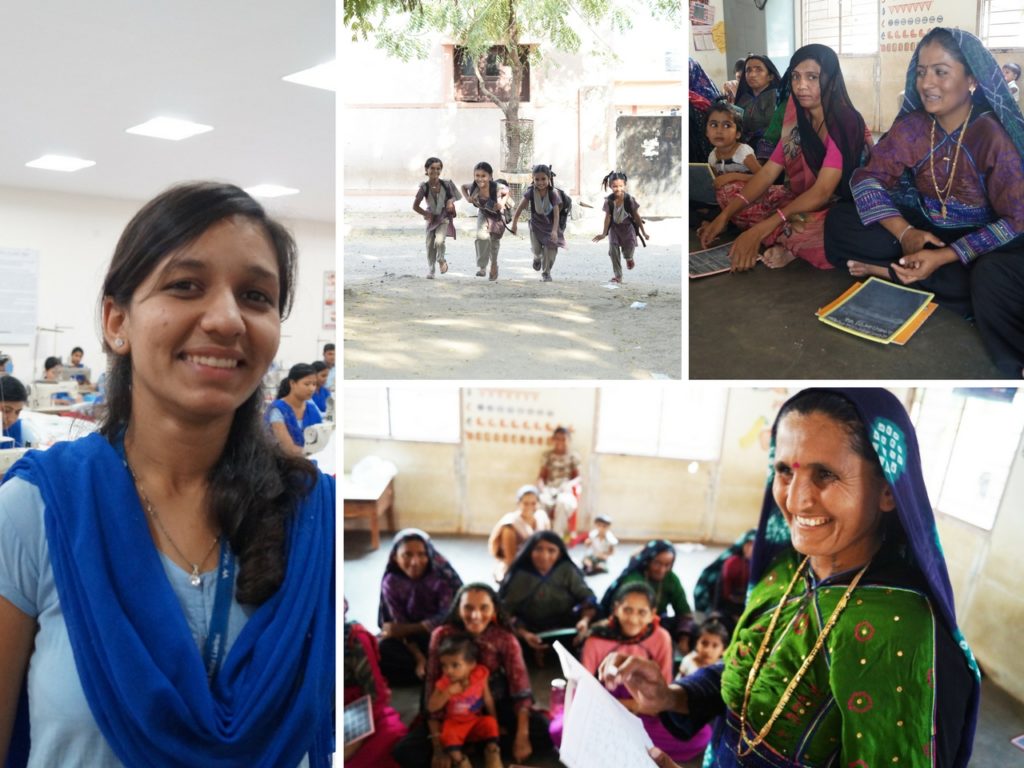 As I walked around the centres, watching the women create magic with their fingers as they laughed and teased each other, I heard more stories. Deviben called herself a studeny as she said she missed out on her studies, being married as a child to a much older man. I also met a confident Avni who was just back from a gathering at US where she shared about her life and rural development. Though some of the women still hesitated to come out of their houses to work, WelSpun had made an effort to draw them out of their closets. They also conduct medical camps, construct community toilets and teach them personal hygiene and sanitation.
Walking around, I learnt a bit about Kutch work and the crafts as well. Striving to keep the art of Kutch from dying, some of the old traditional methods have been revived and the artisans continue to do their magic. The hand carved wooden blocks with bold designs, eco-friendly natural dyes and skilled labour makes the block printing a speciality for Gujarat.
Kantha embroidery is a simple but delightful running stitch technique. Traditional form of Kantha embroidery was done with soft dhotis and saris, with a simple running stitch along the edges. The stitching on the cloth gives it a slight wrinkled, wavy effect. Shisheh or mirror-work embroidery popularly known as Abhla bharat in Gujarat. Pieces of mica were used as mirrors but later people started using thin blown-glass pieces, hence the name, which in Hindi means "little glass". The local woman artisans of Gujarat combine the sparkling mirrors along with colorful Kutch embroidery and create masterpieces.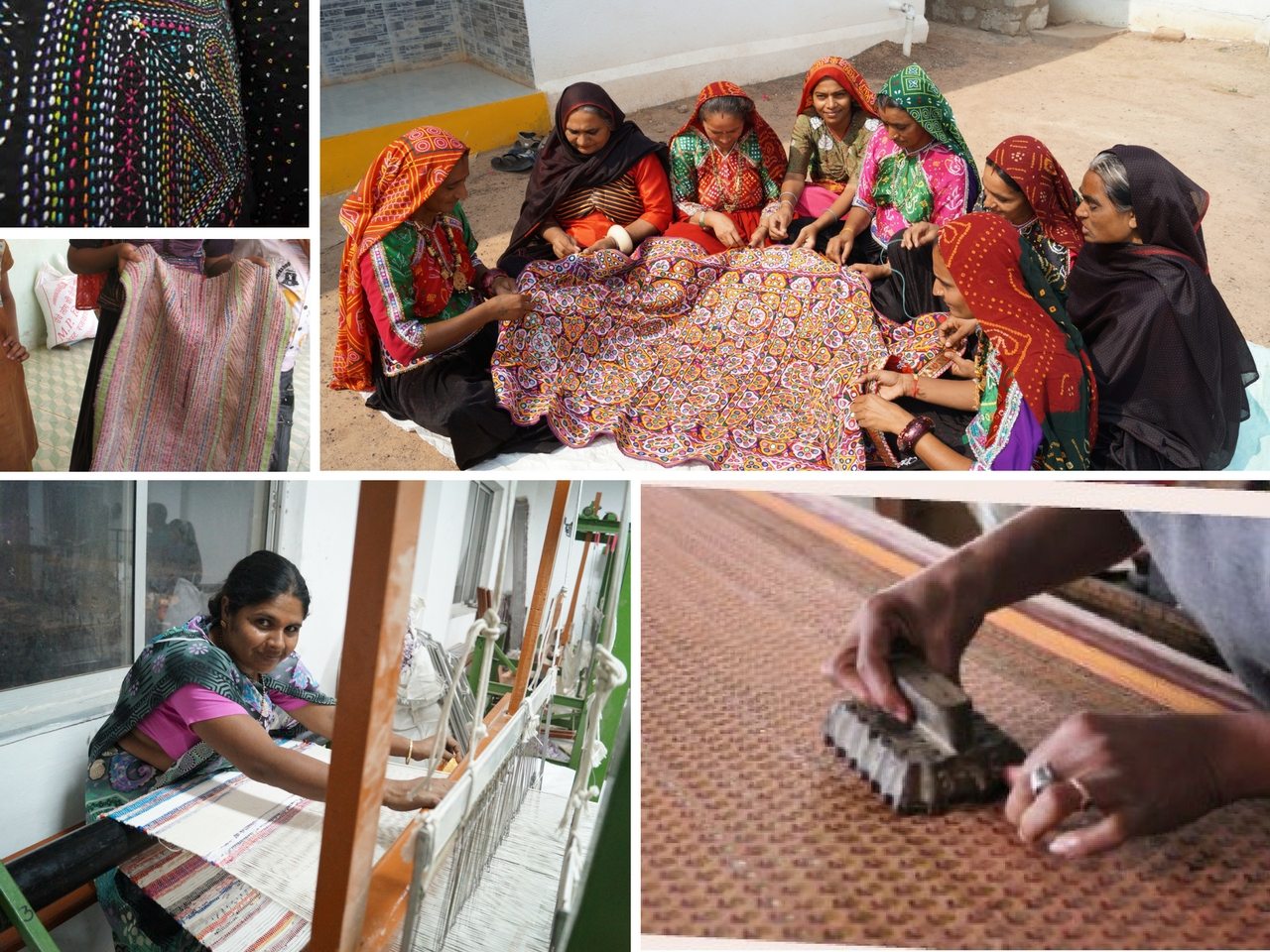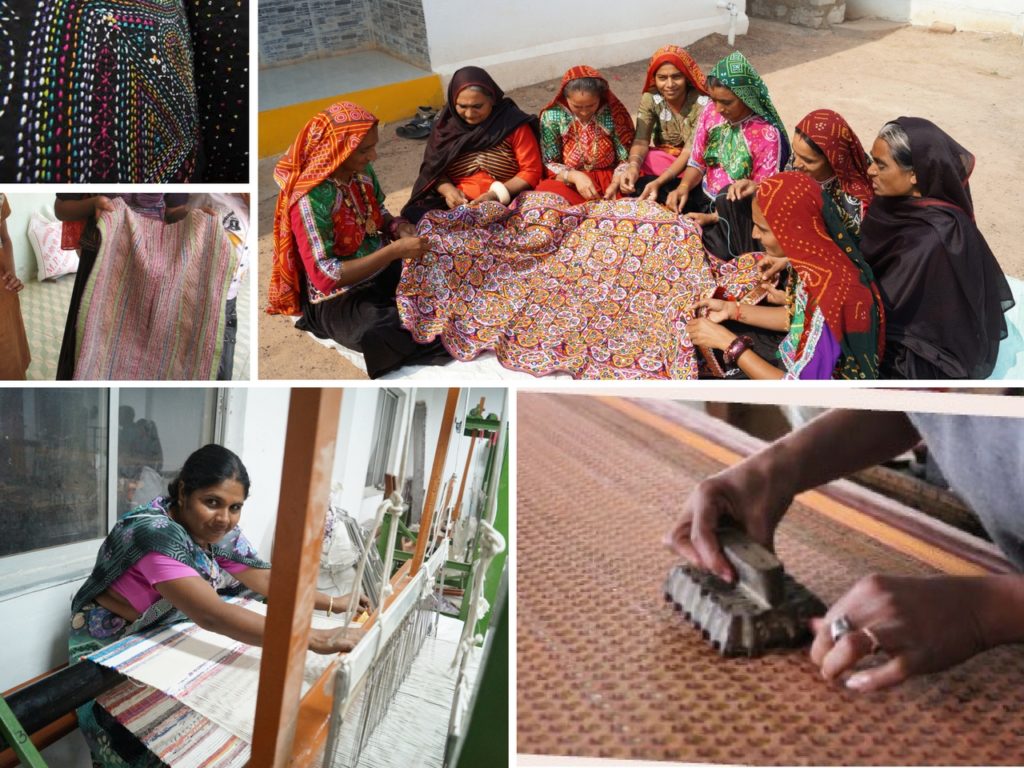 Spun creates textiles from local, old world cotton, continuing the national legacy of making cloth from the first to last mile on Indian soil. Indigenous to Kutch, it is totally organically grown with no use of fertilizers or pesticides. Kala cotton forms a strong, coarse, stretchable fiber that even modern-day denims often use. By creating products out of remnant fabric, Spun at once provides employment for women while reusing and recycling waste. Innovative use of little shreds of material has resulted in a collection of contemporary, beautiful and sustainable furnishings with truly local appeal. These techniques and crafts are used to make colourful duvets, blankets, cushion covers, rugs, curtains, table linen, mat, bags and accessories.
If you want to see more of Kutch work and know more about the arts and crafts of Kutch and meet these women , then hope on to the Spundana trail. WelSpun conducts a tour called Spundana, that will take you to the heart of Kutch, to meet all these women and see these beautiful hand works. It all covers tourist circuit like White Rann, Bhuj, Devpur, Charidand.You will see old forts, monasteries and temples, fossil parks and a fascinating sunset on the wetland. Details of the trail can be read in the post below
Read – Spundana , a journey into the heart of Kutch
The next trail is in December 15-17 and if you are interested you can mail them at  csr@welspun.com. And believe me, the meeting with these beautiful, talented and cheerful women will not just move you, but will create a deep lasting impression in your minds, as it did in mine. And as a parting shot, I leave you with these words describing the women of Kutch
She is subtle strength
She is quiet courage
Her indomitable spirit is her wealth
Her inner voice is her inspiration
She is the season of change
She is the fountainhead of progress
She is the source and force of Life.