Ladakh Diaries – Meet Dorjee
I met Dorjee in a crowded market street in Leh.. A thin and wiry man with a weather beaten face, Dorjee seemed rather restless as he had a terse conversation with his boss and my guide, Tundup. We had just then landed in Leh and had stopped to discuss our ten day itinerary . "Dorjee will be with you from tomorrow for the whole trip, your driver and guide ,"said Tundup by way of introduction . He just nodded to us and left while Tundup escorted us to our guest house.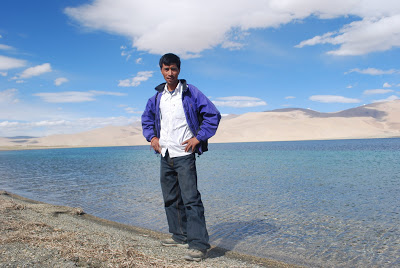 The sun shone right through the mountains , gently nudging us as I woke up to realize that Dorjee was already waiting for us, walking around restlessly. He was like any typical tourist driver who went about dropping us like a courier boy from one monastery to another. Tundup advised us "not to treat him like a taxi driver" but Dorjee seemed indifferent to all the conversation and chai that we offered him .
The only thing that seemed to excite him were Bollywood songs from Dil Hai Ki Manta Nahin, Aashiqui and Saajan . It was like chalk and cheese – the music he played and the mood we were in . The Indus flowed out of the barren landscape leaving us in awe , as we went ahead with the monastery circuit.
Finally Dorjee decided to have some conversation with us . He warned us not to linger too long in Kardungala as we crossed the pass at 18380 feet enroute to Nubra valley. He then told us stories of how it had been closed due to heavy snow fall a few weeks ago and several tourists were trapped enroute .
But he eventually warmed up to us when we decided to camp out at Pangong Tso with another cook in tow.  Dorjee was very excited. He started playing romantic Ladakhi songs and started grinning sheepishly as he translated the corny lines to us. He told us about his family back home in Zanskar and the baby his wife is expecting. He was to visit them later in winter when the tourist season ends here.
The weather changed like Dorjee's mood. The sun gave way to rains and it became a wee bit cold too. Dorjee stopped in the middle of the mountains and we had our breakfast – hot steamy momos, prepared by our cook. He took us to see the marmots and was very excited to see the black necked cranes.  We reached Pangong and Dorjee was the first to get off the jeep and set up the tents. He was agile, filled with insatiable energy and a never say die attitude.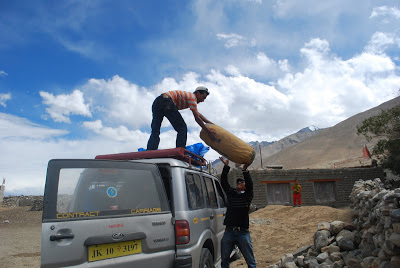 Our driver had  become a travel companion. But we saw the real Dorjee – the man who packed a punch in his wiry frame,  a tough and strong man who would brave anything . It happenned on the fag end of our Ladakh trip when we were returning to Leh via Tso kar .We had just entered the Taglang la pass at 17,500 feet when it started to snow. While I started taking photographs , Dorjee frowned. Coming from a man who would throw caution to the winds, the frown meant trouble. He urged us to get into the jeep and we barely crossed the pass when the snow storm started. Dorjee spied a truck on the opposite end struggling its way.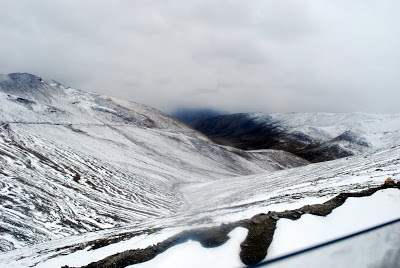 We stopped and so did the truck. A bus with the local police force arrived behind us They walked around and threw up their hands .The snow filled up the roads steadily as more vehicles piled up on either side. It slowly became an hour and then many hours.  Dorjee shrugged when we asked him our chances. He said nonchalantly either the truck had to be thrown into the valley or we would have to wait and it could be days if the storm did not subside .  But we sensed the worry in his voice. Suddenly he lost patience. He stepped out into the storm amidst our protests. Then I saw him through my binoculars, there was our man in  a cap, wearing a  thin navy blue jacket and ordinary shoes removing the snow from the road with his own hands.  Some foreigners joined him and they picked up a crude instrument. We offered to join him, but he told us to head back to the jeep.  Many hours later the road was cleared by Dorjee and a troop of men, while the police and other tourists sat in the jeeps and watched . " Happens all the time, but you are my responsibility, ' he said, dusting the snow from his jacket as he got into the jeep.
However Dorjee did not just save the day – he just displayed what a Ladakhi spirit is.." madam, all of us locals..we fought in the kargil war..do you know that ..? was his parting shot as we drive down hill.
This story was published in my column, Inside Story in Metro Plus