Ten great Ladakhi moments

Jullay !
Im yet to recover from my trip to Leh-Ladakh and the pictures are still stored in the memory card. But a quick post to recollect some of Sharath's and my great Ladakhi moments.
The first thing that stays in my mind are the images of the mountains when the flight lands in Leh. You can see lakes, monasteries and some great landscapes, but as the flight scoops down the mountains take your breath away.
The next thing that I recall is my trip to Panggong. Many swear by Tso Moriri, but I loved Panggong. We even pitched our own tents and stayed in a wonderful place by the lake which kept changing its colours.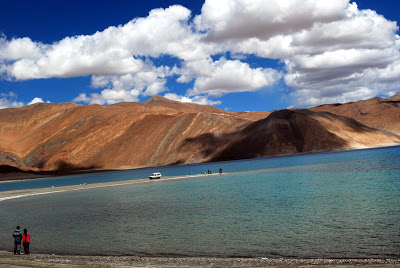 I liked Hemis and Stakna to Thikshey and Shey. But the view from the Shanti Stupa is one of the best
I loved the apricot fruits that I had in Hundar. The landscape in Nubra valley was one of the best, with its white sands as we went to Sumur and back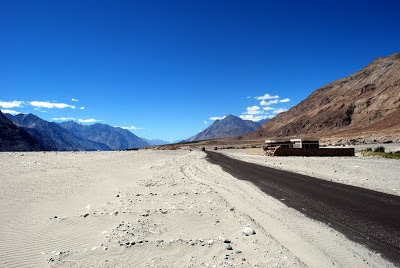 The sighting of black necked cranes. A beautiful bird and it was quite unusual to see them at Panggong where we did get to see a closer view than in Tso Kar.
The marmots – adorable . The first time I saw them with their back to me, I mistook them to be a rock.
Good food in most of the places, but I really enjoyed the veg momos prepared by Dorjee , our cook at Panggong and the Alu Paratha at a punjabi dhaba at upshi. And my best meal was puris and daal in the mountains after Changla pass enroute to panggong.
The rivers followed us everywhere, but the confluence of the Zanskar and Indus stays in my mind.
The night sky at tsomoriri..even at 2*C, watching the lake bathed in moonlight was a delight.
The Ladakhi festival. The inaugural procession which went past my guest house, the colours, the music(Im sold on ladakhi music) and the people, most importantly, our driver and friend, Dorjee who saved us from getting stuck from the snowstorm past Tanglangla.