Stepping back in time in Malkhed or Manyakheta of Rashtrakutas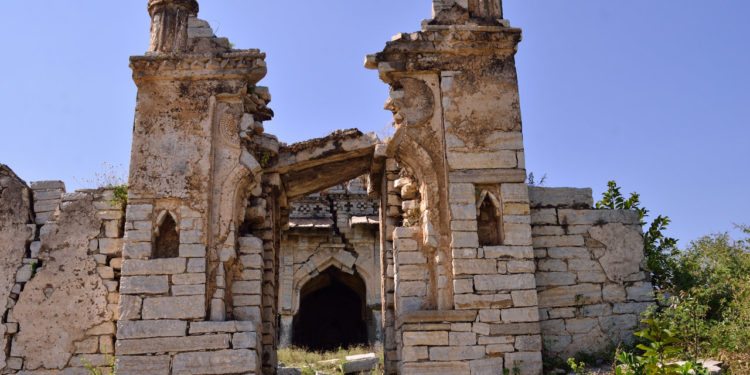 My search for historic old towns in Karnataka that once helmed the affairs of powerful dynasties takes me to ancient dusty towns, where crumbles and ruins are all that greet me . Kingdoms have been wiped down and their prosperity razed to earth in these narrow streets where houses lie huddled together, riddled with poverty. These are the thoughts that enter my head as I walk in the lanes of Malked, a town located in Gulbarga district known today for a prominent cement factory.
The river Kagini , a tributary of Bheema flows close by, as a few egrets and herons fly around.The lanes converge around me. Stray dogs run helter-skelter. I follow the curve of the roads and am greeted by two huge bastions almost as high as 20 metres.  A detour emerges out of nowhere taking me into an older part of the town, a part which probably dates back to the 9th century.
I am now in Manyakheta, the capital of the Rashtrakutas, under king Amoghavarsha who shifted the capital here from Mayurkhandi near Bidar and reigned here for 64 years. The Rashtrakutas were great patrons of literature and the king penned the very first classical piece in Kannada, Kavirajamarga. Most of the information of the Rashtrakutas of Malked  is gathered through inscriptions, but it is believed that they ruled almost all of South and parts of West India from this tiny town. Manyakheta retained its glory even during the reign of Kalyani or the Western Chalukyas who succeeded the Rashtrakutas till the end of the 10th century, after which it was probably plundered.
The sun is harsh and walking around, I see the old city walls, broken and covered with vegetation. Smaller bastions greet me as I look at the devastation all around. An old man calls out to me. He says he is the caretaker and explains that the Malkhed Fort has seen several rulers reign over it, including the Bahmani Sultans.  The walls of the bastion were built of limestone and the caretaker told us that it was referred to as Shahabad stone.
There are several monuments inside the fort complex, all in various stages of ruins and restoration. A watch tower looks down as I see an old domed structure, with some minute carvings. There are three arches through which one can enter and several pillars are holding the structure together. The caretaker refers to it as the kala masjid or the black mosque.  A tomb lies close by.
Another structure resembles a mandapa and is believed to be a Jain basti . It also seems that the monks were probably using it as a resting place. There were more enclosures inside the fort complex, in various stages of ruins. Probably they were homes or palaces, wonders my guide.
Pottering around, I see crumbled remains of more monuments and remnants of the wall. Beyond the mosque is an old Hanuman temple. The fort seems to be in various stages of renovation and am told that that work has been stopped due to lack of funds. However the ruins only make us wonder about the pristine glory surrounding the town more than 1000 year ago.
I look for more clues that would take me to the Manyakheta of the Rashtrakutas. The guide tells me about an ancient Jain temple, dating back to the 9th century located inside the village. The Rashtrakutas were patrons of Jainism and it is believed that Amoghavarsha himself was a Digamber Jain.
The village lies in a state of slumber when I walk through the maze of lanes and cul de sacs. Eventually I see a board on a simple white door which said, 9th century Jain temple of Neminatha. The door is however locked.
A small child beckons us as we follow her through a lane, which leads to a goshala. Her mother opens another door as we enter to see a quiet shrine, decorated with colourful pillars and sculptures .  We sit quietly as a monk is meditating in the temple premises.  I also learn that the temple is a mutt and the monks have been lived here since centuries.
Also read – Five Jain temples in Karnataka you must visit 
As I return to the town, I hear that Malked is also a pilgrimage town as it houses the "Brindavan" of Madhva seer, Jayateertha, one of the four disciples of Madhavacharya. I head to the Uttaradi Mutt to pay my respects before heading back . But my search for more dusty old capital towns, ravaged by man and time and wiped out by nature continues.
Fact file
Malked is about 40 kms from Gulbarga via Sedam Road and can be best travelled by road. Gulbarga is well connected by road and rail from Bangalore and Hyderabad.
Karnataka is one of the few states that has several capital towns of erstwhile dynasties
Read – Ancient capital towns of dynasties in Karnataka – Part 1 
Read – Ancient capital towns of dynasties in Karnataka – Part 2