Masinagudi – Where elephants roam
Warning : The call of the wild is a cry that should not be ignored . It can cause you sleepless nights . Soon you will be woken up in the night by howling wolves and you will start seeing sillhouttes of elephants next to you in the dark ! A snake will slither down your feet as an invisible insect will screech into your ears .. So, when the cry started echoing in our ears , we decided to pack our bags and drive down to the closest wildlife sanctuary .
The best thing about Bangalore is that there are several options to get away from the city . And as living in the city gets progressively worse, weekend getaways seem to mushroom out of nowhere . We drove towards Mysore, leaving behind the concrete jungles and … the forests presented themselves .We were spoilt for choice – Nagarhole enroute Coorg , BR Hills , the wilds around Kabini and Cauvery rivers , Bandipur to name a few .. However my eternal favourite is Masinagudi , a small town in the neighbouring state , Tamil Nadu , located adjacent to Mudhumalai Wild life Sanctuary .
We had first discovered Masinagudi a few years ago . While I had visited Mudhumalai as a kid, Masinagudi was discovered through serendipity . Its just one stretch of forests from Bandipur to Midhumalai – as you drive down from Bandipur , you need to cross the border and you are into Mudhumalai . A slight drizzle welcomed us as we entered Tamil Nadu. A carpet of greens veiled our eyes .The sun filtered through the bamboos that were scattered around . A deer darted through the bush . The silence was only punctuated by the sharp cries of the babblers who probably announced our arrival .If there was paradise, I thought this was it !
A cluster of villages like Theppakadu, Bokkapuram have several resorts and home stays which offer a jungli experience . We found some interesting resorts during our three visits . The first one was Casa Deep Woods – we had been there some five years, and it has a stream running adjacent to our wild habitat , not to mention aesthetically designed open bathrooms, with trees as roofs. During our next trip, we decided to live high up in the trees in Wild Canopy Reserve, welcoming the new year . This time, we decided to go to some simple log huts at Jungle Hut. Most of the resorts here are an extension of the jungle , where elephants freely roam ..For them , there is no border, nor state nor permit..the densely thick jungles are their abode and we are mere tresspassers in their territory .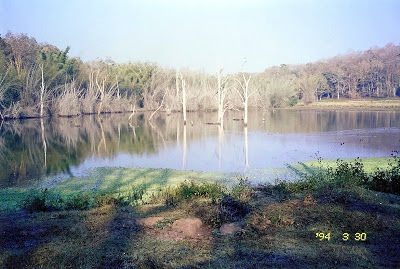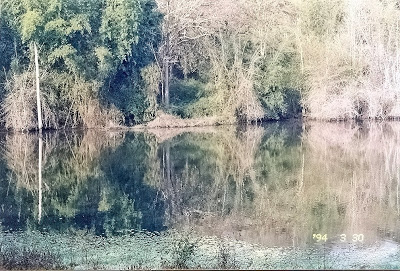 And thats precisely what we learnt as we went on a night safari . It was well past midnight and we were the last motley bunch who ventured out in the night . It was a bright starry night ..the wind was cold and we were in an open jeep, eagerly awaiting the sighting of animals..We drove very slowly and the trees looked eerie and long .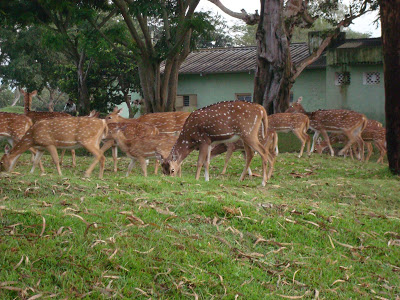 Our driver and guide , Sashi kept the night alive talking about wildlife escapades when the jeep suddenly stopped slowly ..A large shadow obstructed our gaze as the jeep pulled up ..We dimmed the headlights and there was an elephant taking ownership of the road . There was pin drop silence as we gazed at the elephant in reverence ..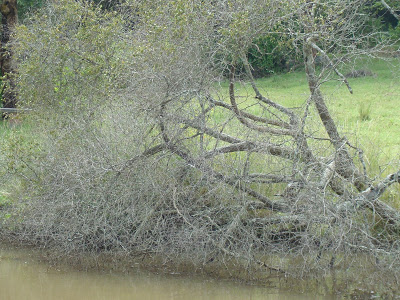 Our driver whispered and our gaze followed the lights, we saw not one but a herd ,even a calf, snuggling to its mother..The elephants were on both sides of the road, probably crossing .The first one on our left turned towards us as the driver mumbled it was getting ready to charge . We switched off the lights and waited silently.A few moments passed and it seemed like eternity . A slight movement and the jeep moved .
We went upto Theppakadu with no more nocturnal visitors when suddenly we saw two huge shadows on our right .They were mammoth bisons , grazing , with their back to us , oblivious of us.. Suddenly a truck whizzed past us , shattering the silence and the bison's supper. They did an above turn and were on their forelegs , all ready to charge. The sheer size stunned us and the horns looked absolutely devilish . This was scarier than the previous experience ..We quickly backed off and then took a detour and returned ..We could not take photographs as the light was low, and flash has to be avoided ..But I guess memories are best etched in minds..and probably , in words
We couldnt have asked for a wilder escapade . The weekend just whizzed past us , as we trekked, walked, laughed and chilled..The days were spent basking in the sun , going for safaris, a drive to Ooty veering past 36 hairpin bends and the nights staring at the sky, listening to the insects , counting stars …