My diary from aboard the Virgin Atlantic Dreamliner
Prologue – The Virgin Atlantic Dreamliner Experience
Sunday, September 20, 2015, 5 am IST
On the way to Bangalore International Airport
It is the wee hours of the morning and there is a nip in the air. Most people would love to curl up on a Sunday morning and snore away until it was time for brunch, but I am up at 4 am. I am not a morning person, but my motto has been anything for travel. I am wide eyed and excited. In an hour I will be flying to Delhi to board a flight to London. And then I will be flying the most flamboyant, vibrant airline, Virgin Atlantic which defines flying, only the way Richard Branson can.
Virgin Atlantic has always fascinated me as a brand. Probably it has to do with its personality of being a vibrant, cool brand despite the stereotype of a stiff British upper lip. But it is the grandeur, the pampering and the luxury that overwhelms me. After all, who flies you all the way in upper class from Delhi to London to party and let your hair down at the opening of a lounge bar – NYLON, in O2 ? But more on that later.
945 am –  Landing at T3, Delhi
The next few hours are a blur. All I remember is a lady escorting me to the lounge in T3 after checking in at Virgin Atlantic. I read a bit and chat with friends and nibble away at a vegetarian sandwich while waiting for the boarding call. And then begins the experience of living in a dream.
12 pm – On board the 787 Dreamliner
The lady at the lounge sweetly nudges me and says it is time to board. After all, this is one of the perks of flying upper class. I smile looking at my boarding card, remembering Shashi Tharoor and his cattle class remark. I enter the aircraft to see smiling faces. I have flown business before but here I am wrapped  in a world of luxury, literally with my head up in the clouds.
12 30 pm  The Dream Run begins
It starts with a celebration. As I stretch my legs and fiddle with the controls, a smiling flight steward walks up to every passenger travelling in upper class and speaks to them. He charms me with his British accent as we discuss wines and cheese. A confession – I have a thing for the British accent. Blame it on the colonial hangover or whatever. You must go for wine tasting at Picadilly in London, he adds as I slide in my seat back and forth, pushing it as much as I can to stretch myself. And then he hands me a glass of champagne. This is how we begin out dream run.
1 30 pm  It is not a cabin, but a suite
The mood sets in with the lighting. Who cares if we are up at 20,000 feet, flying in the bright blue sky in the afternoon white dazzling clouds below us ? In our cabin, sorry suite, the hues are tinged with light purple, why, even a shade of pink. It is an ode to luxury. Every seat has a private aisle access and perfect privacy. The windows are electronically lit. For all those who crave for the window seat to look out at the blazing glare outside, mine wears various shades of sunglasses – with a tinge of brown to blue. All I need to do is to press the buttons on the glass to decide the shade.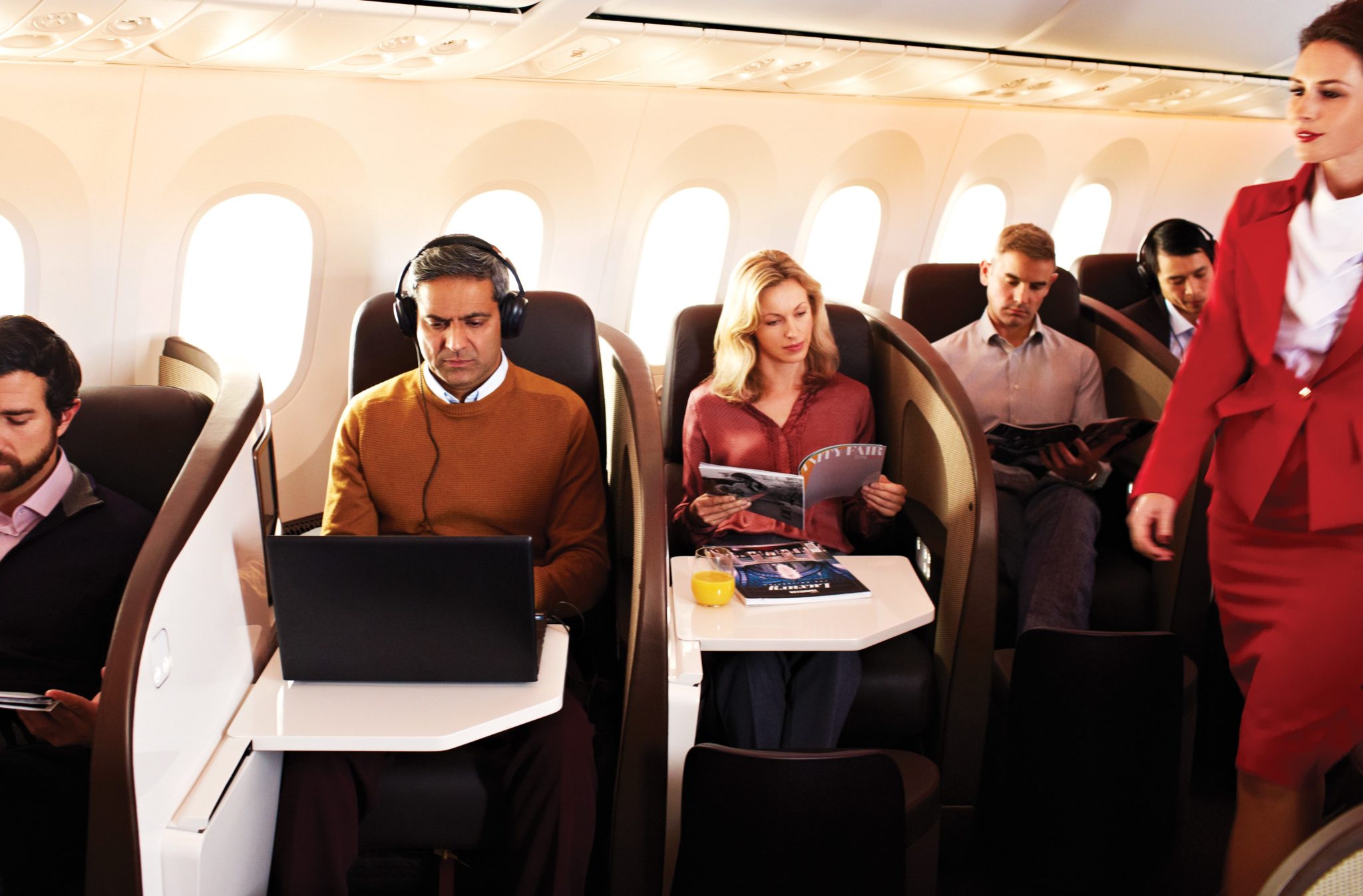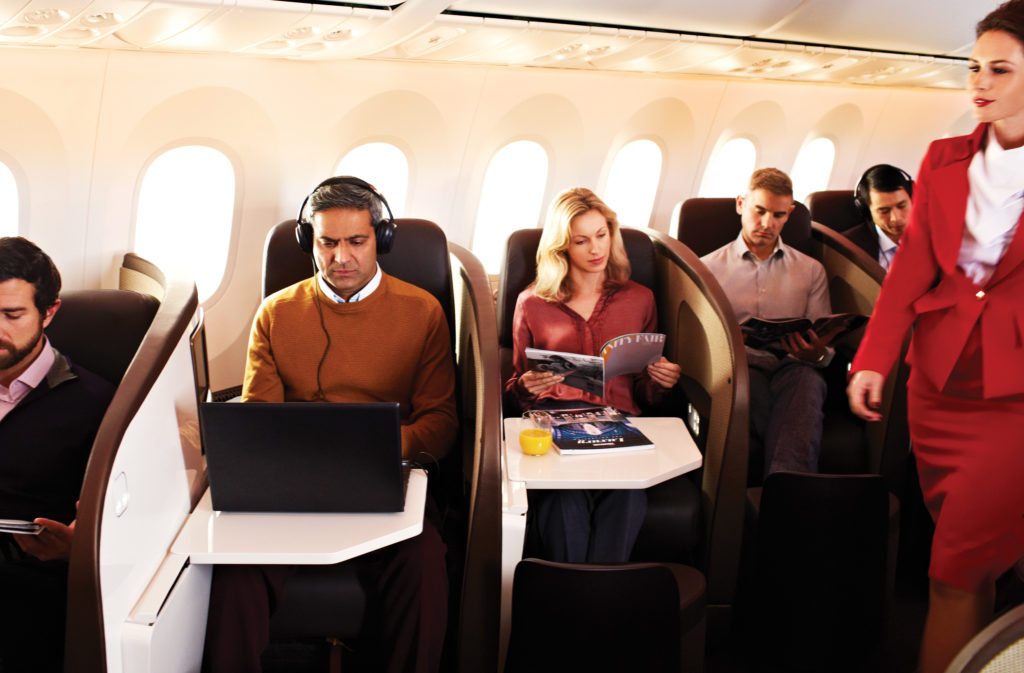 2 pm  – A restaurant in the air
Personalised menu cards stashed away in our seats give us a range of options. I have always been indifferent to inflight meals and being a vegetarian, the options are usually limited – just some reheated white rice with barely any taste and some yellow daal and red curries to add to the colour. But here it is sheer gourmet experience. Virgin Atlantic believes that what they have up here is a restaurant – so from cocktails to chips, every item is carefully selected. Most of the suppliers on board have been with Virgin Atlantic for years and care is taken to ensure that even cheeses with some animal fats are not served up here. My sumptuous meal arrives with a glass of white wine as I already feel heady with all the attention followed with dessert.
230 pm – Bradley Cooper and flat beds
I get up to go for a little walk and there lo, my seat is now a bed. Touch a button and everything changes around me. Straight becomes flat, white becomes pink , the TV screen slides up and down while my table vanishes. A smiling stewardness says, " Let me make your bed" and she pulls out white fluffy pillows, thin mattresses and sheets as she tucks me in. I go to sleep, watching Bradley Cooper in a romantic movie and drift away.
530 pm – High tea in typical British fashion
There is nothing more charming than tradition. The first time I heard the word "high tea" was in Enid Blyton and then of course in countless PG Wodehose books. So when high tea is served, I am like a wide eyed kid, looking at the selection of cakes and snacks. There is plenty of choice and I greedily pig on every cake. High tea reminds me that am closer to London now.
7 pm Say cheers to cocktails
Who can resist sipping cocktails and smiling at strangers at a personalised lounge bar right next to your seat with lighting that make you forget if its day or night ? Snacking on crispies, I make small conversation with the air hostess who take me on a tour of the aircraft, including a sneak look at their bed rooms "upstairs" , while we pause at the Wander Wall, at the premium economy cabin to pick up some chips and stretch our legs.
9 pm The Cherry on the Top.
I am done watching my second Bradley Cooper film for the day and now I finally tuck myself back to sleep for a few hours when I see the friendly steward offering the passenger adjacent to me ice cream. He sees me half asleep and tempts me with options. I have filled myself with all sorts of delicious desserts but can never say no to ice cream
10 30 pm Waking up from the dream
It is almost time to land and I can now see London in a haze from my window seat. It is early evening out there and I am feeling completely relaxed and hydrated . I am usually groggy with sleep deficit and the toll of taking connecting flights gets to me when I land in my destination, but today, am feeling as fresh as a daisy, all ready to see the Queen.
Most passengers I know prefer night flights but afternoon flights are so comfortable that they barely make you realize that you have flown almost ten hours. And Virgin, obviously believes that the journey is the destination
We sail through immigration courtesy our priority status but it takes us a couple of hours to reach our hotel, M by Montcalm in Shoreditch Tech City, an area am told is one of the new business districts in London, slightly away from the city centre, although it takes just ten minutes by the Metro to get there. The lights in the city are up as I sip beer with friends located around the corner. In an hour, the curtains come down as I watch the skyline from the 12th floor shrouded in darkness and I finally say goodnight to a long wonderful day.
Epilogue
September 23, 8 pm (GMT)
London Heathrow
After two days of partying and dancing in London, especially at the launch of the NYLON lounge bar at O2, commemorating the alliance between Virgin Atlantic and Delta Airlines, I am in no mood to head back to India.
But the private limo service picks us up at the hotel and the driver and I enjoy a tour of London for the next two hours as we wade through the traffic. My childhood memories are kindled as I remember the game of MONOPOLY and the locales of London, marked in different colours and priced differently. Park Lane in bright purple is one of the most expensive.
We are brought in style to a private building at the airport, away from the terminals where it is absolutely silent. My bags are collected, my boarding card is already printed as the luggage tag is added to it. I am then escorted to the security which is again a breeze and then I enter one of the most lavish luxurious lounge I have ever seen. The Virgin Club House for Upper Class Passengers is not just a lounge .
The vibe is right, it is filled with energy, yet relaxing. We dont know where to begin – shall I go to the swanky bar or plunge into one of the pools or head to the spa with the jacuzzi ? May I  shall order some hot soup or check out the buffet counters ? Or probably relax at the library or head to the roof top bar and watch planes take off ? Perhaps I can get a manicure done or a head massage – I settle for the latter though. But if I have one wishlist it is – can I postpone my flight for a day and spend the time here in transit ?
However, the boarding calls and as they say, all good things must come to an end. I am back to my comfortable suite in the air with purple lighting and soothing music and I think I see stars from the window, but I am perhaps dreaming in the Dreamliner. Can this dream run continue for a while ?
I was hosted by Virgin Atlantic, M by Montcalm and Visit Britain during this trip to London.