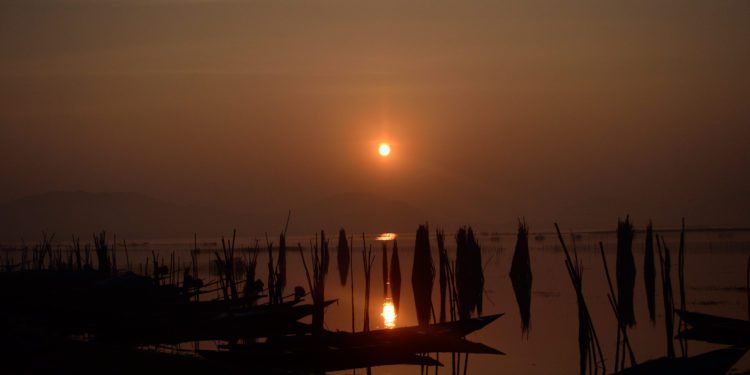 I had no idea how I landed in Odisha at the start of this year. In fact I was planning to spend my birthday in some exotic land overseas or trying some new adventure of sorts. But every plan went out of the window the moment the husband gave me just five days for a holiday. We had thought of Andamans, Lakshwadeep, Kutch, Megalaya, Sunderbans but my mind veered towards Odisha at the last minute.
It was an expensive decision. The cheapest flight tickets to Bhubaneshwar from Bangalore was at Rs 20,000 /- return and it was via Hyderabad. I instead took the Chennai – Visakhapatnam – Bhubaneshwar flight as it was marginally less. But Odisha had been on my mind since my school days. I had always dreamt of visiting the place where the Kalinga war had been fought.  I had been equally fascinated by Chilika lake and bird watching in Mangalajodi, where migrants flock during winters. So Odisha it was !
And I was pleasantly surprised by what the state had to offer. Simplicity, beauty, arts and crafts, architecture, history and such beautiful natural settings.The sun rose around 6 am, surrounded by mist, while it sets before 5 pm, and the entire atmosphere is cloaked in darkness by 6pm. The weather was perfect, a little nippy in the night but warm and pleasant.
I had just four nights and I decided to divide them equally between heritage and nature. I spent the first couple of days exploring Buddhist sites and temples and the last two boating and birding in Chilika lake. Somewhere in between i visited villages and met some craftsmen who create the beautiful Pattachitra art .
But one thing struck me is the simplicity of the people. They are warm and friendly and are not yet tourist savvy unlike Rajasthan or Kerala. Tourism is at a nascent stage and people are very laid back. Although I visited only the tourist circuit, even these places had not been marketed to their full potential.
Chilka lake has the potential of being developed into a property like the backwaters of Kerala with some careful planning, infrastructure and marketing. However it is important that mindless tourism should not wreck ravage on the fragile eco system. I went to a bird's island from Rambha which is devoid of birds today.
Every heritage site had become a picnic spot. We went to several such sites on January 1st and truck loads of locals drinking and dancing were all over the place. I must have heard Lungi Dance from at least three different trucks in one particular site. I have no idea if they know who Rajini is, but they all uniformly yell, " All the Rajini fans .." Picnics are allowed and local authorities do not seem to care. And that is an issue. Even in some temples, am told that locals drink and party and it is a given thing. I saw some boards that said Picnics not allowed but I could see groups of locals enjoying lunch on new year's day. And everyone was dressed in their stylish best. The people in these towns are the fastest to absorb new fashion trends. However tacky they look, everyone wants to look cool and dress like film stars.
But there is a charm about small towns that cannot be explained. Sitting in a small eatery, munching on some pakodas and watching some tacky Oriya movie, I enjoyed the free wheeling conversation I had with locals. We spoke about food, movies, tourism, local culture…They were happy to let us try food. Puri was kitschy with tourists from West Bengal everywhere and kids and adults taking camel rides in the afternoon the beach. But in Ratnagiri, a sand artist was spreading the message to save their heritage. Every town offered a special experience. And I will be blogging in detail and sharing pictures as well,,but these are my initial thoughts.. Let me know if you need any help in planning an itinerary on Odisha