A road trip in Madhya Pradesh – Photofeature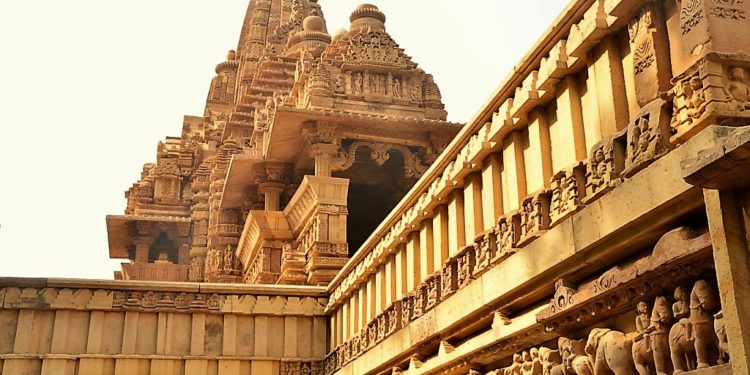 Personally for me, the journey has always been the destination.  I am fascinated by road trips – the little pitstops on the way, the funny road signs, interesting conversations with locals, rustic landscapes, local cuisine and colours and flavours that you encounter along the way. In my recent trip to Madhya Pradesh with Holiday IQ, we were on the road almost everyday and here is a photofeature on some of the must see places to visit in Madhya Pradesh.
Our journey either started in the wee hours of the morning or we were reaching our destinations in the middle of the night.  We saw sunrises and sunsets almost every day – different skies , myriad moods of the sun and varied landscapes. Sometimes the sun would greet us in a forest , sometimes it would bid farewell to us amidst the fields. We had a mix of heritage and wildlife on our itinerary – Rewa and Khajuraho for heritage and Panna and Parsili for wildlife. So, here is a photofeature of some of the places to visit in Madhya Pradesh.
Parisili – Sanjay Dubri National park
Our journey began in the dark with a little village – Parsili. This little hamlet was brought into the tourist map because of Sanjay Dubri National Park. It is one of the new national parks that has been added to the tiger tourism sites in Madhya Pradesh. While Bandhavgarh and Kanha are more popular destinations, the wildlife of Madhya Pradesh have their own hidden spots and Parisili is one of them. If you like pristine tracts of forests, then Parsili is one of the places to visit in Madhya Pradesh
However the tigers and leopards stayed hidden as we went on a morning safari. We were lucky to see a couple of bears but they vanished even before we could even pick our cameras. The forest however was so beautiful, donned in its morning colours and we virtually had it all for ourselves.
Where to stay – Parisli Resort by Madhya Pradesh Tourism, located right on the banks of the River Banas
Rewa
Rewa was our next stop and to me it is one of the places to visit in Madhya Pradesh. Barely 100 kms from Parisili, Rewa is one of the historic cities in Madhya Pradesh and was an erstwhile princely state with the Baghela Dynasty reigning over it. The British had created a political agency called Baghelkhand Agency and Rewa was the largest princely state in it.
Even today,as we walked around the city, you can see remnants of the royalty in the landmarks around the city. Ruins greet us. Old museums with priceless treasures call for attention. But Rewa's claim to fame is not the princely state or the British connection. It was the discovery of the White Tiger, Mohan found and captured in the woods here.
Govindgarh
A small detour from Rewa took us to Govindgarh , now entirely in ruins. A little board says that this is where Mohan, the White Tiger was actually captured and he was housed here. The summer palace of the kings of Rewa , Govindgarh is apparently surrounded by temples. However we were just lost in the beauty of the ruins and the lake here. If you have the time, then ensure Govindgarh is in your itinerary and I would strongly recommend it as one of the places to visit in Madhya Pradesh.
Panna National Park
Panna, known for its diamonds was our next halt. But we were not looking for them. Instead we were looking for the wild cats in Panna National Park. The jungles were filled with alarm calls as we went searching for the invisible tiger. But we were not lucky. However one of our groups did sight a leopard with a kill, as they saw a sambhar deer fall prey to the leopard. We looked for birds and saw some vultures and raptors besides crocodiles .
Raneh Falls and Ken Gharial Sanctuary
Personally for me, this was the highlight of the trip. The River Ken cascades into a waterfall here but it is the rock formations that fascinates me . The river forms a natural canyon which is about 98 feet deep and five kilometers long with granite rocks of different colours – with shades of red,pink, ochre and grey. There is a Ken Gharial sanctuary and if you are lucky you can spot the gharials and crocodiles here besides sambhar deer as well. If you ever find yourself near Khajuraho, then dont miss it as it is one of the must see places to visit in Madhya Pradesh.
Khajuraho
And finally we are at the UNESCO World Heritage Site – Khajuraho, known for its erotic sculptures. However my guide says that they make up for just 10 % of the overall sculptures in the 22 remaining temples here.
Categorised as the Western, Eastern and Southern Group, these temples built more than 1000 years ago are both Jain and Hindu temples. Some of them have their origins in tantric cult. There are many legends and myths behind these temples as every stone here has a story to say.
This post was written in partnership with Madhya Pradesh Tourism and Holiday IQ.