Jungle camps to heritage hotels – Hotels in Madhya Pradesh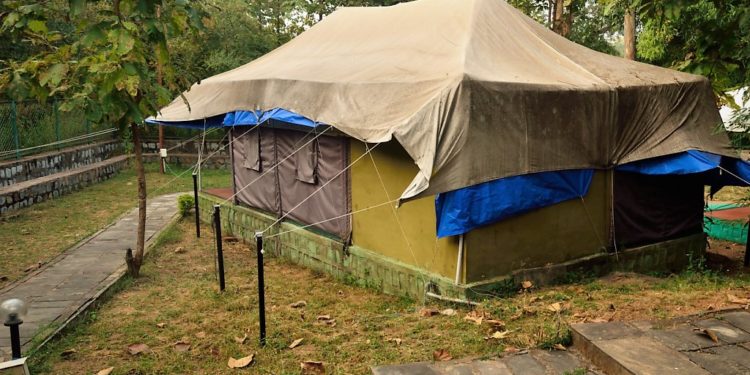 I have a confession. As a traveller, my focus is usually about the destination – the culture, the experiences, the people, the sights, the markets, the colours, the flavours. I would initially think of a hotel as just a place to rest my head before moving on to the next adventure of the day. But then slowly that perspective changed . Hotels I believe are an integral part of a travel experience. Be it a resort or just a room, they absorb the very essence of the destination in them and they are key players in sustainable tourism. I usually prefer bed and breakfast properties and homestays as they offer me a local perspective of the destination and personalised service. But today, most hotels – be it luxury resorts or boutique properties have started focussing on several experiences as well. 
And in my recent trip to Madhya Pradesh, we stayed in a variety of hotels – from jungle resorts to tented camps to heritage hotels. So here are some options if you are planning a Madhya Pradesh tour and places to stay in Khajuraho, Panna and other places. 
Parsili Jungle Resort – Parsili
My favourite was the Parsili Jungle Resort, run by Madhya Pradesh Tourism. It was well past midnight when we got here and we could barely see anything. However the sounds of the jungle came alive. I stayed with my friend in a large suite and all we could hear in the thick of the night was the murmurings of the river. Wrapping a shawl around us, we stood in the balcony for a few minutes, breathing in the cold night air and listening to the call of the wild.
Parsili Jungle Resort is the gateway to Sanjay Dubri National Park and it was well after my safari that I got a good look of the resort. A pretty cottage with five rooms, built on the banks of the Betwa River,  it stood basking in the morning light. It was just us and nature in close quarters and I loved it.
The resort was relatively new as Parsili has just become a destination in the map of tiger tourism. and it was clean with great food as well. The resort will also help you with details to organise your wildlife safari in the national park.
Safari Regency, Rewa
Rewa was our next destination and we parked ourselves right in the heart of the city at a three star hotel called Safari Regency. The rooms were renovated but were reeking of smoke. Unfortunately am allergic to smells of all kinds and that did not go down too well with me. The bathrooms were not too great too and were smelling as well. The only silver lining – they had wifi. Now, that is a big one.  Research apparently says that wifi is even more important than food or wine, but I will endorse that.
Jungle Camp, Panna
Another very pretty little camp set up by Madhya Pradesh Tourism, my wildlife experience started right here. Listening to the bulbuls and the barbets and watching the sky change colours, we spent barely a day here and most of it was spent in the jungles, combing for tigers. The wild cats eluded us however.
Madhya Pradesh tourism is probably one of the best tourism boards which offers clean and comfortable accomodation options in the state and this tented camp was absolutely one of the best I ever stayed in.
Syna Heritage Hotel, Khajuraho
It almost feels like you are entering a palace when you land at Syna Heritage Hotel in Khajuraho. The vintage cars just add to the charm. It combines elegance and tradition and the opulence is understated and elegant. However the rooms that we stayed in were very small, especially for a double occupancy and the walls are so thin that you can hear literally every little sound . Besides great food and location, what really appeals to me is the proximity of the property to the Western Group of Temples in Khajuraho. You can literally walk it, like we did, soaking in the rustic air.
I would recommend at least a couple of days in Khajuraho to see the Western, Eastern and Southern Group of temples and a visit to Raneh Falls is highly recommended.
Our journey was however very short and we barely spent a night in every property, except in Khajuraho. I would have however liked to linger longer, especially in the widlife camps and resorts.
Have you travelled to Madhya Pradesh ? Which is your favourite hotel and why would you recommend it ?
This post was written in partnership with Madhya Pradesh Tourism and Holiday IQ as I was on a road trip organised by them.
Pic credit for Syna Heritage Resort is by Nivedith Gajapathy, You can read his post on Madhya Pradesh here