Poovar – where river and sea meets ..
A blue sky, an island, a sandy beach, a river ,an estuary , a stretch of coconut trees, a lone boat and the blue-green backwaters . And of course, birds, fish , the boatman and us .
This is Poovar for you, lost somewhere near the tip of South India, tucked in Gods own country , Kerala .
It was a lazy Saturday morning and we were in Tiruvanthapuram or Trivandrum staring endlessly at the beaches in Kovalam . Unlike most capital cities, this quiet nonchalant town-city has a certain charm that makes you linger. While most of my friends prefer Cochin , I have always had a certain soft corner for Trivandrum – maybe , because its closer to my roots in the neighbouring state of Tamil Nadu .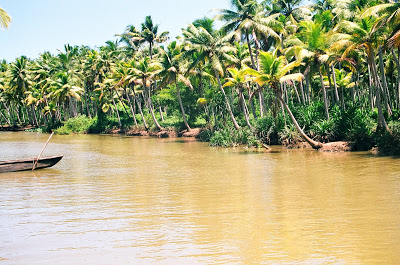 We were in Kovalam at the beach , sipping a tender coconut when the vendor asked us if we had been to Poovar . I recollected travel packages promoting Poovar , images of floating cottages and a couple of resorts vying for attention . We were not the typical beach bums , so we were willing to tear ourselves away from the sunny shores and look for newer shores. So, we went driving , in search of a coastal hamlet called Poovar along the River Neyyar .


According to Wikipedia , 'Poovar was a trading center of timber, sandlewood, ivory and spices. It is believed that the trading ships of King Solomon landed in a port called 'Ophir', which is figured out as Poovar.'
While surfing through kerelatourism.com, I was surprised to read that Poovar had a royal connection as well and it owed its name to a king . It was in this tiny hamlet , then a rich trading centre, that Raja Marthanda Varma , the legendary 18th century king of Travancore had sought refuge .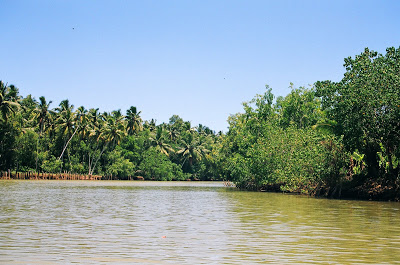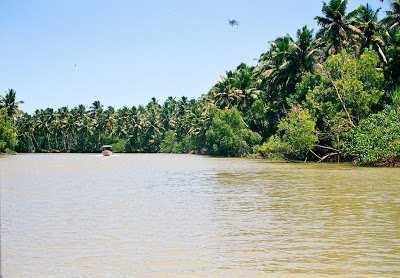 The story goes that Ettuveetil Pillamar, had proclaimed Marthanda Varma as his successor and the former's sons declared war. The Maharaja had to flee from his land and he landed in Poovar with the help of one Moosa Marikar, a merchant who also helped him regain power .
The Raja was fascinated by the sight of red flowers, chipped out from the Kovala trees growing along the Neyyar river , which floated in the river as a red carpet on water. The legned is that the stream was named as "POOVAR" as the Raja described the river as "POO-AAR" ( meaning a stream of flowers).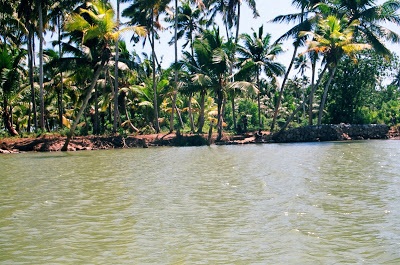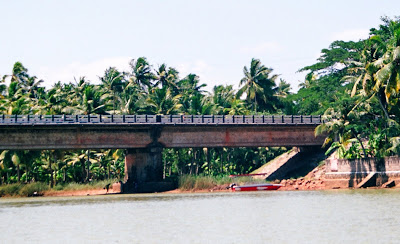 The drive is not just beautiful, but it takes you into the heart of rustic India. A little bustle here and there, a few shops will convert a sleepy village into a market. The smell of the fish was everywhere – we took a detour and came to a jetty which only allowed tourists who were staying in the resorts ..We managed to talk the boatman into taking us for a little ride on the backwaters .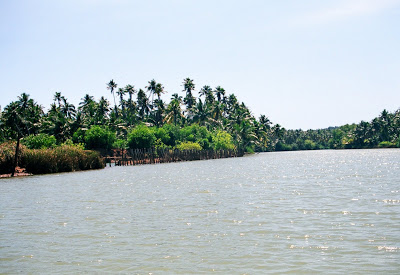 There were a few resorts dotting the landscape ..but besides that, all we could see was just the azure waters and the blue sky . The coconut trees stretched out, kissing the waters here and there, as we sailed ..Until we saw two horizons ..one separating the sky from the sea, the other – a sandy beach separating the sea from the backwaters . The estuary here connects to the sea during high tides . I looked at the vast expanse of waters called sea, river, backwaters , estuary and wondered if there was anything so simple and yet so beautiful in life ! This is probably what they call happiness !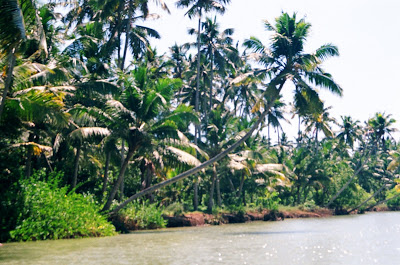 Getting there
Nearest Airport : Trivandrum International Airport – 18km, Nearest Railway Station : Trivandrum Central – 22km, Nemom – 12km, Nearest Harbor : Vizhinjam – 14km
Poovar is just 32 kms away from Trivandrum .
Accomodation
Lovely resorts and homestays dot Poovar . Poovar Island Resort with its floating cottages, The Estuary Island from where these photographs have been taken , Isola Di Cocco and a homestay – Fridays Place