Shettihalli- a church submerged in water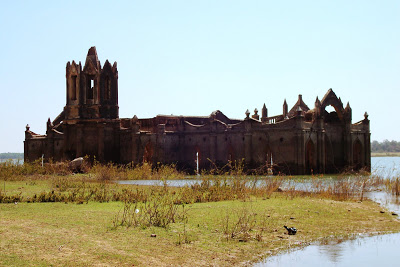 My weekend getaway was quite a different experience. A visit to a coffee plantation( No-Not Coorg) was not just about long walks in the estate, or watching picking and pulping of coffee seeds or even getting lost in the many species of birds that were fluttering high. . It promised to be a discovery of sorts.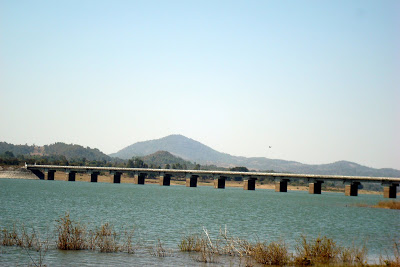 Blended with history and spirituality, the aroma was stronger. We started the weekend with a visit to a small hamlet , Shettihalli.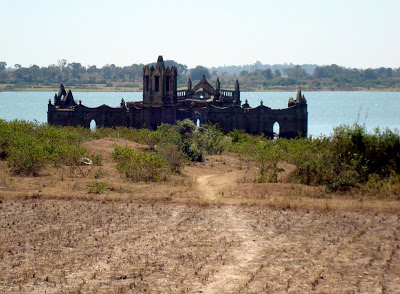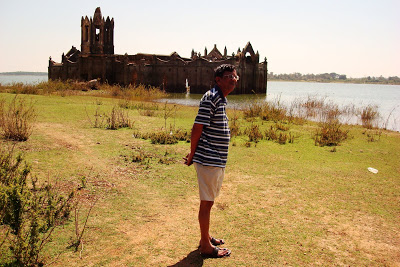 We were cruising down from Bangalore towards Hassan on the bypass road and the milestone read 2 kms to Hassan. My uncle had read that there was a ruins of a church in a hamlet close by and we decided to ask. Many fingers pointed left towards Shettihalli, some said 10 kms, some said 6 kms and we drove till we saw a dry field (probably sunflower )around us and then came a vast expanse of water . Standing tall in the water was the ruins of an ancient church, home to a few birds .


There was not a soul in sight and there were no roads leading to the church. We took a small detour from the road and parked the car and started walking , across what looked like a dry field filled with thorny bushes and a few trees.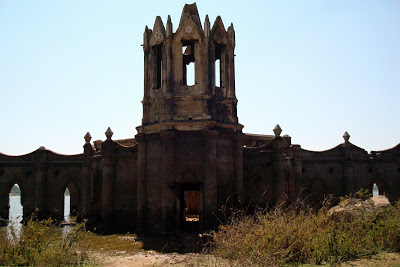 It was the backwaters of the Hemavathy Reservoir and the monument was the Holy Rosary Church built by French Missionaries around 1860. We met a few villagers on our return who told us that this village was once a lush hamlet where the River Hemavathy flowed watering fields of sunflower.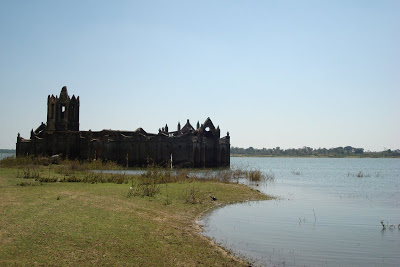 An idyllic village lost to development when the reservoir was built at Gorur to develop agriculture around the neighbouring towns. No one there knew the name of the church and I tried googling it to find out. A couple of newspaper articles from The Hindu gave me the name and the rest tallied with what the villagers had told us .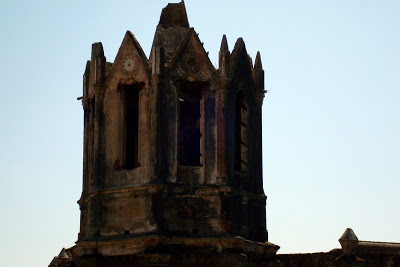 The church was reportedly built with mortar and bricks and a mixture of jaggery and eggs.During monsoons, the water level rises submerging the entire church apparently, when only the spire is seen at times. The entire roof had caved in while part of the altar and the central nave still stand but there were no stained glass windows or pews or even windows left in the church.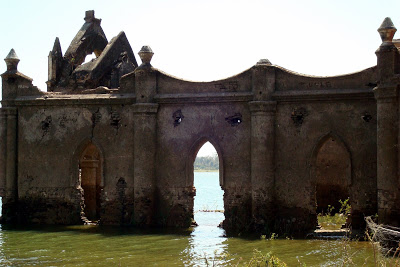 We had loads of birds , cattle and reptiles for company , but not a person around . We chanced on it by serendipity, but discoveries like this make a weekend getaway special .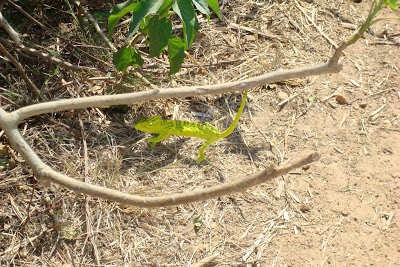 The post does not end here – A very special thanks to GMG (Blogtrotter)who has given me an award – "You make my day."
Now its my turn . I would like to give the award to 10 people whose blogs bring me happiness and inspiration and make me feel happy about blogland.
So I'll pass the "You make my day" to Smita, Reeta, Mark, Merisi,Priyank, Kalyan, Celine, Ajeya, Stephanie and GMG whose blogs have been a great pleasure to read ..