There is something magical about a monastery that cannot be explained. Spinning the prayer wheels, we entered the Lingdum or Ranka Monastery near Gangtok .While the lamas were in the midst of their evening chants, some of the younger boys were practicing their ritualistic dances in the courtyard. As they swirled around, their movements synchronized with the sonorous music that came from the monastery .A boy lama was gently caned by his senior as he did not get his steps right.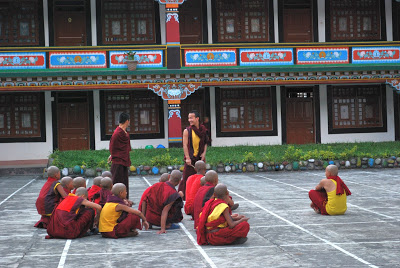 Watching them perform, I remembered some of my earlier trips to Sikkim when I had visited a couple of monasteries. Steeped in myriad myths, they had a mystical aura about them .
Our first stop had been to

Emchey monastery, built atop a ridge near Gangtok, . We were admiring the views of the city, when we heard this story from our guide. 
The 19th century Gompa was the home of a flying saint who had initially built his hermitage here. A tantric called Lama Drutob Karpo with powers of levitation had flown in here from South Sikkim and had blessed this site.  Even today, people from Gangtok believe that the Gompa called the Solitary Temple contains and preserves the spirits of protective deities which take care of them .
A little further from Gangtok is the older Rumtek Monastery which is one of the largest in Sikkim . We were awed, not just by the sheer size of the monastery, but by the heavy security patrolling the site. The silence however was all pervading as we walked around the Dharma Chakra Complex, the Institute of Buddhist studies and the Golden Stupa.
Our guide explained that the monastery was the seat of the Karmapas, who belonged to one of the schools of Buddhism called Karma kagyu . Rebuilt by the 16th Karmapa in the 1960s ,who took refuge here after his exile from Tibet, it was originally founded in the 16th century, Even today precious relics along with the remains of the Karmapa are preserved here in the Golden Stupa.
The Karmapas are also called the Black Hat Lamas, on account of the Black Crown that symbolizes their power. According to legends, the first Karmapa was visited by several dakinis or the Buddhist versions of  fairies  and each of them gave him a strand of their hair as a gift. These strands were later woven together into a black hat and is handed down by one Karmapa to another. My guide explained that the Black Hat is kept at Rumtek Monastery and it has to be either worn by the Karmapa or tucked safely in a box for they believe that otherwise, it would fly away.
But the monastery was soon mired in controversy and sectarian violence over the selection of the 17
th
karmapa which led to heavy security. As the guide finished the narration, I looked around at the peaceful monastery set amidst the mountains and found it ironic that it had to be protected by men with guns
This story was published in my column, Inside Story last week