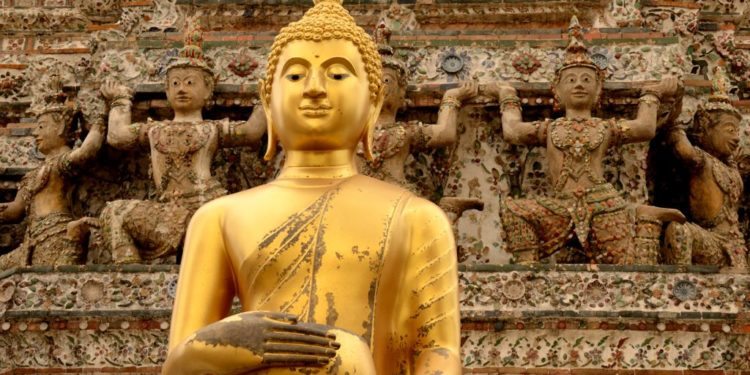 I enter the shrine and can see the unmistakable influences from both Along the banks of the Chao Phraya River in Bangkok are ancient temples that take you back in time. Amidst the noisy clutter of Bangkok city, these temples offer a sanctuary of silence and space. Gods and demons fight for space as you can see symbols of Buddhist iconography everywhere.
The temple of dawn or Wat Arun takes its reference from  the Hindu deity Aruna but it was once a Buddhist temple that was restored and rechristened more than 200 years ago when  a local king saw the temple being graced by the sun's early morning rays.
Glittering in a mosaic of porcelain, the 80 metre tall spire is a tough challenge to climb. I saw a lot of tourists throwing coins here and wishing for happiness and luck. What did I wish for ? To travel and see more places.
A little bit of India and China is seen in the temple architecture, carvings and the deities as well.
While the spire is built to represent Mount Meru and the 33 heavens of Buddhism  the towers are supported by demons.
Climbing the steep steps is a challenge but it is absolutely worth it as it offers a great view of the river