Souvenirs from the Christmas Markets in Germany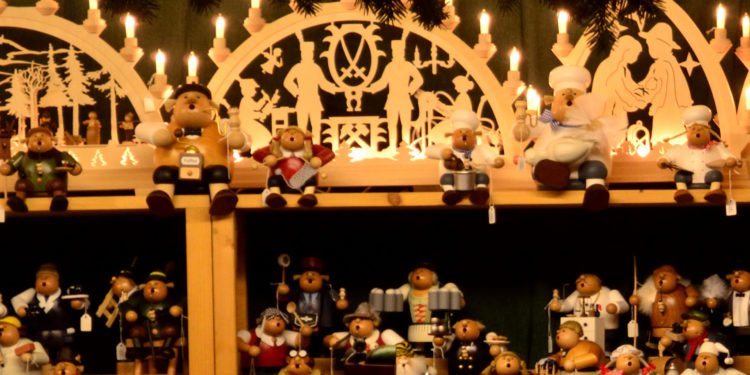 There are souvenirs and souvenirs in every country – from magnets to glasses to plates to every curio one can find. And then there are the traditional arts and crafts, handmade and cherished over centuries which are definitely not made in China.
I was in Germany recently, courtesy Emirates and German National Tourism Board and I got lost in the Christmas markets around Nuremberg, Dresden and Munich. it was bitterly cold but the angels were everywhere spreading warmth and Christmas cheer. There were gluhwein booths and chocolates, gingerbread and sausages, toys and candles, glass baubles and music boxes, Christmas pyramids and carousels and I was clearly at a loss what to buy. Every item there was traditionally German and each of them had a story to tell. So, let me take you on a tour as we move from one city to another, from one medieval market to  another, from one wooden stall to another, Christmas shopping.
The nutcrackers
These gentlemen are my favourites. They were standing tall in almost every stall. Traditionally, the nutcrackers were actually "utensils" that were carved of local wood from the forests but the craftsmen wanted to make them look interesting. Carved in the 19th century , they were made to look like soldiers so that the craftsmen could actually mock at these men of authority. I just loved their sense of humour and their irreverence.
Smoking men
Besides the nutcrackers, these smoking men of incense caught my fancy. In fact we assembled a toy in the toy factory in Seiffen. They look absolutely cute and charming and occasionally one can even find a smoking grandmom in the collection. These men were called Raeuchermännchen in German and they were carved in the 19th century as well. Both the nut crackers and smoking men were created by the miners who lived in the Ore Mountains.
Schwibbogen
This word was quite a mouthful and when I saw these pretty decorative candle holders designed like an arch placed in front of the windows with the candles brightly lit, I wished I had a house like that to showcase the Schwibbogen. Originating in the 18th century from the Ore Mountains, my guide Seema Prakash tells me that the brightly lit Schwibbogen cheered the miners when they walked back home in the cold dreary nights
Bee wax candles
I found several candles in the markets but the bee wax candles were one of the prettiest. I saw them in Munich and I was told that these were sold by beekeepers who ensured that the fragrance of honey did spread across the festive season .
Lace
In Dresden, I saw plenty of stalls selling lace and I was told this was quite typical of the markets here. Although the porcelain lace figurines were more popular, these were very beautiful as well.
Stollen
No Christmas is complete without the traditional cake called the stollen. We were shown how the dough is prepared and we even got a chance to knead the dough before baking it. The stollen which dates back to the 14th century was believed to resemble the baby Jesus wrapped in a white cloth and even today locals tell you that ! The stollen fron Dresden is considered the original and it contains among other ingredients yeast, flour, butter, raisins soaked in rum and orange peels.
Little plum people from Nuremberg
I had already posted about these delicious men and women who were sold in the wooden booths in Nuremberg. They are prepared with prunes, raisins, nuts and plums.and they are called "Prune Men", or "Zwetcshgenmännle" in the local dialect. It is a  tradition that probably dates back to the 17th century when the markets were started in Germany and locals believed that if they kept them at the windows of their homes, no harm would come to them.
Gluhwein
No Christmas market is complete without stalls selling sausages and gluhwein. Being a vegetarian, I headed to the gluhwein booths. But interestingly this one was lit up in a fiery red light. I learnt that this is not just the traditional mulled wine or gluhwein of Germany, but a spirited concoction of red wine, rum and spices called Feuerzangenbowle, prepared over a small burner. I just loved it as it burnt my throat warming my insides even as the temperature dipped.
There are many more figurines and candles that can be bought , but make sure you bring home at least a few of these gifts.
If you are planning to visit more Christmas Markets , then here is a guide – Christmas Markets and Holiday Ideas in Europe that you can read before your trip.