Teaching Indian languages– a town called Landour
We were in an idyllic little town called Kanatal nestled somewhere in the hills, in Uttarkhand, content to gaze at the glistening white peaks that peeped through the deodar trees. Conversations around travel filled the air as several destinations were discussed and tossed around . However I was in no mood to leave my little balcony that opened into the vast expanse of the mountains. There was something about Kanatal that makes you want to look at these peaks endlessly . But then I was beckoned and off I went, a reluctant traveller to explore the Queen of the Hills, Mussoorie.
The winding roads took us through verdant paths as the peaks continued to give us company until the clouds veiled them. We stopped by for tea and walked through a little market and watched some men play cards on the streets. Time did stop by for them. The journey took us into a little town called Landour , often referred to as Upper Mussoorie, which had a distinct European feel. And that is where we discovered a century old institution, lost somewhere amidst the trees, courtesy my fellow traveller and travel blogger, Mariellen Ward from Canada.
We stopped by a little church and followed a board that took us inside the Landour Language School. There was pin drop silence. A couple of classes were on, where every student had a private tutor. Mariellen, who was fascinated by India and everything Indian was keen on learning Hindi and we followed her as she went around meeting people.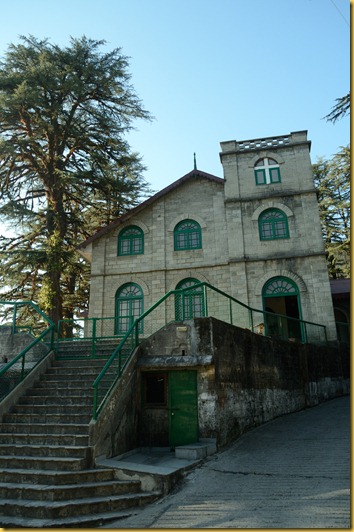 On a little board was a time table with names of students and tutors . We met a few tutors, some of them were third generation teachers. Students here came from all over the world to learn several ndian languages. I was fascinated to hear that Urdu was the most sought after language besides Hindi , while Sanskrit , Punjabi and Telugu were taught here as well. The school boasted of more than hundred students at one time and the demand for Indian languages seemed to be increasing. The teachers told us that while some of the students were interested in Indian literature, some of them were missionaries, while others purely wanted to pick up language skills.
We met Rebecca from Sweden who was fascinated by Urdu and had been learning the language here ." I love Urdu poetry..i am now reading Ghalib, " she said and talked about her many visits to India. The entire locality of Landour welcomed their foreign guests who lived here for months to learn an Indian language.
Antara from the school told us that the British used to learn Hindi in this school during the colonial era. It explained the evolution of Landour today – from a British cantonment to a literary , artistic and a cultural hub .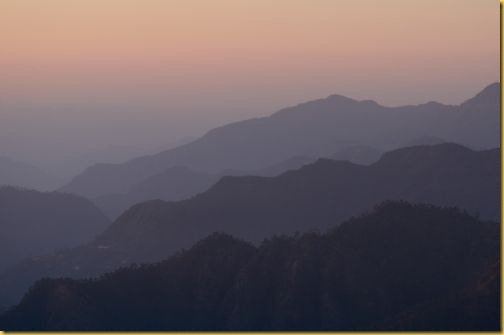 We were sipping tea in the "fifth shop" in "Chaar Dukaan" – a popular locality in Landour. Mars chocolates were stacked with Maggi noodles while homemade jams and cheeses were sold as well.Everything in Landour was reminiscent of the Raj era. The markets had a quaint ring to them. The names of manors and mansions were taken out of literary novels. The eeriness of the cemetery was more pronounced as the fluffy watch dogs glared at us. And the silence, the quaintness, the slow pace of life , the beautiful scenery – they all seemed to be a slice of life from a Ruskin Bond's novel . The only difference being, it was for real here. Everything in Landour seemed to be perfect, but for the fact that we really missed the man himself as we looked for him in cafes and book -stores . As we left, the bells seemed to ring, signally perhaps the end of day . We took that as a cue and continued on our journey to Mussoorie.
This story was published in my column, The Inside Story in The Hindu and on the Club Mahindra Blog, Clay. Club Mahindra had invited me along with a few travel bloggers to CONCLAY – an un-conference of bloggers in Kanatal.