Ten reasons why Indonesia should be on your bucket list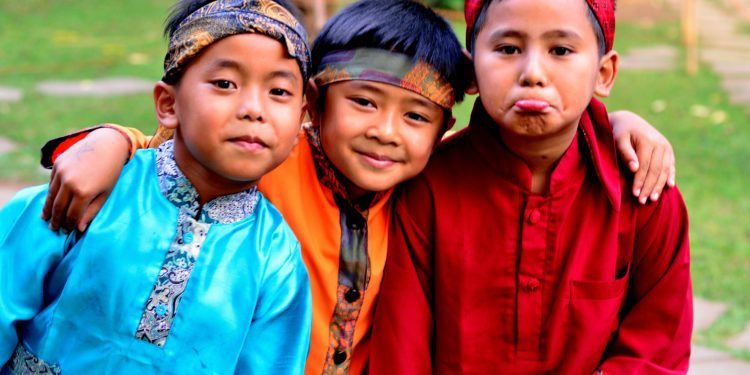 Top ten things to do in Indonesia 
In this post, we explore why Indonesia should be on your bucketlist and what are the top ten things to do in Indonesia.
I was just twenty one years old when I visited Indonesia for the first time. My memories are rather vague and only photographs remain to tell a tale.  I was part of the coffee delegation headed by my late grandfather and we wanted to tour the country to study how coffee was grown there. That is when I first heard of  Kopi Luwak or the famous civet coffee.
But there was more to the trip than just coffee. Memories of a mountain smoking away somewhere in Bali and a village architecture tour flash in my mind as I look at some blurry old photographs. I visited Bali again, on a holiday with the husband and that was a rather recent and a memorable trip.  I had my first scuba diving experience here but the rest of the tour was all about mystical temples and ethereal landscapes. And that is when I fell in love with Indonesia.
Read – On a road trip in Bali visiting temples
However my recent trip to the island country with over 50 bloggers, instagrammers and social media influencers from around the world made me realize that there is more to Indonesia than just Bali. After all, Bali is just one among the 17500 islands in this archipelago. We spent over fifteen unforgettable days together, travelling to five different destinations, soaking in the landscape, culture and food. While every experience was memorable, here are ten of them that stand out in my book of travels. And I believe that these are the ten reasons why Indonesia should be on your bucket list and here are top ten things to do in Indonesia
Waking up to the sunrise at Borobudur temple
Waking up at 3 am, climbing the steps of this 1200 year old ancient Buddhist temple in the dark, feeling the nip in the air nudge my cheeks, watching the first ray of light giving an outline to the stupa, gazing at the sun – a tiny dot in the sky grow in size as it bathes the monument with its light and above all, just breathing in the silence – can anything be more beautiful ?
Without doubt, watching dawn break at the Borobudur temple was one of my best experiences and it is one of the top ten things to do in Indonesia. I am not a morning person and sunsets have always been my calling. Yet this was special, surreal and spiritual. We spent almost the entire morning here until it was time to leave for breakfast.
Tip – Stay in Magelang in Central Java rather than Jugja or Yogyakarta to see the sunrise at this 9th century temple with over 500 Buddha statues and 2700 relief panels that make it the world's largest Buddhist temple.
An evening at Prambanan Temple in Jugja
Silhouetted against the evening sky the ancient 1200 temples of Prambanan look formidable, almost taking you to the 9th century when parts of ancient Java was under the reign of Hindu kings. In this largest Hindu temple complex in Indonesia the shrines are dedicated to the Trinity – Brahma, Vishnu and Shiva. It was believed that there were more than 240 temples in this complex. Climbing every shrine, I see the entire pantheon of Gods – the Shiva temple for instance has Ganesha and Durga besides Agastya.  The central tower goes up to 150 feet as I watch the sun set behind them.
The silence is overwhelming. Legends of giants and princes flood the temple complex which is now a World Heritage Site.  Devas and apsaras jostle for space on the walls. Panels depict stories from Ramayana and Bhagavat Purana. These shrines which were once reduced to rubbles in an earthquake were also abandoned and it was the Dutch who started the restoration again. Subsequent earthquakes and volcanic eruptions have caused severe damage but these temples still stand, a testimony to the ancient Hindu period in Indonesia
Tip – Come here during sunset and dont miss the Ramayana Ballet set against the background of the Prambanan temples. It may be a wee bit too long but it takes you to a world of epics. Undoubtedly it is one of the top ten things to do in Indonesia.
Sighting Komodo Dragons – world's largest living species of lizards
Hold your breath as this is one of the most breathtaking moments . Standing in the vast open space of the Komodo  National Park we gazed in absolute silence and awe as one of the world's giant lizards. inched closer and moved slowly, crossing our paths, without even a glance at us.  We stood there, protected by the rangers, photographing its every move as it walked past us. Even the non wildlife enthusiast in the group could not help but look at it in awe.
We walked around with rangers who told us to be very careful as these dragons which can kill a monkey or a deer can attack a human as well.  We visited  different islands – Flores, Rinca, Padar among others and saw so many of them lazing away while others were out, baying out for blood.
The komodo dragon is like a celebrity in these islands. It can grow up to three metres and weigh over 70 kgs making it the world's largest living lizards. Legends say that it was the Dutch soldiers who found these large dragons more than a century ago when they were based at Flores.
Tip – Never walk alone in the islands without a ranger. Do not go too close or provoke them. And if you do see a dragon, do not panic. To me this is one of the most exciting of the top ten things to do in Indonesia
Also read – Sighting Komodo Dragon in Komodo National Park
Contest alert – To see the world's largest living lizard , participate in this contest organised by the Tourism of Ministry Indonesia. Contest closes on November 26, 2015. You can also visit these exotic islands, laze in the beaches, go snorkeling or watch gorgeous sunsets.
Win a dream trip to Komodo Island, Indonesia
Snorkeling at Pink Beach , Komodo Island
There is more to Komodo Island than just komodo dragons. A palette of colour bursts in front of me as I snorkel away at Pink Beach, a pristine virgin beach with white sands tinged with layers of pink. There are apparently only seven beaches in the world which have pink sands and this is one of them. A microscopic marine organism that goes by the name of foraminifera give out a red pigment on the coral reef lending the name – Red Beach or Pantai Merah . Walking around, you can see pieces of corals merged with the sands. However it is the world below the waters that turns out to be more colourful with dazzling corals and fish swimming around.
Tip : Dont miss a sunset at Komodo Island, either here at Pink Beach or at Pandar where you can get fantastic views. For those who love to hike head to Rinca Island for some breathtaking landscapes of mountains, beaches and forests. Personally, this is one of the most beautiful of the top ten things to do in Indonesia
Climbing Mount Bromo in East Java 
On an early morning, climbing up this active volcano  named after the Hindu God Brahma is one of the experiences that I will not forget. The day started very early again at 3 am. It was cold and I was huffing and puffing away as we first climbed up the path leading to the viewpoint at Mount Penanjakan to see the sunrise . But, walking through the darkness and the dust wading through the sea of humanity that had gathered there, it seemed to be as the perfect tourist trap. The sun was a no show too veiled by mist
However the best was yet to come. Enroute to the Bromo Tengger Sumeru National Park, we stopped all of a sudden, as the mist unveiled itself to reveal the dreamy landscape surrounding the mountain. We reached the Sea of Sand, where a temple greeted us at the foot of the mountain, trotted on horse backs and finally climbed over 200 steps to reach ther top of the crater where sulphur filled the landscape. It was my ever first visit up a volcanic crater – an experience that I would recommend despite all the smoke and dust
Tip – Wear a mask and ensure you have enough woolens as it can get very cold up here. To me this is one of the most exciting of the top ten things to do in Indonesia
The Volcano Trail at Bandung
Bandung was not a part of our initial itinerary. But the forest fires and the haze ensured that our visit to Kalimantan had to be cancelled and since Bandung was the closest to Jakarta, it became our first destination. I was a little upset at missing the rainforests of Indonesian Borneo but Bandung was fascinating in its own way with its volcanoes . We visited Tangkuban Perahu, a volcano which seemed like a painting to me with its ashy white crater in the middle with wisps of sulphur floating in the air. It means an inverted boat as it is believed that the mountain actually looks like one and a legend speaks of a jilted lover who fell in love with his own mother by mistake .
Well, more on this Freudian story later but for now , lets visit another crater with a lake – Kawah Putih. It was eerie and cold as we walked around. The silence was rather overwhelming. It is believed that nothing can survive the acidic environment around the crater – even birds refuse to fly as they have apparently dropped down dead
Tip – Although you may not feel the sulphur around, it is better to wear a mask here .
Watching Saung Angklung Show, Bandung
There is music in the air as little kids and adults sing, dance and play their musical instrument , Angklung made of bamboo tubes fitted into a frame made of bamboo too. The energy is infectious. Sitting in the audience , we became kids at heart as we learnt to play it ourselves. There was a medley of local music and popular English songs and in the end , a little girl took me by hand and led me to the dance floor.
The Saung Angklung Udjo is a local workshop which actually promotes local arts and traditions and the Angklung is believed to be a cultural identity of the local Sundanese as it has its origins in Java
Tip – If you enjoy taking photographs of local culture, people and performances then you will enjoy this. Dont miss the musical orchestra.
The Kecak and the Fire Dance
If you enjoy the performing arts and dances then Indonesia is full of them. While some of them have their own legends and stories, most of them borrow heavily from The Ramayana. I have seen two versions of the kecak or the fire dance . I saw it first in Batubulan where the kecak was followed by the fire and  trance dance. The chorus in the air, the scenes from the Ramayana, the fire in the atmosphere and the dancer jumping into the fire, in a state of trance – it was absolutely enchanting. This time I saw it in the open air auditorium inside Pura Uluwatu in Bali and the performance was fantastic. It ended with the scene of Hanuman setting the arena on fire and the entire stage was glowing.
Tip – If you are watching it in the Ulu watu temple, do not miss the sunset outside and the view from the cliff. It is absolutely breathtaking and one of the top ten things to do in Indonesia
Volunteering at Taman Bacaan Pelangi, Labuon Bajo, Flores
To me this has been the most fulfilling of all travel experiences in Indonesia. We went to a local school in Melo Village in Flores and spent some time volunteering on a project organised by a NPO, Taman Becaan Pelangi. Called the Rainbow Reading Gardens, it is all about opening libraries in local schools in these villages. We spent time with these highly energetic and lovely kids, singing, playing games, telling them about our local cultures. And guess what they know about India – Bollywood and Shah Rukh Khan !
Tip – Bring some books with you so that you can donate too..To get in touch with Taman Beccan Pelangi, contact them on Facebook. They have 29 libraries in 14 islands and you can choose the closest to you, although Flores is my favourite.
Also here is an opportunity to spend more time in local villages, markets and get to know of their culture. I also had one of my best meals in this village and saw local dances and met so many people who were so warm and friendly.
Markets and people
There are two things that I believe in as a traveller – one, the heart of the city lies in its streets and markets and two, people make places. I love street photography and I spent most of my free time in the markets and streets. From local food to health drinks, from vegetables to fruits, from local arts and crafts to casual vendors, every market in every little town was colourful and vibrant. Walking around with a camera in hand, chatting with these friendly faces, taking their photographs and learning a bit more about their cultures, their food and their interests – I probably could not have asked for a better experience.  One of my best moments however was a parade that we saw in Jugja when all the people were out in the streets to celebrate the formation of the town
Tip – Besides the markets, there are small shrines near them where the guardian deities oversee the markets . I saw one, where the guardian deity was a dog. I am told there are many like this in Indonesia and for me this is one of the top ten things to do in Indonesia
Have you been to Indonesia ? What would you are your best experiences and destinations ? And what would you recommend among the top ten things to do in Indonesia ?
Five things to do in Indonesia – Travel With Lakshmi
If you are planning a visit then here is my video on Five things to do in Indonesia on my Youtube channel, Travel With Lakshmi. If you like my video, request you to subscribe to my channel.
More posts on Indonesia
A visit to Senggarang Chinese Village Bintan
Sighting Komodo Dragons in Komodo Island
Indonesian Diary – a photo feature
Six experiences you must not miss in Bali
A road trip in Bali exploring temples
Fifteen experiences in Yogyakarta
Five cultural shows you must not miss