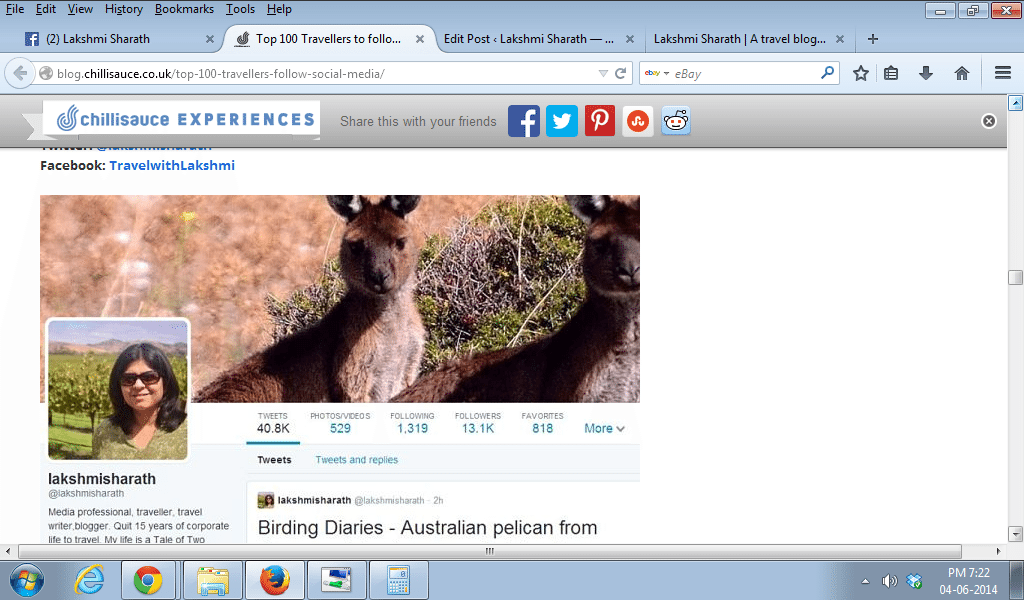 If there is one thing that bloggers crave for, it is appreciation. And I have been very fortunate to have great readers who have constantly appreciated and motivated me . Which is probably why the accolades have been slowly and steadily coming. It all started in 2008, when  Backpacker won the "Best travel blog" in the Indibloggies.
Read – "Thank you for making Backpacker win "
And there has been quite a few lists where the blog has been featured – one of them, being in the list of top 30 professional bloggers in India and the other being in the top 25 travel bloggers in India
Read – "Featured among the top 25 travel blogs from India."
Recently, the blog has been featured in the ITB (Indian Top Blogs) Directory of best Indian blogs as well.
But what has really made my day is to be chosen among 100 international travellers to be followed in social media in 2014 by an UK based site Chillisauce. I am honoured to be in such great company. Recently Happy Trips from the Times of India organised a twitter chat with me and I see a lot of buzz on Twitter besides Facebook and Instagram as well.
Its been nine years since I started blogging and it never really struck me that this would be a full time career.
Read " Happy Birthday to me, I am nine years old now."
As the blog completes a decade, I am focussing on making the content more robust and relevant. More stories, photo essays and experiences will be featured. I am also trying to make the content more topical. So look forward to some monsoon posts this June. If there is something that you, my reader would like me to include in my posts, I look forward to hearing the same from you..Thanks so much..